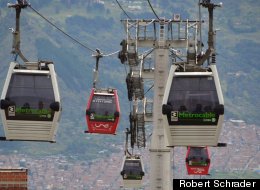 The final stop of my journey through the incredible country of Colombia was Medellín. After three weeks spent exploring national parks, worshipping in cathedrals made of salt and trekking the stomping ground of Juan Valdez, I was eager at the prospect of being back in a city.
To be sure, I knew prior to visiting Medellín that it would be modern. It wasn't until I set foot in the former base of Colombia's drug lords, however, that I realized to what extent this would be true.
Long a favored place of residence for Colombia's wealthy -- and, these days, for foreign expatriates from all over the globe -- Medellín is en route to becoming one of the quintessential cities of the 21st century.
Medell%uFFFDn, Colombia's Ultra-Modern Metropolis
The skyscrapers in Medellín's downtown core are the most obvious manifestation of how modern this Colombian city is.

Medellín is the only city in Colombia that has a metro system. The Medellín metro, which is entirely above ground, is not only extremely fast and efficient but also spotlessly clean.

Craving tranquility? Medellín is home to a number of public green spaces, including a fantastic botanical garden located in the northern part of the city near Universidad de Antioquia.

Medellín is also replete with public art. Plaza Boltero, pictured, pays tribute to the work of Colombian sculptor and painter Fernando Boltero, which portrays all people as being of plump proportion.

A ticket for the Medellín metro affords its bearer a free connection to the MetroCable, which extends the city's public transport grid to the poorer residents of Medellín's hillside barrios. The MetroCable is also how you travel to Parque Arví, a massive natural park located on a hill high above the city.

You could spend days and days exploring Parque Arví's 16,000 hectares, but it's possible to see the main attractions (such as the mariposaria, or butterfly house, pictured above) in one day.

Not all of Medellín's marvels are particularly modern. Skip breakfast one of the days of your trip and order Bandeja Paisa, pictured, for lunch. The dish originated in the nearby Andes a long effin' time ago and consists of beans, chorizo sausage, rice, a fried egg, avocado and chicharrón, which is fried pork fat of some kind.

Nor are all of Medellín amazing attractions intended for living visitors and residents. San Pedro Cemetery, located in the Prado neighborhood, can easily occupy hours of your time. It's fascinating and grand to the extent that Recoleta Cemetery in Buenos Aires is.
Follow Robert Schrader on Twitter: www.twitter.com/leavyrdailyhell