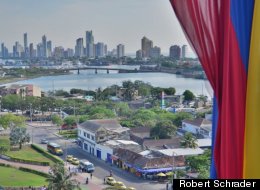 Cartagena, Colombia has been in the news so much lately than even the taxi driver who took me to the airport this morning was gossiping. "Eighty U.S. dollars," he scoffed. "All those guys had to do was give her the money."
Of course, Cartagena is much more than the site of the recent Summit of the Americas and its associated hooker drama. A cosmopolitan metropolis flanked by a 500-year old, walled historical center that was once frequented by pirates, Cartagena is often referred to as the "next Miami."
In fact, Cartagena is a rich mixture of several cities and regions in the Caribbean, from the West Indies, to Panama and, yes, even South Beach Miami. As I say "goodbye" to Cartagena and "hello" to Colombia's coffee triangle, I invite you to take a photo journey through the city with me.
PHOTOS: Cartagena's Caribbean Pastiche
First among the other destinations in the greater Caribbean region Cartagena evokes is Miami. The beachfront skyscrapers of Cartagena's new Boca Grande neighborhood in particular call to mind South Beach.

The narrow, colorful streets of Cartagena's centro historico are lined with street vendors, who sling basics like candy and cigarettes, to delicious fried concoctions and even hats.

Although each of Cartagena's many carreras and calles has its own unique identity, several common elements unite the streets of the city's historical center. Namely colorful façades, rustic lanterns and spacious balconies with bougainvilleas and other vines pouring off them. And, of course, lots and lots of people!

Cartagena street vendors from the West Indies take their businesses quite literally to new levels. This beautiful woman carries a veritable fruit market on her head! For around 5,000 pesos colombianos (less than $3), you can have a heaping plate of fruit salad, topped with condensed milk if you please.

Like many cities through Latin America, Cartagena is home to several lush plazas that serve as both meeting points and shade-covered greenspaces. One of my personal favorites is the Plaza Bolivar, whose namesake statue pays tribute to Simon de Bolivar, who died in nearby Santa Marta.

Although the city isn't know for its beautiful beaches, several incredible stretches of coastline are easily accessible from Cartagena. Take a day trip to idyllic Playa Blanca (pictured above) on nearby Isla de Baru, spend a couple days on laid-back San Andres island or even cruise all the way to Panama.

Another popular excursion spot near Cartagena is Totumo volcano, where you not only enjoy a massage in the thick, warm mud of this active volcano, but a stunning panorama of the surrounding lake. Although the volcano is only around an hour outside of Cartagena, you feel like you're in a different country altogether.

Every night, local street performers put on a lively show in the plaza that sits beneath Cartagena's clock tower. This particular troupe, known as "Candela Viva," performs from about an hour before sunset to well after nightfall. Each section of the show evokes a different Caribbean mood.

The walls of Cartagena's historical center make for a great spot to watch the sunset over the sparking Caribbean. The colors of the sky tend to be breathtaking.

Specifically Cafe del Mar, which occupies the northwestern corner of Cartagena's city wall, is without a doubt the best spot to take in an evening in the city. Enjoy a Planter's Punch or mojito while the sun sets behind the Boca Grande skyline, and watch the city sparkle and shimmer as night sets in.
Follow Robert Schrader on Twitter: www.twitter.com/leavyrdailyhell