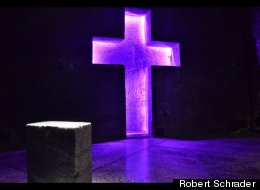 Colombia is among the least-visited countries in South America, probably because of its questionable reputation as a dangerous country.
I won't attempt to further dispel that notion here -- I got caught in a chaotic May Day protest, complete with riot police and tear gas -- but I would like to draw your attention to one of Colombia's many hidden treasures: The Salt Cathedral of Zipaquirá.
Located approximately an hour north of Bogotá via bus, private car or tourist train, the Salt Cathedral is the centerpiece of a halite mine that has been active since the 5th century B.C.
Today, workers still excavate salt in the sections of the mountain above and below the Salt Cathedral, which sits over 500 feet below the ground. Although the Zipaquirá Salt Mine is one of countless salt mines in the world, the Salt Cathedral is one of only two, the other being in Poland.
En route to the actual chapel, tourists come upon 14 "salt chapels," each of which represents a different station of the cross.

In order to get to the salt cathedral, tourists descend approximately 540 feet through a series of tunnels, which are concurrently used by workers in the mine, which is still active.

None of these photos have been digitally altered. Rather, different colors of LED lights are shined on the salt carvings to create beautiful, dramatic effects.

Some of the stations have more literal carvings than others. At this station of the cross, where Jesus is laid in the Holy Sepulcher, a carving that looks like a place to rest a body juts out.

After the last station of the cross, you reach a viewing area where you can look down into the main salt cathedral.

Although the Salt Cathedral isn't recognized by the church as an actual place of worship, an average of 3,000 Catholics visit the attraction on Sundays alone -- this was taken on a quiet Tuesday.

Like the stations of the cross, the Cathedral is bathed in different colors of light, which creates an almost psychedelic effect.

No cathedral, salt or otherwise, would be complete without a nativity scene.

Once you've finished exploring the cathedral, enjoy a Colombian coffee 180 meters below the ground.
Follow Robert Schrader on Twitter: www.twitter.com/leavyrdailyhell