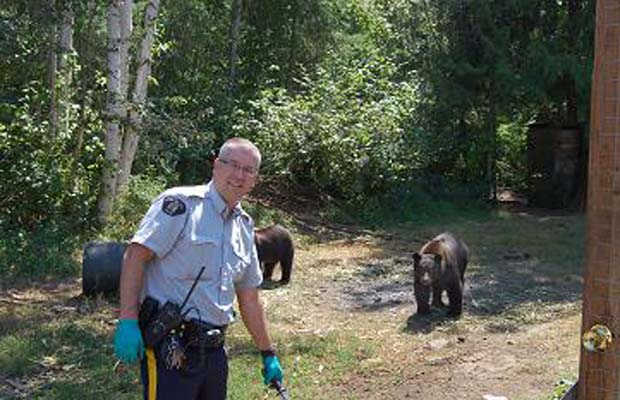 When the Mounties and conservation officers went down to the woods they were in for a big surprise. Perhaps they should have worn a disguise. Every Teddy who'd been good was sure of a treat that today. Could they have bumped into the Bratton-Kennedy "Teddy Bears Picnic?"
The story began when police began investigating marijuana farms near Christina Lake, north of Spokane, just across the Canadian border.
Now a dozen or so bears who may have been serving as guards on two large marijuana patches in western Canada could pay the ultimate price.
RCMP Constable Dave Smith said the bears were being fed dog food, possibly to keep them in the area and keep nosy people away. "It was like a cross between Jurassic Park and Jellystone Park," Smith told the Vancouver Sun. Jellystone was the home of the popular cartoon bear known as Yogi, and his sidekick Bo Bo.
These bears seemed so comfortable one of them sat on a police cruiser to watch all the events.
Research has shown cannibis can affect animals, inducing hypotension -- the opposite of hypertension. Sgt. Fred Mansveld said it was possible the bears were eating the weed, though none was observed munching on the plants."
"But it might be the reason for their laid-back attitude," he said.
The two owners of the marijuana farms have been arrested and will no longer be feeding the bears.
"Once those bears don't have that food source, we'll see which bears move on and can adapt to more natural settings. And the bears that can't, we'll have to deal those bears accordingly as those issues arise," said conservation officer Dave Webster.
Bears deemed to be a safety risk will have to be destroyed, Webster said.
FOLLOW HUFFPOST