Michael Funk told me he could be just as happy living in a tipi on his 1,200 acres of hills and waterfalls along the Yuba River as he is in his palatial off-the-grid home. I visited Michael's home when I was editor-in-chief of Natural Home & Garden magazine, and I get what he's saying. But I wouldn't trade in his house for a tipi.
I'm not a big-house fan -- and this one is 6,000 square feet -- but Michael's home, which doubles as a retreat center, is responsibly built and completely off the grid. It's solid, an heirloom in a jewel of a setting. Michael's home inspired me, the way good homes built with good intentions do.
Michael, chief executive officer of United Natural Foods and former chair of The Sierra Fund board, built his "big house with lots of little places to hang out" as both a home and retreat center for his business and environmental philanthropy associates. His 1,200 permanently protected acres will never be gobbled up by development, so stunning views of Rock Creek waterfall and the Yuba River corridor will inspire everyone who visits for generations. Michael wants everyone who visits his home to remember why we work so hard to preserve nature's spectacle. And it works. You can't look out his windows and doubt the calling.
Built by craftspeople using mostly local materials, including stone and trees from the property, the house is mostly round. Architect Jeff Gold stepped outside the rectilinear box with his organic design, drawing lines that radiate from a large circular living room toward the Rock Creek waterfall to the east and the Yuba River gorge to the west. Gold's design embraces the site with passive solar heating, abundant natural light, natural ventilation, a courtyard garden, a "sun" terrace and a "shade" terrace. Half of the home is underground, which keeps it cool during stifling Gold Country summers. The living room accommodates 40 or 50 people, the kitchen can feed them, and two private guest suites look mighty comfortable for out-of-towners. The house also includes an office with a good-size board room, a serious game room and a large root cellar for produce grown on the property. Extensive orchard and vegetable gardens provide a significant portion of the household's food requirements.
"The house is certainly not scaled as a conventional family house would be, and it was definitely a challenge to do a house this size and have it not appear that large," Gold told me. "Yet, when you come in, even if there are just two or three people in the house, it doesn't seem huge. There are no large, cavernous spaces. It's broken up enough so you feel a sense of intimacy."
92 photovoltaic panels and a large battery bank power the house, as long as everyone's a little bit careful. "We couldn't have air conditioning, which I was a little afraid about -- even though I don't even really like air conditioning -- because this is a hot climate," Michael says. Opening windows at night to capture cooler night air keeps the home comfortable the next day, he says. "That was a big relief. I had a bit of doubt until I'd experienced all four seasons here." He's become a freak about saving energy. "A lot of people don't have that same consciousness, so I'm always running after people, turning off lights behind them."
The home is clad in weathered Sierra granite, which is fireproof and provides thermal mass. It's called "peeler" granite because it peels off the top of the bedrock, alleviating the need to quarry, and the irregular stones are challenging to work with. "In the end, though, the masons really appreciated doing something different," Gold says. "The people who worked on this house really understood and appreciated the principles and the commitment behind it, and they put an extra effort into their work because it was part of a larger whole that they really appreciated."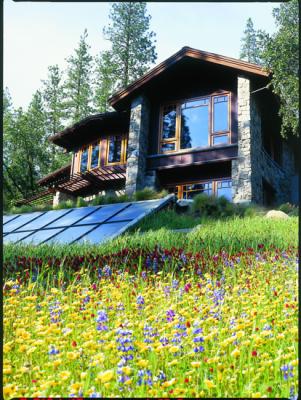 Wildflowers provide a colorful, low groundcover around the solar panels that provide hot water for the radiant heating system in Michael Funk's off-the-grid home. Photo by Barbara Bourne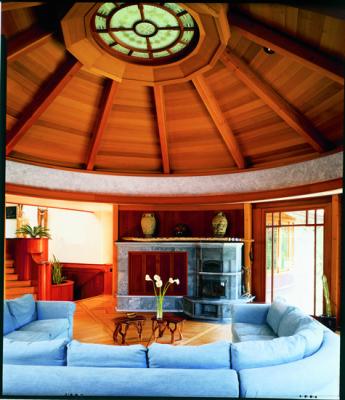 A soapstone Tulikivi stove, radial beams, cedar paneling and oak flooring make the kiva-like living room, the home's central gathering space, warm and welcoming. Hot air gathers in the high ceiling and escapes through cupola windows and operable vents around the central ceiling window, which is etched with a Native American design. "I love the round living room as a gathering spot," Michael says. "It has great acoustics and that high ceiling, and people really enjoy hanging out there." Photo by Barbara Bourne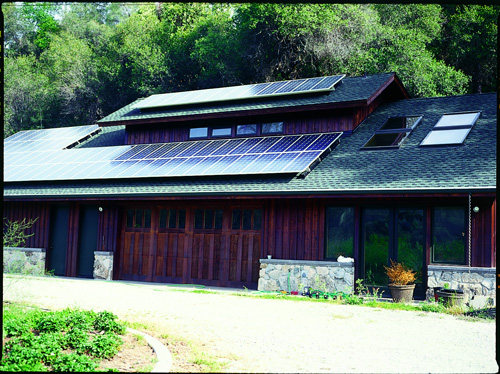 The barn roof at the garden and orchard site supports an extensive photovoltaic array. Batteries and electrical panels are stored inside. A portion of the barn is a greenhouse for starting seedlings. Photo by Barbara Bourne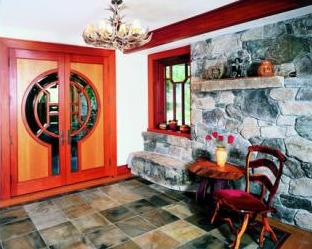 The entry door plays on the traditional keyhole and includes a moon/sun window and references to the four directions and seasons. A two-ton boulder slab set into the entry wall provides a bench for removing shoes upon entering. Photo by Barbara Bourne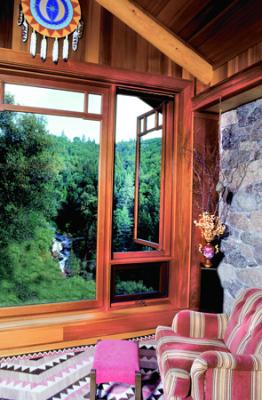 Michael's favorite room is his office, which offers an incredible view of the Rock Creek waterfall. Photo by Barbara Bourne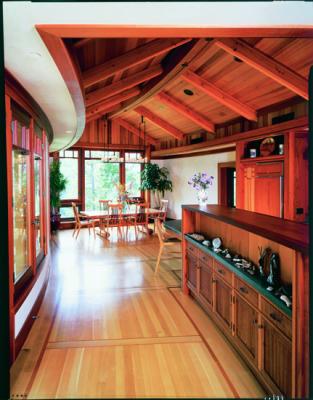 The house's radial lines are reflected in the curving soffit and ridge beam. A local furniture maker made the dining table and chairs using native black oak and pine from the property. Photo by Barbara Bourne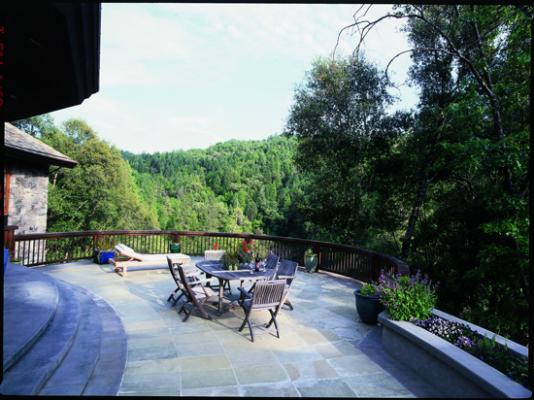 The sun terrace overlooks both the Yuba River and Rock Creek. A built-in planter provides herbs for the kitchen. Photo by Barbara Bourne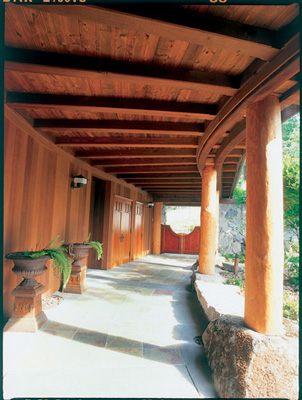 Ponderosa pine logs were harvested from the property, peeled by hand and shaped at the bottom to fit into granite boulders on the porch. A steel pin drilled into the boulder and the post assures a positive connection. Photo by Barbara Bourne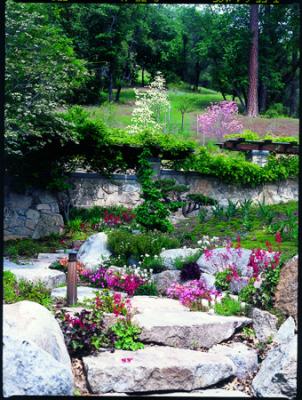 Granite stepping stones weave a path through the courtyard garden with perennial color and native groundcovers. Dogwoods bloom on the hillside beyond. Photo by Barbara Bourne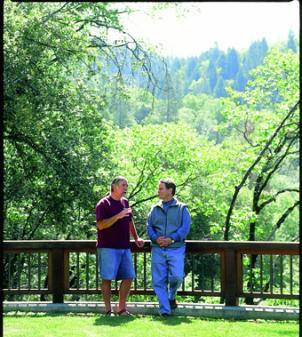 Michael Funk and architect Jeff Gold enjoy the view. Photo by Barbara Bourne
SUBSCRIBE TO & FOLLOW THE MORNING EMAIL
The Morning Email helps you start your workday with everything you need to know: breaking news, entertainment and a dash of fun. Learn more