Wrap an app, e-book, art print or maybe even a book for holiday gift giving to your favorite kid. You may think that the holidays are for teens, tweens and tykes, but this season adults can connect with them through a variety of book related gifts that cross the generations.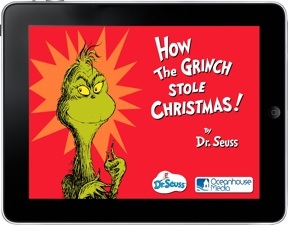 They range from traditional books by familiar adult authors like Adam Gopnik and Kathy Reichs, both of whom have made the transition to kid and teenage literature. Or you and the kids can try the revival of Gertrude Chandler Warner's classic children's book series, The Boxcar Children (Open Road Media) in electronic format.
Apps for the iPhone, iPod and iPad based on children's books lead the bestseller list and developers are racing to design a juice proof tablet that parents can share with the toddlers. In the meantime, parents are loading various children book applications from Oceanhouse Media and other producers on to their mobiles. Traditionalist should not fear, you can, for $39.99, have Clifford or Peter Rabbit as a framed piece of art to decorate your child's room from Starry Story Art.
Whatever your budget or mode of reading, there is something that will pique your interest.
Which Book, App or E-books Will You Share With Your Favorite Kid or Teen
Virals (Penguin, $17.99) is the book for teens and adults who love the Fox series, Bones. Adults who are familiar with Kathy Reichs, forensic anthropologist turned author of the popular Temperance Brennan book series, will enjoy sharing a book that features Temperance's niece Tory as 21st century Nancy Drew. After reading this first of the series, your teens will be wanting a family trip to Charleston, SC.

What does $3.99 buy you these days? Well at Open House Media, parents can load apps for Seuss or Berenstain Bear titles to their iPhone, iPod or iPad. The only problem is, how do you wrap an app and put it under the tree?

Adam Gopnik, The New Yorker writer, takes a break from his eloquent musings on real cities like New York and Paris to take us to a fantasy city of U Nork in his book for middle graders, The Steps Across the Water (Hyperion, 2010, $17.99). The fantasy story is fantastically illustrated by Bruce McCall who also illustrates for The New Yorker

Two dads who love children's picture books began the business Starry Story Art to provide quality art print of iconic storybook characters such as The Hungry Caterpillar and Spot & Olivia. Various ready-to-frame prints are available from $19.99 and framed from $39.99.

Gertrude Chandler Warner's orphans known as The Boxcar Children (Albert Whitman) have been around since 1924 and they are entering the digital world on December 14th. On that date Open Road Media will release the digital version of the series with various enhancements such as video shot at the Gertrude Warner Museum in Putnam, CT for only $4.99. You may want to consider the digital and print versions to introduce your favorite child to these four kids filled with gumption.
Follow Rocco Staino on Twitter: www.twitter.com/roccoa