The textbook definition of exclave is "a piece of land which is politically attached to a larger piece but not physically conterminous with it because of surrounding foreign territory." According to Gerald Breaux Kelly, the curator of a new exhibition, Intro, at Exclave Gallery in Beverly Hills, the gallery takes its name from this political phenomenon. The concept is related to the lack of underrepresented artwork on display in the regional galleries that has its origins in the local streets, or artists that have not had the traditional tools or schooling of commonplace fine artists. In nearby galleries you can catch armed guards and bulletproof vehicles unloading a Picasso or a Matisse, while at Exclave the artists will literary unload a canvas from the back of their trunk themselves. In a way, the city of Beverly Hills and its environs is a metaphor of the foreign territory, while the gallery is a direct representative of greater Los Angeles. It's as if Exclave Gallery planted a flag in the middle of this fashionable zip code. But the question really is, Why not? The building is owned by a publisher of technological software, who understands the necessity to stir things up in Beverly Hills, similar to what the Sweeney's did at the El Segundo Museum of Art.
As the acceptance of graffiti, street art, urban artwork or underground counterculture ideology takes the world by storm, the integrity and credibility of the artists is what's at stake. Perhaps the general public view them as simple artists from the streets that are currently in vogue, or perhaps many emerging artists are in fact riding on the coattails of successful artists who have helped wield this unstoppable global machine, but the fact is that art in general, no matter what type, has a home and an audience. And according to Gerald Breaux Kelly, "Although most of the artists in the show started with graffiti or street stuff, they are in a transition or on the cusp of fine art." A graphic designer himself by trade, by way of Oakland, his roots are planted and directly connected to urban artwork and culture, as well as left-wing political ideology. In a way, the gallery and space seeks to prevent the co-opting of such art by corporate swindlers, and make it more about collective solidarity. Thus, the artists involved: Anthony Cox, Brek, Dreye, Macho, Siner, Sunny Phono, Tank, Teddy Kelly, Nathan Smith and Steve Martinez appear to be comrades within their artistic circle.
One of the most distinguished pieces in the show, Habitat Reproduction, was done by Tank, who moved around different parts of Los Angeles, from Atwater Village, to Mid-City, to Long Beach and has a good grasp of the megalopolis. At simple glance, his painting is a tank weighed down deep in the abyss of the ocean. However, as you pay closer attention to detail, you will admire the beautiful underground hues and the coral reef that swing in motion with the school of fish that seem to be getting fired from the tank's canon. And although the aggressive tank is a defense weapon of intimidation, in the underground it commands a calmness and perfection. Tank maintained that he was in a hibernation state for a few years, deep down in the abyss like his painting awaiting to arise above sea level for a breath of life. But as the painting demonstrates, life in the underground is just as beautiful, picturesque and vibrant as anywhere else. For more information check out: 420 N. Camden Dr. Beverly Hills, CA 90210, exclavegallery.com
Photo Credit: Exclave Gallery 2015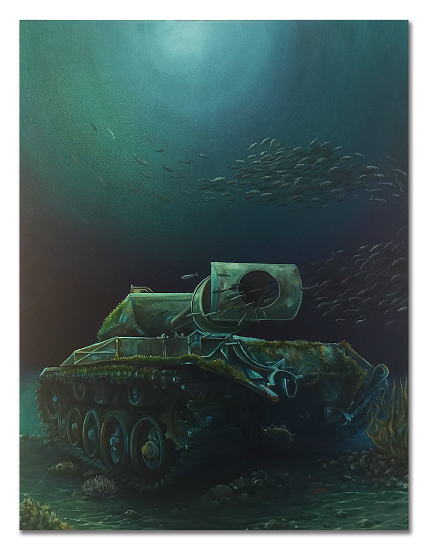 This Blogger's Books and Other Items from...
SUBSCRIBE AND FOLLOW
Get top stories and blog posts emailed to me each day. Newsletters may offer personalized content or advertisements.
Learn more