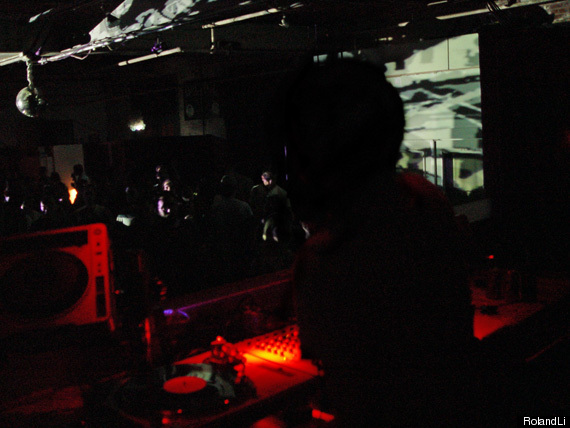 Eamon Harkin and Justin Carter have been on the run this year. The masterminds and resident DJs behind Mister Saturday Night and Sunday Best, two of the city's best dance parties, lost two venues in just a few months. The D.I.Y. enclave Market Hotel in Bushwick was shut down in March, and Sunday Best only had a few runs at the idyllic BKLYN Yard in Gowanus before it abruptly closed for good just a couple weeks ago. But Harkin and Carter are brilliant when it comes to finding the sweet spot for their melodic house, techno and disco beats, and Saturday's Mister Saturday Night party was no exception.The night's chosen spot was 12-Turn-13, which, like the late Market Hotel, is a venue that is also someone's home. A healthy crowd of insomniacs made it over to the Clinton Hill loft (doors were at 10 p.m. and headliner Jeremy Greenspan of Junior Boys took over the decks a little after 2 a.m.), and enjoyed an intimately-lit dance floor and amazing roof. Harkin was flying solo, since his co-promoter Carter was out of town, but worked the floor brilliantly as it evolved from a few dancers to a packed, appreciative crowd. Harkin and Carter's consistently successful parties are a testament to the duo's relentless schedule, but also to their widespread appeal -- accessibility is one of their core principles.
Although it's easy to bemoan the state of New York nightlife -- glitzy, commercial parties have spread with the gentrification in the past decade -- Harkin and Carter are a testament that obscure tastes and success aren't mutually exclusive. Instead of catering to the lowest common denominator and recycling pop bangers, their parties embrace the joy of discovery. While the average attendee would be hard-pressed to name any of the tracks that were played, the beats and basslines were instantly (There were two recognizable bits: Harkin sprinkled some classic Metro Area into his mix, and Greenspan led off with the Carl Craig remix of Morgan Geist's "Detroit," which Greenspan sings on.)
If you love dance music, do yourself a favor this summer and go to either one of the parties. Better yet, go to both.