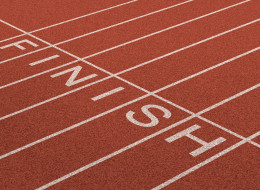 On the day Gabby Douglas won the gold medal in the women's gymnastics individual all-around, she was inspired by a letter from her mother, Natalie Hawkins, quoting Scripture reminding her that no one runs a race without the goal of winning. Olympians aside, is it true? Do we all run to win?
A few weeks ago, I took part in my first sprint triathlon. I came home with only a T-shirt and a goody bag full of free stuff, but I did learn a thing of two about myself and about competition for the average woman athlete.
Lesson One: The answer to the question, "Do we all run to win?" is resoundingly "No!" For many normal, well-adjusted, smart, athletic women, competing in a race is not about the win at all. One example: in the car on the way to the race, my friend explained that during the transition between biking and running (T2 to my triathlete friends) she took a bathroom break and waited for her friend to finish the biking portion so that they could run with each other, finish together and get their picture taken as they crossed the finish line. For this wonderful woman, and many others like her, the triathlon was a means to better health, being with and supporting her friend and happiness in the accomplishment. These women embody the first sentence of the Olympic Creed, which states that what is most important "is not to win but to take part, just as the most important thing in life is not the triumph but the struggle." I passed them by in the first leg.
Lesson Two: I am not one of those well-adjusted women. In training, I thought it was about completion, not the competition. That is what I told everyone, and I even put it in writing. But I lied. Just before the race (perhaps I should have figured it out as I shaved my legs to assure minimal water resistance), I realized I wanted to fight like hell out there. For me, that meant not waiting for anyone who might slow me down. When my friend asked me pre-race if I would join them for the run and the picture, I either had to fess up to being a competitive jerk, or lie and pretend to lose them in the transition (as in, "I was going so slow I thought you must have been ahead of me!"). In the Olympic spirit I decided to tell the truth: "I don't think I can do that," I replied. "I just can't wait. It's not me." It is good to know thyself.
Lesson Three: You can be old, fat and asthmatic and still compete in and enjoy a triathlon. If you resemble the first part of that sentence, I suggest reading, "Slow Fat Triathlete," written by Jayne Williams. Williams will tell you how to do it, and believe me you can, because you will not be alone. You will be loved, encouraged and supported along the way. Women I thought would be much more comfortable running to get to Brigham's Ice Cream before closing time kicked my butt in the swimming portion. Resembling seals, soaking wet in black Lycra, they biked those hills like champs, and then ran, walked or just about crawled past the finish line for the running portion. They wore their Sharpied race numbers proudly upon fleshy upper arms, and they knew -- we all knew -- that they had earned their stripes. We were able to congratulate a few of the larger women after the race at Dunkin Donuts, while we stood in line for our non-fat iced coffees. You can't make this stuff up.
Lesson Four: Women (and by women I mean females over 30) are fabulous. They are kind and supportive of one another. This all-women triathlon event was the most wonderful, girl power environment I have ever witnessed. Positive energy and words of encouragement were everywhere -- not just from complete strangers, but from the other competitors (something I doubt you will find at a men's event). Teenage girls really do clean up nice about 15 years out of high school.
Lesson Five: Supporting others is contagious. I'm not a "You go girl!" kind of gal, and while I started out with "How ya doing?" as I passed people on my bike with just a hint of a smirk, by the end of the race, I got it. I didn't even have the urge to trip the women that passed me on the run (OK, I did, but just a little, and I suppressed it). "You're awesome!" I screamed out to their backs, using up precious energy. "You're looking strong!" I shouted to the women at the back of the pack (this came easier to me), and I meant it.
The Olympic Spirit, embodied by the Olympic Creed, stresses that it is not in the win, but in the taking part. And that is what it is really about, especially as an amateur athlete. But next year, I'm not fooling myself. I jump into the next age category, and I'm going for the gold.
Read more from Better After 50:
Friendship Amidst the Sweat and Sarcasm
Anorexia at 50
Colonoscopy Without the Prep? (Part 2)
Guest Envy
Earlier on Huff/Post50:
10 Inspirational Athletes Over 50
Just shy of her 50th birthday, tennis legend Martina Navratilova won a mixed doubles championship at the U.S. Open. "You can do great things regardless of your age if you just believe and, you know, go for it," she told ESPN at the time. "Don't get limited by people that say, 'No, you can't do that because you're too old or because you're heavy or you're not an athlete.' Whatever your limitations might be, don't let them define you. I didn't let it define me." These are certainly words she lives by -- just days after completing radiation treatment for breast cancer, she won the senior doubles title at Wimbledon at the age of 53, The New York Times reports. And at 55 she went way outside of her comfort zone by competing on "Dancing With The Stars". "I've always been set on facing my fears," she told The Los Angeles Times."[...] I'm scared of dancing, so what better way to conquer my fear of that than to go on the largest dance floor in the world and compete on 'Dancing with the Stars'!"

It seems unlikely that a nearly 65-year-old accountant could be compared to the likes of Usain Bolt, LeBron James and Apolo Ohno for her athleticism. But Raschker, who holds 68 gold medals at the World Masters Athletics Championships and 22 World Masters Records for both outdoor and indoor events, is considered one of the best athletes in the world -- of any age. She's also a two-time Sullivan Award finalist and a motivator for competitors: "She's an inspiration," Mary Trotto, age 64, told ESPN. "When I compete with her, I'm actually faster."

Earlier this year Jamie Moyer became the oldest pitcher to win a major league baseball game -- he'll turn 50 this November. He's had a rough season since leaving the Rockies in May, but he told KFFL earlier this month, "I'm not retired. I'm just kind of laying in the weeds and just trying to figure out what's going on." The lefty pitcher made his major league debut in 1986, after being drafted by the Chicago Cubs in the 1984 MLB amateur draft. "I tell you what, there's not a harder worker in baseball," Ruben Amaro Jr., assistant general manager for the Phillies, one of Moyer's former teams, told The New York Times. As a player in his 40s, Moyer would arrive six hours before games to run on an underwater treadmill, the Times reports.

At age 57, Laura Sophiea has been selected by USA Triathlon as this year's "Grand Master," based on her performance as compared to other female triathletes over 55. She has completed four triathlons this year to date, and is currently the top woman in the 55-to-59 age group. "I think what motivates me is my love of racing, competing, great fitness and [the] health that comes with being in shape," she told Huff/Post50 in an email. "I was a cheerleader in high school and never participated in sports and when I found this, I found my passion and have continued in the triathlon world for 27 years now. I am looking forward to continuing to race, compete and break age group records into my 80's!"

The 51-year-old former NFL star has been devoting his energies post-football to becoming a master's track champion. He recently set world records in his 50-to-54 age group in the 100- and 200-meter dashes, clocking in at 10.88 and 22.44 respectively. His fame has also given a big boost to senior athletics in the public eye says Ken Stone, editor of masterstrack.com and a leading expert on masters track athletes. "He's certainly the fastest man in the world over 50," says Stone. "His records would beat the vast majority of high school kids on the track today. In fact, he would beat the vast majority of elite women on track today: if his records were entered, he would qualify for the Olympic finals for women."

At the age of 56, coming in sixth in the Olympic trials this past spring is not too shabby -- and London would have been Butch Johnson's sixth trip to the Olympics as a part of the U.S. archery team (He's earned team gold and an individual bronze). "I thought I had a good chance, but I knew it was going to be tough. It's a great team, and they're all shooting very good right now," he told The Hartford Courant.

At age 80, Whitlock ran a marathon in 3:25:04 -- a respectable time for a man one-quarter his age. His fastest recorded time, at age 73, was 2:54, according to Running Times Magazine. While he was a track star back in high school and college in his native England, Whitlock dropped the sport when he moved to northern Ontario for work. He took it back up at the age of 41 at the urging of his wife. But it isn't a virtuous dedication to his cardiovascular system that gets him out training each morning: "I run to race," he insists to the Running Times reporter. "I don't do it primarily for my health or anything else."

The 92-year-old Canadian super-athlete holds 23 world records and 17 in the 90-to-95 age bracket for track and field events, according to a 2010 story in New York Times Magazine. Since that time, she has picked up seven wins at the 2011 World Masters Athletics Championships last July. Her feats of athleticism are so surprising that a team of doctors from the Montreal Neurological Institute and McGill University are studying her. They've found that her muscle tissue is deteriorating at a far slower rate than would be expected for her age. "I still have the energy I had at 50," she told The New York Times. "More. Where is it coming from? Honestly, I don't know. It's a mystery even to me."

Don Pellman, age 96, holds four U.S. track records in his age group, including the 100-meter dash, and four world records. Although he did high jump in college, he told masterstrack.com that he didn't participate in dedicated exercise or sports for 58 years, save for occasional social activities like bowling, golf and softball. When he took up track events and running after retirement, he quickly moved up the rankings, though he said there's no big secret to his success: just sensible exercise and a balanced diet. "I feel you have to keep in training 365 days a year. No off-season. I do something every day, if nothing but long brisk walks," he explained.

"Love what you do, with no limitations!" is 83-year-old Phyllis Sues' mantra. Sues was a dancer as a young woman, but at the age of 83 she picked up yoga and the tango (her dance partner, Felix Chavez, is 79). Oh, and she also dabbled in trapeze in her 80's, though she's since given that up.