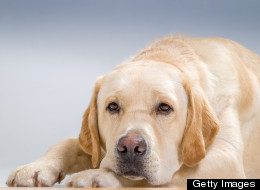 "How is Sophie?" a neighbor asked the other day, inquiring about our endearing Yellow Lab.
Sophie, with her lively personality and satanic eyes (she had Horner's syndrome), was an important member of our family for a long time. As a new puppy, Sophie was my daughter Melissa's "show and tell" in kindergarten; she passed at 15 1/2 the summer after Melissa's freshman year in college. We loved her. We lost her. And now life is pretty awesome.
"Dead," I replied, with a slight smile. I had to pretend to be a little broken up.
I was about to answer "Sophie who?" but 1. not everyone gets my sense of  humor (as evidenced by the hundreds of nasty Huffington Post comments I have received on previous posts); 2. Sophie has been dead less than a year (may she rest in peace -- and not let her eternal soul seek revenge on me for this post); and 3. the neighbors all really liked Sophie (except for the neighbor who left her garage doors open the day before garbage pick up).
By almost all accounts, Sophie was a great dog. Sweet as could be, wonderful with kids, a great hiker, she could even roll over and play dead when you pretended to shoot her. She was the ultimate cool dog, and had the bandana to prove it. We had years and years of Sophie fun, then years of years of Sophie just sort of laying around in the kitchen hoping we didn't trip over her.
But now that she's gone, it's really OK. Actually, it's more than just OK. Like Tony the Tiger says...... it's GGGRRREEAAT! There -- I said it. Do I appear heartless? I feel a little heartless as I write this, but I am trumped by my honest emotions. Can't I have loved and lost and now be happy and honest about the freedom that comes from not owning a pet?
Are there others of you out there that loved your dog but are just a little bit happy that the dog is finally dead?
Last week, the New York Times reported that a group of experts from the American Heart Association concluded that, at least for stockbrokers, (really.... stockbrokers?) owning a dog was "probably associated" with a reduced risk of heart disease (and with science like this, who needs to make stuff up?).
They site two reasons for the health benefits, the first of which I totally get: Walking the dog is good for the heart. I did not personally reap those aerobic benefits with Sophie on a daily basis because mostly I just let her out in the backyard where we had an electric (oops, I mean invisible) fence.
But my husband and I belly-laughed when we read the second reason. The report concluded that most dog owners "form such close bonds with their pets that being in their presence blunts the owners' reactions to stress and lowers their heart rate."
Owning a dog associated with LESS stress? Really? Maybe they are living in some alternative universe than I. In my universe, the stress level caused by the dog (at least for the responsible adult members of the household) was pretty darn high -- high enough to counteract any de-stressing affects of doggy bonding, belly rubbing and love.
There are certainly pros and cons of pet ownership, and the cons of Sophie were as many as the pros.
Sophie was constantly ravenous. She had to be guarded at all times. She would grab a lollipop right out a child's hand, eat an entire birthday cake off a counter, an entire turkey on Thanksgiving. Carrots, broccoli ends, plastic bags, aluminum foil, socks -- it was truly amazing what that dog consumed, and even more amazing when it came out the other end whole.
Our adorable, tail-wagging friend shed profusely -- all four seasons -- clumps and clumps of yellow fur. We were constantly de-furring. I am now able to wear black (though clearly not in mourning) and so I am skinnier and thus happier. My couch, the rugs, the kitchen floor are no longer covered with yellow hair (ok, only a little, but it's mine -- I hear it's hormonal).
Our smiley, happy doggy scratched and soiled our floors, and generally made our house a mess.  After Sophie died, we rolled out the Oriental rug (which Sophie started to use as her pee pad on rainy days) and we called in the dustless floor sander. Do I miss "Doody Duty" in the backyard? Do I miss the yellow spots on the lawn? Do I miss the doggie smells -- from ear infections, smelly mouth, wet dog, rolling around in other smelly stuff? Do I miss screaming "DROP IT!" in horror so Sophie would leave the dead birds she brought home outside? No, no, no, and maybe just a little -- so gross, but so endearing.
Our fabulously friendly friend was enormously expensive. Thousands and thousands of dollars worth of expensive-ear infections, regular check ups, and one big one (there is always a big one, isn't there?): Lyme Disease. When your sick pet has spent four overnights at the vet and no one has told you exactly what the cost is going to be (but you know for sure that it has eaten up most of your vacation fund) if that isn't stress, I don't know what is.
People always ask us if we have another dog in our future. I think not, but to be honest, sometimes my heart softens when I see a cute little doggie cuddling up on the couch with its owner. What do you think? Maybe a cute little pug? I hear that smaller dogs don't live as long.
Read more from Better After 50:
Relocation Stress: Not Just For Humans
Losing My Hearing and Finding Jill
Empty Nest? Nurture The Dog
The Science of Happiness and Pets
Earlier on Huff/Post50:
10 Lies Boomers Tell Themselves
Midlifers struggle with staying asleep. We fall asleep easily enough, but staying asleep is an entirely different matter. And come morning, we plead with the alarm clock to say it isn't so.

This is usually said by someone trying to convince you that she doesn't care what others say behind her back. Leg exposure is a tricky thing post 50. Varicose veins and cellulite on the thighs are just not attractive looks. Then again, if you really don't care what others say...

Little known fact of aging: Your eyebrows disappear. They even have eyebrow transplants now for when penciling in what's no longer there isn't enough. And then there are lovely wispy bangs, which you can see being sported increasingly.

This isn't actually a lie. While who doesn't love a discount, the idea of going to an early-bird special is way too dated for anyone we know. But the truth is, eating a heavy meal late in the evening isn't so great for you. Your body needs more time to digest your food before you pass out asleep. Reservations for two at 6:30 p.m., please?

Aging feet hurt. They sprout bunions, their arches fall. Heels are the enemy and much time is spent finding not just comfortable flats, but also clothing you don't need to wear heels with. No, not even for just one evening.

Memory issues plague us all. Each time the TV remote winds up in the laundry room, we wonder whether this is the Big A -- Alzheimer's.

Don't we wish? Mid-lifers who lost their jobs in the Great Recession are still struggling. And unlike others who are younger, they don't have as much time left in their working lives to recoup what they lost in savings.

Of course it is. They are living back under your roof and you are still supporting them because they can't find jobs. He who controls the pursestrings controls the kingdom.

Can we all just admit right here and now that we post to Facebook, send tweets and have spent several evenings trying to figure out Pinterest to little avail? Now fess up: what we'd really like is an occasional hour spent on the phone chatting with our friends -- our brick-and-mortar, real-life friends. Just because we can connect to strangers in more ways doesn't make us more connected.

We make time for the things and people we think are important. It's called setting priorities and we've never met a post-heart attack patient who still didn't have time to exercise.