Ferran Adrià and the seven pastry chefs of elBulli were in a stew.
One of the world's most innovative pastry chefs was coming to celebrate his 40th birthday at their restaurant, and they needed to make a cake for the occasion. An SOS to Catalan creationist Albert Adrià, Ferran's younger brother and former top dog in the elBulli dessert department, would normally have been an option. Except that Albert himself was coming to dinner.
"Ferran made an exception for me," said the younger Adrià, who may have had trouble getting a reservation at elBulli on his own. The three Michelin star restaurant, which will close for two years in 2012, is currently open only six months a year and accommodates a mere 8,000 of the more than two million annual reservation requests it receives. Each night, elBulli's diners -- all 50 of them -- enjoy 35 courses prepared by no fewer than 40 chefs.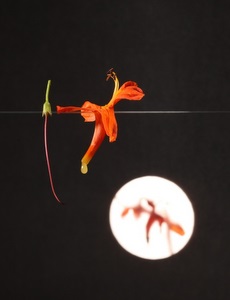 The birthday return of Adrià, who left the restaurant a year ago to pursue his own projects, made for a confectionary conundrum, ironically resolved with an inedible dessert. The restaurant's 40 chefs formed a circle, each with a candle in hand -- a human birthday cake.
The meal, meaning also its many edible parts, was "unforgettable," said Adrià, finding words so inadequate to express the artistry of one of the desserts, that he began to sketch it. "It was a flower with a small stem that when you put in your mouth and tugged, released a rush of nectar through the petals. "It was like being a hummingbird," he said, practically flush from the memory. "And then there was this artichoke heart they tricked me with," he said. "I had no idea, but it was actually made of white rose petals." The surprises didn't stop there for elBulli's former chief ideologist and creative director. "I didn't recognize a thing on the menu."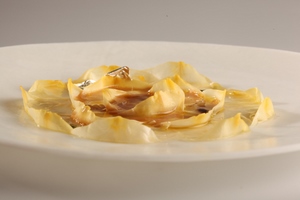 Adrià admitted feeling nervous before arriving at elBulli for dinner. Even after his 25-year history with the restaurant, this was the first time he had come to the Cala Montjol wearing anything thing but a white cotton chef's coat.
Although Adrià knows the mystery behind elBulli's magic better than almost anyone, he still gushed, recalling the wooden chocolate-filled boxes that are passed around the table at every meal's end. "People are not shy when they see that box!" he said, describing how even the toniest of patrons dive in to the treasure box of cocoa booty. "Three chefs come in early every morning because the lights in the kitchen have been off all night, which makes better temperature conditions for working the chocolate," he revealed, with the admiration of a person who knows first-hand what it's like to work at elBulli, but who no longer does.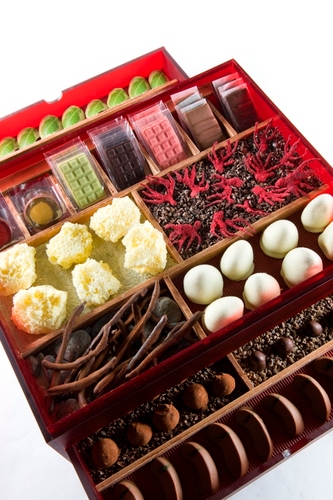 At first glance, Adrià's decision to leave elBulli is bewildering, but then you get to know him, and like molecules of chocolate at 80 degrees Fahrenheit, it all comes together.
As a buck of 17, Adrià wasn't much for books, so the natural solution was to find a job in the restaurant where his older brother, Ferran, was already working. When he arrived at the restaurant, a severe allergy to seafood determined his designation in the pastry department. Although now, both brothers are widely-recognized gastronomic super-heros, it was time for Albert to scope out new territories with his own game.
Inopia, Adrià's tapas bar in the low-key Eixemple district of Barcelona, is his game. "It's noisy and people eat standing up," he said of the place about the size of 6 billiard tables where he packs 140 people every night. Despite his wish to keep it casual, Adrià was forced to hire a bouncer to keep his patrons from mauling one another over pinchos morunos.
With a simple, nitrogen-free menu featuring Spanish tapas classics such as ensaladilla rusa and flan casero, Inopia is Adrià's return to the basics. "We have to have keep one hand firmly fixed on tradition in order to guess how we'll evolve," he said, when interviewed in Beijing, hinting that he and Ferran may consider launching their next taste-defying venture in the Chinese capital.
Until such a day, die-hard aficionados of the elBulli duo can still visit both at Inopia, which has gotten 5-star ratings all over the web for the quality of its traditional and fairly-priced food. Ferran, whom Albert jokingly calls "his free consulting service," is often seen devouring tapas there, while the world-renowned pastry master busies himself behind the bar preparing 3,50 euro servings of his signature patatas bravas.
"It's like going from making Ferraris to bicycles," he said, pausing a moment, before adding with a super-sized grin. "But really good bicycles."