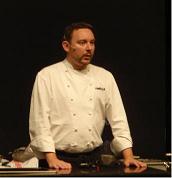 Albert Adrià does what every toddler shouldn't; he plays with his food.
"What is it?" and "How was it made?" are the first two questions the former elBulli chef asks while playing, usually before stopping to lament that he won't live another two hundred years. The younger brother of the taste-defying duo behind elBulli, Adrià's cooking credo is simple: "If there's no food left, it was good." While this may seem rather simplistic for a 25-year veteran of a restaurant with every accolade of the fork, including three Michelin stars and a five time chart-topper for best restaurant in the world, it is one that he adheres to. So much, that when at a highly-anticipated seminar in Beijing that received 13,000 reservation requests, Adrià began his cooking demonstrations with a video detailing at least thirty different ways to prepare asparagus, some audience members balked.
Where were the bunsen burners, the atomizers, the clouds of nitrogen, the strange foams, and the dishes that looked straight out of a Bosch painting? They were all there; peeled, sliced, chopped, grated, and julienned.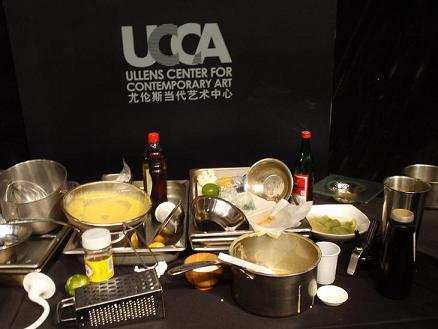 "This is not technology, these are hands," says Ferran Adrià in the 'A Day in elBulli,' a documentary directed by Albert, that was also screened at the seminar, which was organized by Chef Brian McKenna of Room BMK and the Instituto Cervantes of Beijing. In just under an hour, the film goes over the quotidian activities at the restaurant, including produce delivery, window-washing, and the daily brainteaser of its highly-coveted reservations. Highlights include shots of Ferran tasting and gesticulating the menu of the day with all the gusto and authority of a gastronomic Godfather, but aside from a quick shot of a dehydrator filled with strawberries, no references to "molecular gastronomy," are made. And at one point in the film, Ferran even consults an old red leather bound cookbook; not to be confused with a space manual.
"So you see, we're not so strange, after all!" said Adrià, shortly after smashing up some verbena leaves with a pot, shying away from the need for a more sophisticated device. The 40-year old chef, who has spent more than half of his life working at a restaurant which some foodies wait a good part of their lives for the chance to dine at, had traveled from Barcelona to Beijing with a very simple message to deliver. Despite the Michelin stars, the magazine covers, and the corkscrew roads that lead to the now legendary Cala Montjl, elBulli is not a new-age gastronomic laboratory. It is a restaurant and atelier that sometimes uses scientific techniques to complement traditional food preparation, but where science is consistently secondary to taste. And where creativity and jamón serrano -- for when the chefs feel peckish around mid-morning -- reign supreme.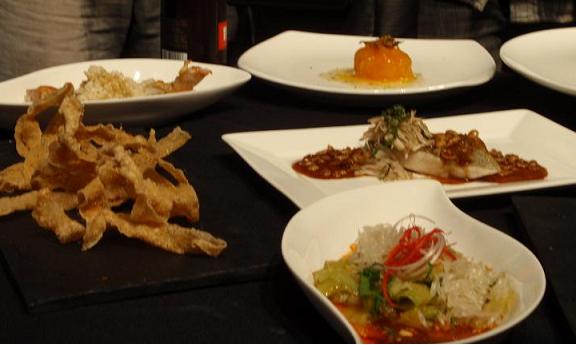 Watching Adrià cook was something of a coming-of-age experience during which I learned that elBulli magic comes less from nitrogen than it does from large servings of creativity mixed with basic ingredients like gelatin. Yes, gelatin, or the main ingredient of JELL-O, the choice dessert for hospital inpatients across America. From gorgonzola mochi, to soy sauce clouds, to frozen margarita sticks, gelatin is a bonding agent that the elBulli team relies heavily upon to give their dishes the playful shapes and textures that have immortalized their restaurant. And almost as official documentation that tradition mixed with creativity can trump technology, the elBulli recipes for all of these dishes were included in the gift bag of every guest at the seminar. Just like that.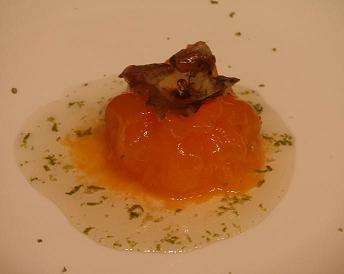 Making a dessert with persimmon, lemon juice crystals, sugar, and anis with a fragrance so aromatic it seemed to bewitch the entire auditorium, Adrià coyly reminded us, as he added it into the mix, that honey, is bee spit. "And we eat it," he said, with the same amused wonder and curiosity he seems to approach all ingredients, new or old.
Which is what brings him to China.
Adrià describes his ten days in Beijing as a period of perpetual curiosity during which he attended meals with fifty different dishes, each unique, and some, even to him, entirely unidentifiable. One of his favorites was jiaohuaji, or marinated chicken in lotus leaf. While eating in Chinese restaurants, he made several observations, including how it is rare to see only two people dining at a table, how so many dishes effectively marry sweet and savory tastes, and how much he enjoyed the inclusion of tea with many of the meals. He was also pleased to see how boisterous Chinese restaurants are; a reminder of Inopia, his tapas bar in Barcelona.
But out of everything, Adrià was most impressed by the Chinese wok. "The wok is the cooking of the future," he said, describing the towering flames he witnessed in Chinese kitchens where chefs used the woks with tremendous agility to stir fry, deep fry, steam, braise, stew, and smoke.
"It offers endless possibilities, and yet is so simple," said Adrià. "And for me, that's the perfect metaphor for cooking."

SUBSCRIBE TO & FOLLOW LIFESTYLE
HuffPost Lifestyle is a daily newsletter that will make you happier and healthier — one email at a time. Learn more