It sounds a little odd, roasted grapes, but this is one of those recipes where the end result is more than the sum of its parts. Something wonderful happens when you apply heat to grapes tossed in fragrant olive oil. The transformation is unexpected; familiar and exotic at the same time.
It also classifies as one of those recipes that begs the question: "Why didn't I think of that?"
It's a delicious, complex-flavored side to any meat or poultry dish (lamb would be perfect; or game), impressive with a cheese course, satisfying served alone as a fruit course.
The recipe is from the chef and owner of the popular Los Angeles restaurant, AOC (the designation on French wine labels). Suzanne Goin is crazy creative with food and must have a palate similar to mine because I tend to like most of what she likes to prepare.
The grapes come out of the oven with their juices just starting to ooze, annointing the roasting pan with a delicious syrup you will want to lap up. They deepen in color, blister a little and become musky-sweet. The olive oil and salt and pepper perfectly balance the sweetness. And it couldn't be easier.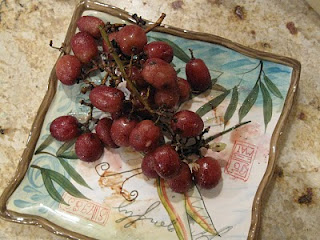 Roasted Grapes
Pre-heat the oven to 425 degrees F.
Take a small cluster of red, seedless grapes and gently toss it in a bowl with 1 tsp. of extra virgin olive oil, sea salt and freshly ground black pepper.
Place cluster on a baking sheet and roast for 8-10 minutes. The grapes will puff-up, darken in spots, and begin to blister. Serve.
Enjoy them while they're still warm--mmmmmmm!