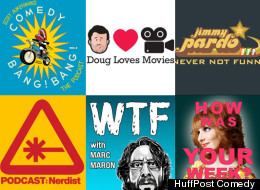 Exciting news: HuffPost Comedy is going to start covering podcasts. What that means, exactly, is partly up to you.
Like many fans of comedy, I have come to rely on podcasts as a valuable and enriching part of my humor diet. I first started listening to Jimmy Pardo's "Never Not Funny" around 2007, and it provided a valuable roadmap for tracing the origin and evolution of comedy podcasting. Ricky Gervais' may have been the first, but Jimmy's podcast really was the forebear of the modern landscape of DIY podcasts put out by talented comics with an excess of energy who wanted a simple new way to promote themselves.
Comedy podcasts aren't like blogs; you can't RSS a podcast to get a quick overview and move on with your day. But I'm skeptical of the true utility of podcast recaps. With all due respect to podcast recappers at sites like Splitsider and especially The A.V. Club, an overview seem to only be interesting if you've already listened to the podcast. And if you've listened to it, why listen to a recap of what's essentially a conversation, when the entertainment value lies in the meat of a discussion?
Then again, I don't really understand the concept of TV recapping, either, so maybe I'm just missing something.
But that's why I ask you, handsome HuffPost Comedy devotee: What are you missing from your podcast coverage? Do you simply want to know the highlights of your favorite shows, or do you want something more comprehensive? Who are your "guys"? (Sorry, that's a Marc Maron question.)
Also, please let me know the shows that you think deserve attention. I've included a slideshow of some of my favorite comedy podcasts below, but I'm sure I have plenty of blind spots. And I know that some mega-popular podcasts aren't included here, such as Adam Carolla's show or any of Kevin Smith's. I'm sure we'll want to touch on those, too.
Let me know in the comments what you'd like to see, or tweet me at @rossluippold.
The flagship show of Chris Hardwick's podcast network is this interview show hosted by Hardwick and comedians Jonah Ray and Matt Mira. They usually sit down with figures from the world of entertainment or geek culture for lively conversation about what makes them tick. Listen to it here.

Scott Aukerman's podcast, which has since been adapted for IFC, is one of the few comedy podcasts that is actually devoted to performing more traditional comedy rather than funny conversation. Aukerman brings in a celebrity guest for an interview that is inevitably interrupted by a character played by a comedian or comedic actor, like Andy Daly, James Adomian or Paul F. Tompkins. Listen to it here.

If you're somehow unaware of "WTF," the twice-weekly interview podcast features veteran comedian Maron performing probing, honest interviews with comedians and artists of all stripes. Imagine if Terry Gross dropped the F-bomb and were uncomfortably open about her sex life. Listen to it here.

Jesse Thorn, the empresario behind the non-profit podcasting enterprise Maximum Fun, co-hosts this comedy podcast with his friend, comedian Jordan Morris, as they riff with comedians or other quick wits. Listen to it here.

Writer and comedian Julie Klausner gabs about pop culture, cats and life in New York City in general with comics, authors, actors and the occasional Real Housewife. Listen to it here.

Comedian Pete Holmes takes the "WTF" format of digging deep into comedians' psyches and adds a hearty helping of Holmes' enthusiastic, "fun dad" attitude. Listen to it here.

Comedians Howard Kremer and Kulap Vilaysack navigate the week's music and movie charts with the help of a guest comic. Listen to it here.

Riki Lindhome, an actress best known as being one half of the music duo Garfunkel & Oates, talks to comedians, screenwriters and other showbiz types about their career path, and they offer advice and insight into what it takes (and means) to succeed. You can listen to it here.

Comedians Nikki Glaser and Sara Schaefer chat about their dating life, careers on the road and everything else under the sun with a guest comedian. They record the podcast in front of a small audience in Schaefer's Brooklyn apartment. Like "Comedy Bang! Bang!", this show will soon be adapted into a more conventional talk show on MTV. Listen to it here.

The one that started them all. Stand-up comic Jimmy Pardo and his producer and cohort Matt Belknap basically originated the current format of the comedy chat podcast with this show -- nearly every guest from the first few seasons of the show now has a podcast of their own. You can listen to it here.

Doug Benson records his podcast live at the Upright Citizens Brigade in Los Angeles. He invites a panel of comedians to riff about movies, and then they play games testing their knowledge of them. Listen to it here.

The former "Simpsons" writer and one of the originators of the modern alternative comedy scene recently started a classy, well-produced show where he and his friends swap stories, and Gould presents retro-rific segments such as praising unsung heroes throughout pop culture history and dramatizing unearthed letters from celebrities of yesteryear. Listen to it here.

The great Paul F. Tompkins releases a monthly production in which viewers hear an assemblage of sketches, conversations and other hodgepodge from the verbose and charming comedian. Listen to it here.
Follow Ross Luippold on Twitter: www.twitter.com/rossluippold