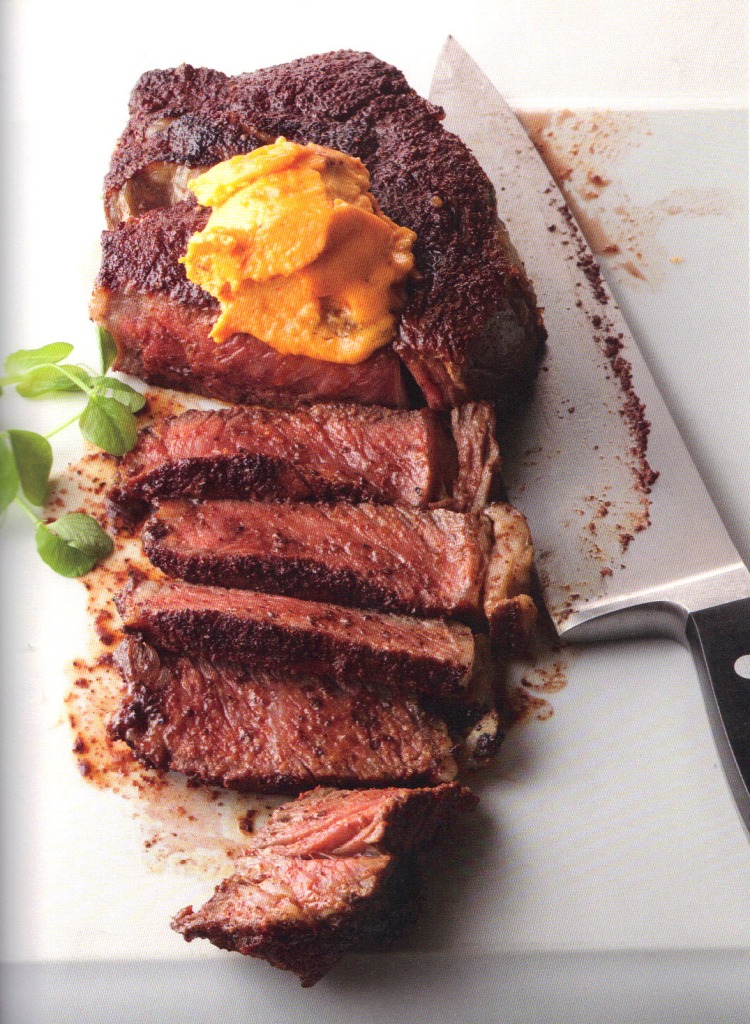 While I was "guest host" on Martha Stewart's Cooking Today Sirius XM radio show this week, we covered lots of topics, including craft beer, olive oil from Chile, Julia Child's new biography, Dearie, written by celebrity author Bob Spitz, "genius recipes" with Kristen Miglore from food52, and radically simple cooking with New York Times "City Cook" columnist, David Tanis. It was a great week. We also listened to the "hot chill" music of singer/songwriter Audrey Appleby, whose two songs, "The Garden" and "Ladies Cheap Cocktails," had everyone in the studio smiling and begging for more! Check it out at www.magicdance.com. Audrey's new album soon to be released is called Ladies Cheap Cocktails. Should soar to the top of the charts. And there were lots of requests for my Reddened Rib Eye with Pimiento Cheese -- the perfect steak for Father's Day.
The magical rub -- made from sweet paprika, smoked paprika, and sumac may require a trip to an upscale food store or spice market, but these are three ingredients I now always have in my pantry. You should, too. They make a ruddy crust for the steak that lights up your taste buds -- with sweet, sour, salty, smokey notes. Topping with homemade pimiento cheese makes this a sundae for a cowboy. It's a "hot chill" kind of dish.
Serve with a bowl of my amazing cauliflower-potato puree (recipe below). What looks like the most luxurious offering of buttery, smooth mashed potatoes is instead a puree of cauliflower bound with a bit of potato and sweet butter. The underlying sweetness comes from garlic that gets boiled with the cauliflower. Drink wine! Or drink beer! Lots of great suggestions on the show from beer maven, Jimmy Carbone, owner of Jimmy's No. Craft Beer Bar and Restaurant and co-founder of The Good Beer Seal awards.
8 ounces very sharp yellow Cheddar
3 ounces pimientos from a jar, with 3 tablespoons brine
6 tablespoons mayonnaise
1 small cloves garlic
1-1/2 teaspoons sugar
1 teaspoon smoked paprika
1/2 teaspoon sweet paprika
4 thick rib eye steaks, about 12 ounces each
1/4 cup ground sumac
Preheat the broiler. Chop the cheese and put in a food processor with the pimientos, brine, mayonnaise, and garlic. Process until smooth; add salt and pepper. Chill. Mix together the sugar, both paprikas, and 1-1/2 teaspoons salt. Rub the steaks thoroughly with the mixture and let sit 10 minutes. Rub the sumac thickly on both sides of the steaks. Place on a rimmed baking sheet; broil as close to the heat as possible for 3 to 4 minutes on each side for medium-rare, or until desired doneness. Top each steak with a scoop of pimiento cheese. Serves 4
1 large head of cauliflower, about 1-1/2 pounds
1 large baking potato
2 large garlic cloves, peeled
4 tablespoons unsalted butter
1/4 cup milk
6 tablespoons freshly grated Parmigiano-Reggiano
Bring a large pot of salted water to a boil. Cut the cauliflower into 1-inch pieces. Peel the potato and cut into 1/2-inch pieces. Add the cauliflower, potatoes, and garlic to the water. Continue to boil for 16 to 20 minutes, until the vegetables are soft (but not falling apart.) Drain well in a colander and shake dry. Add the cauliflower, potatoes, and garlic to the bowl of a food processor and process until smooth and creamy. Add the butter, milk, and 4 tablespoons of the cheese. Process until very smooth. Add salt and pepper to taste. Serve immediately, sprinkle with the remaining cheese. Or you may make the mixture ahead: Spoon it into a shallow casserole and sprinkle it with 2 tablespoons cheese. Bake at 350 degrees until heated through and run it briefly under the broiler until golden. Serves 6
Rozanne Gold is an award-winning chef and author of 'Eat Fresh Food: Awesome Recipes for Teen Chefs;' 'Healthy 1-2-3,' and 'Radically Simple'
SUBSCRIBE TO & FOLLOW THE MORNING EMAIL
The Morning Email helps you start your workday with everything you need to know: breaking news, entertainment and a dash of fun. Learn more