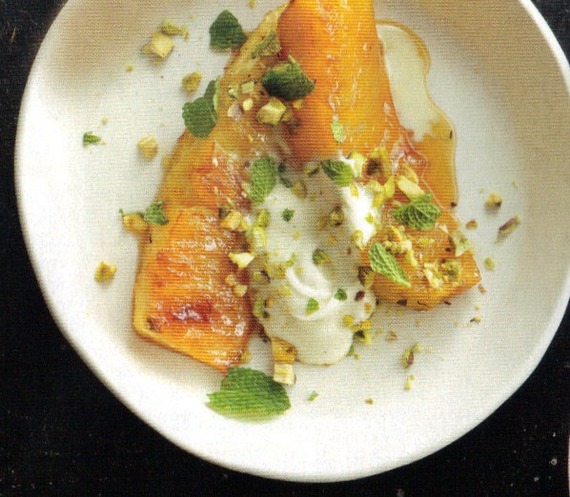 My hands-off approach to cooking continues. Even with twelve cookbooks under my belt, I still delight in the radically simple techniques that get food on the table with a sense of effortlessness. This concept applies to dessert, too. Here's a favorite, guaranteed to add a splash of sunshine to any winter meal. Check out the March 2012 issue of Bon Appetit for a few more examples of sheet-pan recipes, including main courses and side dishes, too. Better yet, why not experiment with this technique on your own and let me know how it goes.
Roasted Pineapple with Wildflower Honey and Pistachios
I love to use a uniquely flavored honey such as wildflower or leatherwood, but a milder orange blossom honey will also work well.
1 ripe medium pineapple
½ cup dark brown sugar
½ cup orange juice
3 tablespoons wildflower or leatherwood honey
1/3 cup shelled unsalted pistachios, finely ground in food processor
¼ cup crème fraiche
2 tablespoons julienned fresh mint
Procedures
Preheat oven to 450 degrees. Trim pineapple and cut away skin; remove "eyes." Cut pineapple in half, lengthwise. Cut each half into 4 wedges. Cut away core. Put sugar, orange juice and 3 tablespoons honey in a large bowl. Stir until sugar dissolves. Place pineapple in mixture to coat; let sit 10 minutes.
Line a baking sheet with parchment. Place wedges flat side down on baking sheet. Bake 10 minutes; turn over and bake 10 to 15 minutes longer until golden. Remove from oven. Place 2 wedges in each of four large flat soup plates. Drizzle remaining marinade over pineapple. Cool slightly. Top with crème fraiche, ground pistachios and mint. Serves 4
Rozanne Gold is a four-time James Beard award-winning chef and author of Eat Fresh Food: Awesome Recipes for Teen Chefs, Healthy 1-2-3, and Radically Simple: Brilliant Flavors with Breathtaking Ease.
Rozanne can be found on Facebook at http://www.facebook.com/rozannegold.
Follow Rozanne Gold on Twitter: www.twitter.com/RozanneGold