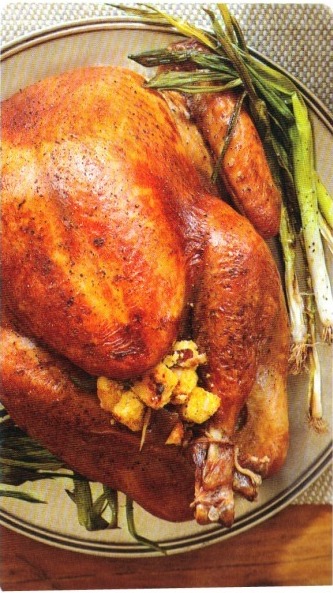 Over the years I have created dozens and dozens of Thanksgiving recipes for Bon Appetit, cover stories for Real Food, and once concocted a 15-ingredient Thanksgiving dinner feature for Newsday. Yes, 15 ingredients for the entire meal! One day I'll share that with you. But today I offer several gifts for your Thanksgiving table. It is, after all, the one holiday that begs for you to be at the table -- not in the kitchen -- and so some stealth planning and creativity are required.
If you have not already decided how to cook your bird, I present an idea that is not so much radically simple as it is radically delicious. It may be one of the longer recipes I've ever created, Double Crispy Roast Turkey in Apple Cider Brine with Do-Ahead Apple Cider-Tarragon Gravy, but the ultimate benefit may be that it requires less than 3 hours in the oven! My new technique of one-day brining and one-day "dry aging" in the fridge results in succulent, tender flesh and crackling, crispy turkey skin. It's a cinch to do and requires no basting. Even before your pan juices are ready, an apple cider sauce base is waiting for you, ready to amalgamate into a gorgeous turkey gravy. And an extra bonus is that the turkey rests on a bed of scallions that delicately flavors the sauce and also prevents the turkey from sticking! Here you go:
15-pound fresh turkey (not brined)
3-1/2 cups fresh apple cider (from the refrigerated case)
1 cup kosher salt
12 cups water
3 large cloves garlic
2 large bunches scallions
1/2 cup chicken broth
4 tablespoons unsalted butter
2 teaspoons cornstarch
1 small bunch fresh tarragon
Wash turkey; remove giblets. In a very large pot, combine 2 cups apple cider, salt and water. Add 2 cloves garlic, pushed through a press. Stir until salt is dissolved. Submerge the turkey, breast side down, in brine. Add water to cover the turkey, if necessary. Cover and refrigerate 16 to 24 hours. Remove from brine and pat very dry. Place turkey on a rack on a platter (to catch drippings) and refrigerate, uncovered, for 24 hours. Preheat the oven to 325 degrees. Trim scallions and place side by side on a large, shallow roasting pan. Place turkey on scallions. Roast 2-3/4 hours until done, tipping turkey into pan twice while roasting to remove juices. Meanwhile, put 1-1/2 cups apple cider, chicken broth, remaining garlic clove, pushed through a press, and butter in a large saucepan. Bring to a boil; lower heat and simmer 20 to 30 minutes until reduced to 1 cup. Dissolve cornstarch in 3 tablespoons water and whisk into saucepan. Simmer 5 minutes, whisking constantly, until smooth. Add 1 tablespoon finely chopped tarragon and set aside.
Transfer turkey to large cutting board. Pour pan juices into a large measuring cup; let rest 5 minutes and remove fat from top using a spoon. Slowly add pan juices, 1/4 cup at a time, to simmering apple cider reduction to achieve a well-balanced gravy, tasting as you go and keeping at a simmer until desired flavor is achieved. Whisking constantly, cook 5 minutes until thickened. Carve turkey and garnish with tarragon. Serve with gravy. Serves 8
And to compensate for the slightly complex recipe above, I am offering two radically simple side dishes: A most delicious cranberry-lemon-apple relish that can be made in two minutes, and a super fabulous three-ingredient sweet potato puree enlivened with fresh ginger and orange. It tastes rich and fattening but is completely fat-free. A nice antidote to the rest of the meal.
Cranberry-Lemon-Apple Relish
This is my new favorite cranberry sauce; a fresh sprightly relish that cleanses your palate and adds great verve, and color, to each of the meal's components. In addition, there is always a jellied block of cranberry sauce, straight from the can, as part of my Thanksgiving offerings. It's a tradition I would never change.
12 ounces fresh cranberries
2/3 cup turbinado sugar
2 lemon wedges (skin and all, no pits)
½ large Gala apple, in large chunks
1/8 teaspoon ground allspice
Pulse in food processor, with a large pinch of salt, until finely ground. Cover and refrigerate until chilled. Makes 2-1/3 cups
Sweet Potato, Ginger & Orange Puree
Add a pinch of Chinese five-spice powder if you wish -- it's a nice touch.
2 large oranges
4 large sweet potatoes, about 3 pounds
3-inch piece fresh ginger
Grate the zest of the oranges and set aside. Cut oranges in half and squeeze to get 2/3 cup juice. Scrub the potatoes but do not peel. Place in a large pot with water to cover. Bring to a boil; lower heat to medium. Cook 50 minutes or until the potatoes are very soft. Drain well and peel under cold water. Cut potatoes into chunks and put in bowl of food processor. Peel the ginger and finely chop to get 3 tablespoons. Add the ginger, orange zest, and orange juice to processor. Process until very smooth. Add salt to taste. Heat before serving. Serves 8
And what to drink? The week before Thanksgiving every year, people await the arrival of Beaujolais Nouveau -- a wine I often serve with my Thanksgiving meal. If Beaujolais Nouveau was once a petulant child, it has grown into a slightly somber teen, missing its vitality and spirited "cherry jello" perfume. While its juicy fruit goodness and sense of immediacy may be lost, it is a pleasant, drinkable, structured wine capable of bringing all the elements of your Thanksgiving meal together. For more good choices of what to drink this year, read The Food Lover's Guide to Wine by Karen Page and Andrew Dornenburg -- hot off the press! May you have a jubilant holiday!
Photo Credit: Terry Brennan
Rozanne Gold, award-winning chef and author of "Eat Fresh Food: Awesome Recipes for Teen Chefs"; "Healthy 1-2-3," and "Radically Simple."
Rozanne can be found on Facebook at www.facebook.com/RozanneGold.