At Fort Stewart, Georgia, the home of the 3rd Infantry Division, Eastern Redbud trees line the parade grounds to honor fallen soldiers. The pathway is known as Warriors Walk.
One of these trees is dedicated to Private First Class Landon Scott Giles, a Trooper who served in Iraq with the 6th Squadron, 8th Cavalry Regiment of the 3rd Infantry Division in 2005. I served as a Rear Detachment commander for Landon's unit and was present at the ceremony dedicating his tree. Several of Landon's family members attended, including his sister, Jennifer.
Recently, I reached out to Jennifer to see if she was interested in sharing a story about Landon as a way of observing Memorial Day.
Jennifer's story begins by recounting Landon's enlistment in the Army:
The day before Landon was set to leave for basic training he said he wanted to go eat lunch -- just the two of us. After lunch he gave me a rock. It was white with gold letters that said "Remember." Landon showed me the one he had bought for himself, black with the same one word in the same gold lettering. He explained he bought them because he knew we were about to be separated by many miles and since deployment was evidently unavoidable we would eventually be separated for the longest amount of time we had ever spent apart.

Landon left for basic training the next day, June 24, 2004. I hugged him goodbye and watched him climb aboard a white van with two other boys. Not one of them looked a day over 15.

During Landon's basic training I met my future husband. Landon tended to be a little protective when it came to me dating. He had never once approved of a boyfriend. He would always say "well, he seems like an alright guy, but not someone I want dating my sister." But, being honest, no one was ever good enough for my little brother either.

I broke the news of my engagement to Landon at his graduation from basic training. He took it well -- a lot better than I thought he would. He had a talk with Jason that I wasn't privy to. Jason only ever told me "your brother loves you very much."

Landon and I spent the last couple days before his deployment just being us -- hanging out doing nothing really. I met Landon's buddies, and felt I immediately inherited a few more little brothers.

Later that night, I asked Landon if he was scared and he said yes. Landon was being honest and said that he wasn't going to Iraq to be a hero. I told him I already thought he was. Landon was my hero. He expressed that he thought if someone did have to go there and ultimately lose their life it was better if it were someone like him than a guy with a wife and child.

I took Landon back to post and cried all the way to my hotel. We had said everything there was to say, but my heart felt heavy. I felt maybe that I had left something out. So I began to write. I wrote a letter to my brother about all the memories we had gathered and how they would keep me company until we saw each other again to make more.

The next morning, I met Landon where they were assembling to board buses that would take them to the airfield. We took a couple of pictures and laughed and smiled. Then our time was over. I hugged him with everything I had. Landon asked me if I had my rock and winked at me. That's when I handed him the letter. We hugged once more and I watched him walk off and blend in with the other uniforms.

Landon turned 19 on February 1st. I had not heard from him since the morning he deployed, but I finally heard from him on February 13th. Landon was in Kuwait. He had a cold, but felt okay. He had spent his birthday driving in a convoy carrying troops from the airport to where ever they were going. Landon mostly wanted to hear about home. After about an hour, we said our good byes and hung up. That would be the last phone call my brother would ever make.

When my phone rang at about 11:45 P.M. on February 26th I knew it was bad. I knew it was about Landon. It was my grandmother calling. I answered the phone simply, "What's wrong?"

"Landon was killed in Iraq today."

At that moment, part of me was gone forever.

We buried Landon on March 6th. The town of Arkadelphia, Arkansas mourned with us. People lined the streets from the church all the way to the cemetery, waving flags with hands over hearts, veterans saluting as we passed. Soldiers who didn't know us or Landon drove from all over the state to attend his service. I was amazed at the love and support.

When Landon's belongings were shipped home there was a plastic bag with some folded paper in it. I was informed that it had been in his pocket when he was killed. It was the letter I had written him. I unfolded those pages and began to read. And I realized that letter came back to me for a reason. To remind me that those memories would get me through until we meet up again.

I buried Landon's black rock in the pocket of his uniform next to his heart. I have mine and I have my memories. And I will always remember.

- Jennifer Giles Whitworth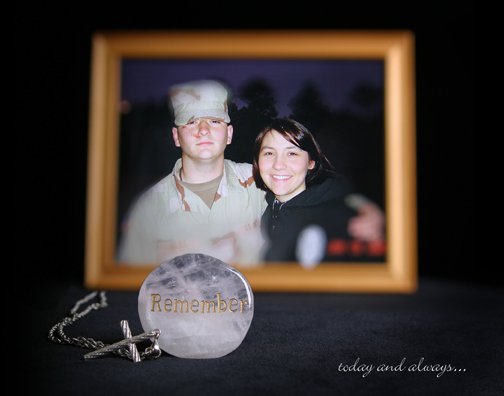 According to the Fort Stewart Warriors Walk Home Page, the tree dedicated to Landon Giles was the 61st planted since the beginning of the wars. Today, over 430 trees represent the human cost of the ongoing wars on the 3rd Infantry Division. The parade ground meant for celebratory marches is now a place of mourning and reflection.
Those who have fallen in service to our nation are our greatest heroes. This weekend we remember their service and reflect on their lives with pride.
Private First Class Landon Scott Giles was posthumously awarded the Bronze Star Medal and Purple Heart. Jennifer Whitworth currently resides in Arkansas where she is pursuing a degree in nursing.
The opinions expressed in this commentary are solely those of Ryan McDermott.