I inadvertently had one of those rare moments of clarity where I unraveled what my life's work has to be. I had a really big holy-crap-this-is-what-I'm meant-to-do-in-life moment. Here's how I got to that point and how you can purposefully do the best work of your life and figure your $#!& out so you don't waste as much time as I did.
Look.
I've been fortunate enough to have great marketing jobs and have done some very cool things. I got Kathy Griffin to make a sex tape with Dame Judy Dench (to promote Kathy's reality show). And while great and amazing, there was something always a little off. This week I've been at Hubspot's #Inbound13 marketing conference, and it was here I figured out exactly what was off.
My first moment of clarity came to me when Seth Godin said two words: generosity and art. Because we're all so connected now, the world needs marketing leaders who are generous and artists to make it a better place. You see, that is the epitome of who I am. I want to help. I have a unique perspective. And that's been the case my whole life. The world has finally caught up to me and now I can begin.
It's a powerful feeling after sitting on the sidelines for so long. The world wasn't quite ready for me. And now everything is culminating in such a grand way and I am now abundantly qualified to take on the world. To inspire. To lead. To make it a better place.
Two things had to happen for me to get my moment of clarity. First, I followed my passion. I did what I love. And while something was off for a long time, it was as close as I could get at the time. If you're not there, start by getting closer to what you love. Small steps towards a new direction now drastically changes where your journey ends.
Second, I opened myself up to new thoughts and ideas. I got myself to the right place at the right time to get the right insight that changed my soul. If you want to figure it out purposefully, then put yourself out there. Look around. Explore. Investigate. Be curious. And from the exposure you'll find that gem of wisdom that completes you.
Listen.
I also picked up a tip through osmosis. A couple of speakers at the conference, Aaron Ross and Joseph Jaffe, preached "Follow your intuition." They reminded us about Steve Jobs and the whisperings in his head.
I had been silencing the whispers in my head. That's what I was supposed to do. To be normal. To fit in. And now I have given myself permission -- and am completely okay with -- listening to the voices in my head.
My advice to you: Listen to the voices in your head. They are there. There's always a gut feeling. Go with that. My voices are saying: Wake up. It's your time. Go. Do it. Don't worry. What are yours saying?
Lose.
I went to hear a session titled "Finding the Strength to Write Our Stories" by Erika Napoletano but she was having a meltdown. She no longer wanted to be a speaker about marketing... she wanted to help people find their passion. She threw away her session and created a new one called "How to Lose Your $#*!".
Her point: When the story you are telling yourself and the story you are telling others isn't the same, lose your $#*!. Pour your heart out. Get it all out there. Then figure out what your story is. Feeling empowered, I did. I am truly grateful to my husband, my friends and the poor conference attendees who listened to my $#*!.
What Erica said is true. When you let go, you re-center yourself. You connect back to yourself. You say things you've never said before. You speak the truth. You figure it out. So go ahead. Lose your $#*!.
Leap.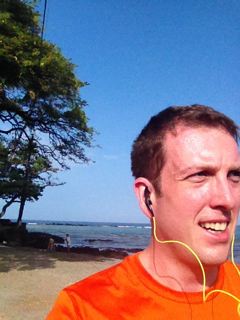 I'll be forever grateful to Beth Dunn who smacked me over the head with a brilliant personal story and a couple of lessons. Beth hates running but has lost 75 pound to date by running. How'd she do it? She takes a picture of herself every time after she works out. She's motivated to keep the streak going so she'd endure the pain of running to keep the streak alive. But more importantly she doesn't feel compelled to run huge distances or very fast every time. She just needs to run, break a sweat and get her #sweatyselfies. In doing so, she's learned to love running. Her point: Lower your standards. Focus on keeping the streak alive. Take action. Just do it. It will help you do the best work of your life.
So Beth, this one's for you... here's my new blog with my newly lowered standards. It's dedicated to sharing the many mistakes we've made in life (with an emphasis on the marketing mistakes) and the lessons we've learned from them.