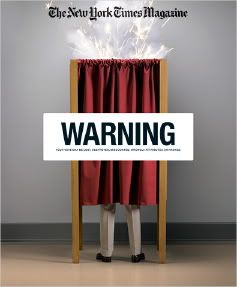 Colorado 2008 = Florida 2000?
The Colorado Independent wonders if Colorado will take the crown as the poster child for Election Day dysfunction this year, pointing to potential problems with a new statewide voter database system and dealing with huge numbers of new voters who have to wade through the longest ballot in the country.
The State of Colorado Registration and Election system (SCORE) compiles voter information from across the state to comply with the Help America Vote Act. The system, two years behind schedule and millions over budget, automatically cross-checks voter information with other state agencies to verify voter eligibility and ensure more up-to-date and cleaner voter rolls.
Coloradans have reason to question the reliability of new computer systems. In 2006, a series of computer crashes dubbed "The Glitch of '06" contributed to wait times of up to 3 hours in Denver, causing an estimated 20,000 voters to leave polling places without voting.
"I feel pretty comfortable front-end that we're not going to have the problems we had in 2006," Secretary of State Mike Coffman told the Denver Post. SCORE has held up in recent tests, but the ultimate challenge comes on Election Day.
"There is going to be a burden on the system that we have not seen," Jenny Flanagan, executive director of the nonprofit government accountability watchdog Common Cause, said in the Post.
The surge of new voter registrations in the state -- with more than 100,000 in the last five weeks alone -- could spell long lines and sow further confusion and frustrations at the polls.
"Because we have had such a massive voter registration effort, we expect to see problems where people think they are registered but actually find they are not at the polls," says Flanagan told the Independent.
Further contributing to long lines, Colorado voters will be contending with the longest ballot in the nation and the longest in the state since 1912. In 2006, an informal test found voters took between nine and 25 minutes to fill out their ballots. State law says voters have 10 minutes to vote when other people are in line.
To avoid lines on election day, voters in Colorado and elsewhere are encouraged to vote before November 4.
"The way to ease the burden both for the people who run the elections and the people who count the results is to vote by mail or vote early," Gov. Bill Ritter said last month, a sentiment echoed by county clerks, political campaigns, and nonprofits.
Mail-in ballots have already gone out in parts of the state, and in-person early voting kicks off October 20, meaning it's too late to avoid the barrage of political ads in the Centennial State.
---
Read the rest of the Battle For The West Daily Digest here.
SUBSCRIBE TO & FOLLOW THE MORNING EMAIL
The Morning Email helps you start your workday with everything you need to know: breaking news, entertainment and a dash of fun. Learn more