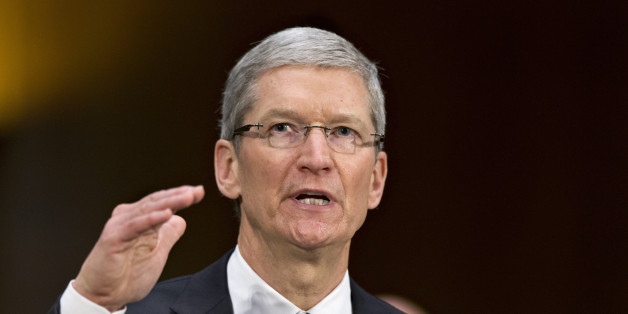 This week, Apple will be basking in the publicity frenzy from WWDC. The company is roaring along at a pace that seems to be unstoppable and CEO Tim Cook is clearly a visionary leader for our times. Despite this, however, there is one area in which Apple and Cook are being coy and its time for Americans to call the tech giant out on that.
In a speech last week, Cook blasted the U.S. government for its efforts to prevent robust encryption of data, citing our constitutional right to privacy and challenging the assertion that encryption would hamper security for Americans. "We at Apple reject the idea that our customers should have to make tradeoffs between privacy and security," Cook said. "We can, and we must provide both in equal measure."
Of course, he's right. Privacy is important. As we lead our lives increasingly online, sharing extremely personal data with companies, government agencies, banks, and on social media, the need to protect that data is paramount. On that front, Apple is doing a great job of protecting our rights.
The flip side of that coin, however, is that some of that same data is required by law enforcement agencies to track criminals, investigate crimes, and keep citizens safe from harm, so Apple's stance creates a quandary for our society. While most of the debate on this issue is centered around the problem of terrorism, even regular law enforcement is negatively impacted when authorities can't decrypt data.
Yet so far Cook has failed to provide any solutions for the problem. While he states that Apple wants to provide both privacy and security for its customers, he doesn't say how the latter will be achieved, especially given that Apple's unwillingness to help law enforcement decrypt data even with a court order could potentially jeopardize our security.
With crime rates in major cities across the U.S. increasing again after a period of decline, international terrorism showing no signs of abating, and cybercrime growing rapidly, as evidenced by the massive Chinese hack of U.S. federal employee information just this week, the company needs to do a lot more than simply pay lip service to the public.
What Apple must do is work with the U.S. government to modernize our law enforcement apparatus and pioneer innovative new methods to track and prevent criminal activity without compromising our cherished right to privacy. It's a thorny problem but then as the biggest company in the world and with the tremendous brain power and resources that Apple commands, it's uniquely positioned to help solve it. If the company will not let authorities decrypt data, then it must offer a different way for law enforcement agencies to obtain the information that it needs.
Anything else is a passive abdication of Apple's responsibility to Americans, even if it's protected under the aegis of privacy. Cook needs to acknowledge this dissonance in his own words. It's great that Apple isn't part of the problem but that doesn't mean it shouldn't also try to be part of the solution.
Kumar is a tech and business commentator for publications such as FORTUNE and TIME. He has evaluated mergers and acquisitions in the technology, media, and telecom sectors for leading investment banks, and provided strategic consulting to media companies and hedge funds.
SUBSCRIBE TO & FOLLOW THE MORNING EMAIL
The Morning Email helps you start your workday with everything you need to know: breaking news, entertainment and a dash of fun. Learn more