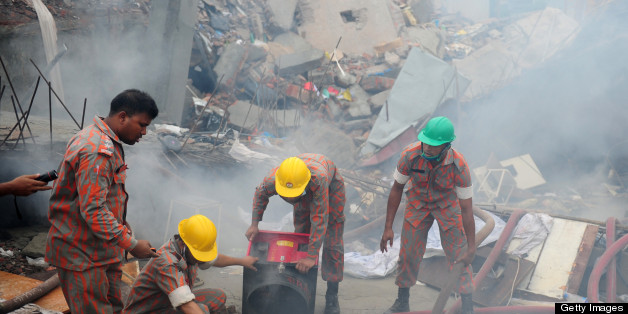 Three hundred (300). That's the number of people estimated to have been crushed to death in a Bangladeshi garment factory. Nearly three hundred people also perished in the factory fire in the Pakistani city of Karachi last year. In another incident, over 100 people burnt to death in a Bangladeshi factory. All three of these industrial units were churning out garments for the Western clientele. All three had monstrous violations of labor laws and safety codes.
While the Boston tragedy has taken center stage over the last ten days, the issue of Bangladeshi deaths has been relegated to lower echelons of news pages. The same was the case with Karachi inferno that was largely ignored by the international media. One wonders why the West, which is the buyer of clothing manufactured in Dhaka or Karachi, is oblivious to the harrowing working conditions in these and other developing nations. These are the countries that have become the outsourcing haven for the West with the likes of Walmart and Calvin Klein making billions in profits thanks to the availability of cheap labor.
There is no doubt that the main culprit are the governments in Bangladesh and Pakistan that failed to enforce building laws. More importantly, they failed their citizens by not providing them with safe and respectable working conditions that were compliant with international labor regulations. This, however, does not mean that the corporate giants should get away without sharing any blame. It is the Western companies that not only turned a blind eye to the grave working conditions but, in a race for profit maximization, actually encouraged the violation of labor laws.
Families of the Bangladeshi factory workers who died in a blaze last year were refused compensation by Walmart and Disney. The response might not be different with this episode as Mango, Walmart, C&A and Cato, among others who had outsourced their business to the collapsed building, might not be eager to compensate the heirs of the fallen. They might not even agree to improve their outsourcing operations, which are anything but satisfactory.
The governments in Pakistan and Bangladesh will not do anything to address the problem either. Perhaps the real power lies with the Western customers who need to make informed choices while purchasing a t-shirt or a jersey from a popular retail outlet. They are the ones who can force the retailers to change their policies. Risk of losing major investment will do enough for the governments to give some rights to their factory workers.
SUBSCRIBE TO & FOLLOW WORLD POST