WASHINGTON, D.C. - J Street's first national conference just finished after a three-day whirlwind of events. For an organization that started a little over 18 months ago, bringing more than 1,500 people and nearly 150 members of Congress together to "change the face of pro-Israel advocacy in the United States and the dynamics of American politics when it comes to Israel" is a feat that Executive Director Jeremy Ben Ami called "astonishing" several times throughout the course of events.
New Israel Fund's CEO Daniel Sokatch challenges an audience of mostly Jewish Americans to work for a just and peaceful Israel.
I thought about the irony of the situation while standing in line to register and pick up my credentials Sunday night. Here I was at the Washington Grand Hyatt about to step into the world of the U.S. Israel lobby -- and it wasn't AIPAC (American Israel Public Affairs Committee).
Immediately after I arrived, I bumped into Israeli journalist Amira Hass who won a Lifetime Achievement Award last week for her bravery for living in and reporting from the Gaza Strip and the West Bank as an Israeli citizen. Hass had dropped by the conference for the opening night representing Ha'aretz as press. She found it ironic that it took a meeting in Washington, D.C. to assemble a thousand members of the Jewish community and pointed out that discussions like this one should also be taking place in Israel. Hass and I also spoke of the urgency of the situation in Gaza and she voiced considerable disappointment that J Street was not fully addressing the siege.
At times leading up to and during the conference, I have felt extremely hopeful about J Street's fresh approach to the peace process between Israel and the Palestinians. At others, I have been less than satisfied by their politics-as-usual dance around some of the more difficult details in that process.
After Jeremy Ben Ami and New Israel Fund's CEO Daniel Sokatch welcomed participants, we gathered in small groups where we were to discuss our personal relationship with Israel. After a warm round of introductions from the mostly-Jewish group, Yousef Bashir, a young Palestinian launched into his story. Israeli soldiers occupied the top two floors of his family's home while they were living there at the height of settlement expansion in the Gaza Strip. Even after being shot by one of the soldiers (the bullet is still lodged in his back), Yousef sees the Israelis as friends and is committed to peace and justice for both people. Incredibly, I had spent time with Yousef's family in their home near Rafah last March. His father Khalil, who has since passed away, had told me stories about his brave son who lived in the United States.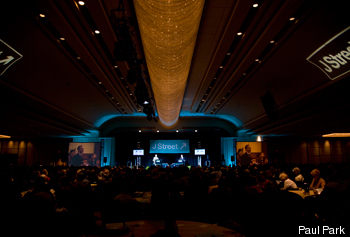 Executive Director Jeremy Ben Ami welcomes speakers and participants to J Street's first national conference.
I also heard stories from Jews whose families had fled severe persecution in Europe and elsewhere to make their homes in Israel, where for the first time in their lives, they felt safe. Many spoke of a deep connection to the land of their ancestors that is now Israel, but also recognized that it was home to another people and that occupying those people conflicted with the Jewish values of justice and equality. J Street supports a pro-Israel stance that does not require an "anti"; with the creation of a Palestinian state based on the 1967 borders as fundamentally core to what it means to be pro-Israel.
More than 30 breakout and plenary sessions filled the following two days -- featuring members of the Israeli Knesset, the U.S. Congress, and dozens of Washington insiders, academics, and activists -- culminating in a Gala Dinner hosted by members of Congress and a lobby day. The events somehow harnessed an energy similar to Obama's presidential run last year. Like that campaign, J Street came as a breath of fresh air for many who felt they were part of a silenced majority. "Our voice has been marginalized," Sokatch said, "But we are not the margins -- we are the mainstream." For the first time in their political life, many Jews have found a place where they can be pro-Israel and pro-Palestinian at the same time.
Others worry that J Street will only emerge a kinder, gentler AIPAC. Ben Ami welcomes this kind of disagreement and made it clear that critical voices would be part of the discussion. "Debate on this issue is extremely healthy," he said. In his view, this level of attention and participation is a signal that J Street is doing something right.
Civil rights leader Richard Kovner addressed the Gala Dinner that brought J Street's first national conference to a close. "Never again will people be threatened by a balanced position on the Middle East," he exclaimed, "We will not remain silent."
I certainly hope this is true, but only time will tell.
SUBSCRIBE TO & FOLLOW WORLD POST