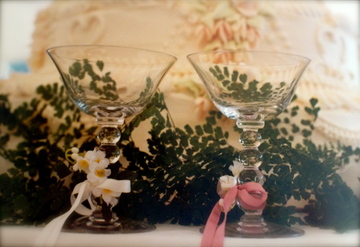 It was a warm October day like no other in California. Our 12 bridesmaids and 12 ushers arrived in red convertibles to a little spanish-tiled church with a gravel driveway packed with family and friends. My soon-to-be husband and I were in love with each other on our wedding day. Love and hope surrounded us. It was the most exhilarating day of my life. It was the 8th of October, 1983. We would have been married 30 years this year. So what happened? How did divorce enter my frame, and how has it entered the larger picture of our times? Here is my would-be-Anniversary gift to you in the form of an essay.
As it turns out, that vow we all take in marriage, witnessed by nearly everyone important to us in our lives, becomes irrelevant if one person doesn't take it in their heart, letting the vagaries of life diminish its importance, to later mock it as an inconvenience. It is then that betrayal is easily rationalized and narcissistic needs to be "happy" override the need to be true. We are living in very self-centered times. Marriage vows involve someone else who may not turn out to be what you want as you turn the corners in your life's journey. Long term marriages are talked away like there is a "good until" date on a person. "Life is too short. We all live longer. We can't be expected to be with the same person..." Rationalizations for leaving are common in these "It's got to work for me" times. Are we up for marriage anymore or have we evolved ourselves right out of the necessary character to understand it. It's about committing yourself in good times and bad, in sickness and health, to love and to cherish all the days of your life because when you endure the rough patches there is deeper, richer relationship.
I do happen to believe in the beauty of marriage, and especially longterm ones. I know many couples who have worked through the challenging passages and are reaping the benefits of a deeper appreciation for one another. Those couples share the belief that love means being willing to work on the relationship and have the understanding that union is about communication. People that have a resentment for the work of a marriage lack the depth of understanding for the value to themselves for keeping a commitment. What life doesn't have challenges? The difference for some people when challenges arrive is that they are not afraid to look within themselves. They have a deeper gnawing in their gut that, while tempted to go off course, prevents them from pursuing "something better out there" at the expense of their marriage. They work on their marriage, like you work on friendship, like you work at your job, like you work at a sport you love, like you work at anything that matters to you. I see those couples who have worked at their marriages and I feel empowered by their example. They were able to love in a deeper way and bring meaning to their marriage. They give me hope that some people do get that love is a practice and gets better with age. It says a lot about them as individuals.
What profound understanding I can offer is this: people arrive at relationship with a history, ingrained patterns and genes. Pay attention. All of those things are going to show up in a marriage. Consciously or unconsciously, the behavior that was practiced and witnessed during a person's childhood and upbringing will be mirrored back. It is what we know. Whether a person wants to emulate the people they were raised by or not, they will. If you both can talk openly about your past, your patterns and your emotional edges you are in business. These are the things you both need to embrace and help each other with because they will be ever present in your relationship. Everything you need to know about a person is in their history. If your partner is unwilling to talk about themselves and openly reveal who they are, take heed. An evolved person is responsible to their individual past, consciously making adjustments to become their own person, leaning towards or away from how they were raised. The unevolved person will hide and conceal themselves, and will, by their choice to not work on themselves, unwittingly, act out their past and unresolved issues, irresponsibly and ignorantly, in their relationship with you. They are "all about me" without knowing themselves at all.
Is Divorce making Marriage the New Frontier? We have maxed out on self-absorption, built the Church of Me, and made Narcissism a popular condition. Are we seeing how easily divorce, betrayal and greed are accepted as normal to our times? We have tolerated hurtful behavior, brushed off infidelity with an "oh well" and "it is what it is". It is what it is because we make it so. Are we seeing the profound effect this behavior is having on our young adult children as they consider marriage? Many "grown-ups" are too awash in the self-indulgent and needy "Me", to have the awareness for what it takes to be "We", and this is what we are teaching our children by our example. There is an opportunity for growth here. It's time. Wouldn't it be wonderful if grown-up, thoughtful and kind relationships where people communicated honestly with each other is what we wanted and expected all the days of our lives, and were willing to work at? Infidelity and the need for ego-stroking is soyesterday and unevolved. Sure, cheating is exciting, like shoplifting, or drug use, but it is not enlightened or deep. People lie when they lack the courage to confront what is really happening within themselves. It is an adventure to truly reveal yourself and have someone reveal themselves to you, pushing the limits of human potential by how real and truly loving you can be. That would be an exciting place for us to evolve to.
How I would have loved to celebrate our 30th wedding anniversary with the man I married, the father of my children. What an untold gift that would have been for our children rather than the emotional maze they now have to navigate through with divorced parents. It is such a gift to everyone to experience the evolving love between a couple, to witness firsthand love that endure, love that is true, and love that weathers the storms. Those kind of marriages reflect a deep reverence for our human connection. Marriage is a barometer of love. When two people get it right it speaks to us all. Marriage is a measure for how to treat another human being. When we witness two people who have embraced getting old together, wrinkles and all, there is so much beauty, wisdom, tenderness and, love, in that. That is why marriage is so great, when it works.
Sally Fay will be moderating a panel on Divorce and Marriage with Cynthia Copeland, Tom Matlack and Wendy Plump, as part of the Boston Book Festival Unplugged sessions, Saturday, October 19th, at 3:00, in the Boston Public Library at Copley Square. In addition, Avery Rimer's short film, Halfway Somewhere Else, adapted from a short story, by Maile Meloy, starring Nicholas Guest, will also be shown. All the above authors can be found on Huffington Post.
Photo Courtesy of Sally Fay collection
SUBSCRIBE TO & FOLLOW LIFESTYLE
We're basically your best friend... with better advice. Learn more