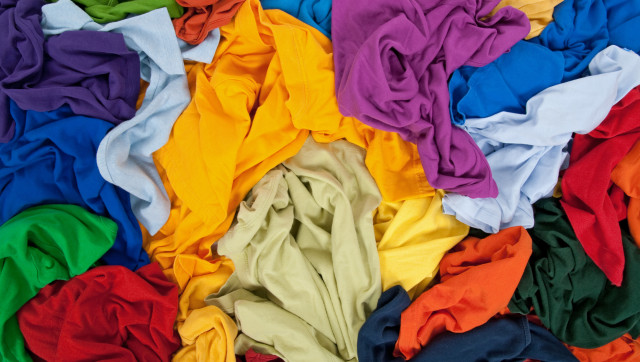 I'm a dedicated thrifter, I pass along my underutilized duds to friends and family on a regular basis, and I consign the vast majority of my shopping blunders. I feel like a clothing recycling pro. And yet this weekend marked the first time I'd ever participated in a clothing swap.
I even hosted it.
So first off, it was a blast. The mountain of garments you see above wasn't even the half of it. By the time all 15 women had arrived, my armchair, dining room table, and couch were all buried beneath sweaters, blouses, and jackets. Everyone was excited and talkative and generous, and no fights broke out over that gorgeous silk Vince tunic or the sparkly sequined tank top.
Second, it was total mayhem. We attempted to create "stations" for various garment types -- skirts here, slacks there, outerwear over yonder -- and that helped somewhat. But the unwieldy pile of sweaters in the middle of the dining room table kept absorbing workout clothes, dresses, and accessories. It was comically disorganized by the end, but we muddled through. And the chaos actually served as a point of bonding for the participants.
Aside from having a great time with friends on a Saturday afternoon, I learned from this experience. I participated, but I also observed. And here's what I saw:
1. No one felt self-conscious.
I had set up a full-length mirror out in the main swap area, but there was also a more secluded one in the bedroom. Most of my gal pals had absolutely no problem stripping to their skivvies in full view. I mean, there were some pants pulled on beneath skirts and plenty of women had worn nude tanks for modesty reasons, but it was basically an open dressing room free-for-all. I loved how comfortable everyone felt and how judgement-free the event was.
2. Everyone tried items that fell outside their comfort zones.
Pants lovers gave skirts a whirl. Tee shirt devotees tried out tunics. It was a no-risk proposition, and I saw many of my girlfriends pulling on garments that they'd never have tried in a retail environment, and finding themselves surprised and pleased. Style horizons were expanded at this event, people.
3. We fit into each others' stuff.
There were women from size zero to 14 at this swap; petite women, tall women, curvy women, non-curvy women. There were women with big hips and women with flat chests. And it was such fun to see how utterly arbitrary clothing sizes are as garments got passed from body type to body type. Dresses that looked awkward and odd on one woman looked chic and sassy on another. Blouses that never quite sat right on one body shape appeared custom-made for another. And we were all delighted to see our underutilized clothes looking so sharp on our fellow swappers.
Women can get hung up on garment size and fit. These mental roadblocks seem to scold and judge us, shaming our curves or lack thereof for failing to look "right" in certain designs. We stare at ourselves in fitting room mirrors, see ill-fitting clothing, and feel defeated, awkward, and wrong. But a clothing swap full of chatty, diverse, creative women can serve as a fantastic reminder that clothes should fit our bodies, not vice versa. Passing around an unusual piece and seeing it on a petite curvy frame, a tall lanky one, and a super athletic one illustrates how garments can look drastically different with just a few inches added here and subtracted there. And this reminds us that our bodies are not wrong for failing to fit into clothes. If the clothes don't work, it's their fault and other, better designs that complement our natural shapes should be sought out instead.
I also learned that -- no matter how much I want them to work -- flowy, wide-legged, Katherine Hepburn pants still look goofy on me. But my friend Maureen's ruched blouse? Pure dynamite.
SUBSCRIBE TO & FOLLOW LIFESTYLE
We're basically your best friend… with better taste. Learn more