It's not about abayas.
It's not about education.
It's not about employment.
It's not even about voting...
The women I talked with in Riyadh last week have adapted and believe change is coming. But they've hit a glass ceiling. Or, more accurately, a roadblock.
My first morning in Riyadh was spent in King Faisal Specialist Hospital and Research Center. While my husband met with fellow doctors, I interviewed one of their few female colleagues (the disparity has decreased and is now only 4 to 1 male to female.)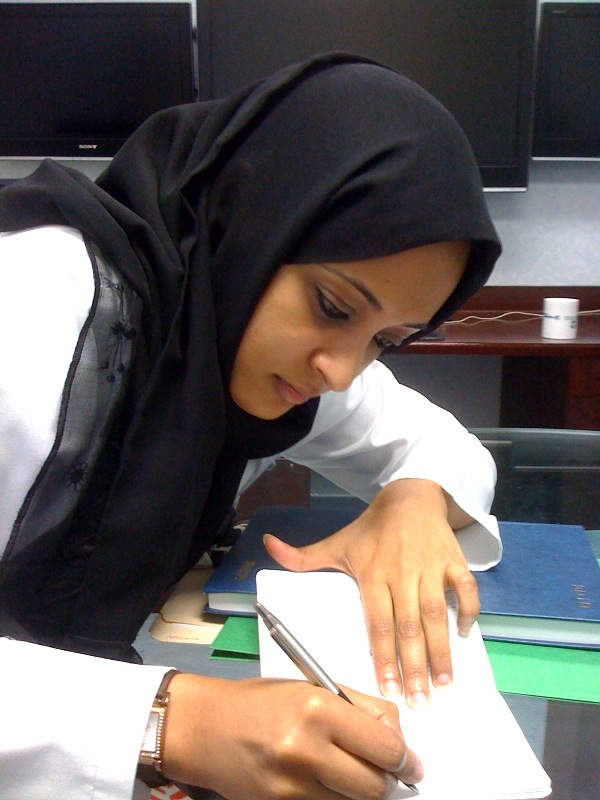 Dr. Reem Maghrabi is sans abaya. She is an infectious disease fellow and chief resident in the most prestigious private hospital in the Kingdom where ALL doctors don lab coats. This makes it easier to do her job, and besides, she tells me her family never enforced the veil at home in Taif. "The abaya is about religion and culture," she explains. Neither has a place in the ICU. In fact it was her father who pushed her into medicine. As the eldest child she is living his dream. At 30, Reem represents a new generation of Saudi women who are taking advantage of change. "People are more accepting," she says. "From the top down, and the bottom up. We are so proud of King Abdullah. Because of him, the population is more open. "
How does she deal with male patients (and vice versa?) At the beginning of med school in Jeddah she was shy... but now she's gender blind. Her patients seem okay with that. Reem is very upbeat about women's improving lot in Saudi Arabian life... with one exception.
Women outside of medicine seem optimistic as well. The wife of our official host is wrapped in a stunning abaya and head scarf when we all meet for dinner at The Globe, an elegant restaurant atop our hotel. She is Muslim, of Syrian parentage, but raised in Montreal. The couple lives in a diplomatic compound outside Riyadh with their two children. At home she can wear whatever she wants, play tennis and ride a bike with abandon. Even when she steps outside that world she sees positive change for her female Saudi neighbors. Not so much change that she wanted to be identified in this blog however. Our conversation took a familiar turn when the subject of driving came up. Women cannot drive in Saudi Arabia. This woman was in finance. Like medicine, banking is becoming more and more open to female professionals here. But having to be chauffeured to and from work in addition to transporting both her kids to school is problematic. The family is fortunate enough to have a driver but even that has its limitations. A few months ago her husband was travelling when their son became very ill. It was the middle of the night, and she could not reach the chauffeur. She knows how to drive, but choosing to do so could mean imprisonment. She waited 'til morning to take her son to the hospital and her son waited too. This story ends well but might not have.
Back at the hospital, Dr. Maghrabi tells me 50% of Saudi families have drivers. But what about the other half? "We think it's our right to drive, and we're moving toward it. The King and political system support it." She predicts in 5 years women will be behind the wheel... adding many outside Riyadh are already practicing in secret.
Before I let her get back to work, I asked the good doctor why she chose her specialty, infectious disease.
"Because everyday there's a new challenge," she smiled.
Sort of like being a woman in Saudi Arabia.
SUBSCRIBE TO & FOLLOW LIFESTYLE
HuffPost Lifestyle is a daily newsletter that will make you happier and healthier — one email at a time. Learn more