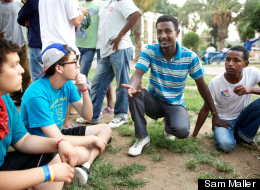 As part of the selective Diller Teen Fellows 15-month international leadership program, delegations of Jewish teens from six North American communities have just returned from their summer experience in Israel.
Organized by Diller Teen Initiatives, a program of the Helen Diller Family Foundation, the Diller Teen Fellows program pairs cohorts of incoming high school juniors from North American communities with cohorts of Israeli students their same age. This summer, 120 North American students visited Israel as part of the program. Through educational workshops, weekend retreats and the creation and implementation of social service projects in each partner community throughout the year, the Diller Teen Fellows program empowers participants to be engaged, effective leaders with a strong understanding of their Jewish identity and respect for Jewish pluralism and peoplehood.
For the past two years, I've devoted a considerable amount of my time to the Diller Teen Fellows. Last year, I was a participant, and I'm about to complete my year as Junior Counselor for the Diller Teen Fellows 2012 San Francisco delegation.
Building International Community: Exploring Jewish and International Peoplehood
Ravit Shimshon, Adi Izraeli, Amit Harel, and Gal Shaked skip through the field of Rupin College during a Shabbat celebration with the Diller Teen Fellows International Junior Staff.

On July 15, the junior staff traveled to South Tel Aviv to learn about the problems facing the community. Here, Tal Kroser and Max Rochman listen to two Eritrean men as they explain the problem from the men's point of view. They explained that refugees come to the Egypt/Israel border from Eritrea and the Sudan, seeking refuge. However, once these refugees arrive in Israel, they are not able to get work because they aren't able to acquire legal documents. With little food and a one-way bus ticket, they flock to South Tel Aviv and wait for work. Israel was founded as a home for the Jewish people and refugees around the world. But with numbers of immigrants rising, Israel is faced with the problem of finding what to do with all of these men. For now, they sit and wait.

On July 19, we traveled to the holy city of Tzfat. After touring the synagogues and learning about the history of the city, we were given an hour to walk around and adventure for ourselves. When I was walking through the streets, I heard a man asked me if I had wrapped tefillin that day. I'm not a very religious Jew; I'm a cultural Jew. But whenever there's an opportunity to engage with someone from a different Jewish community, I embrace it. After participating in this ancient ritual and saying the shema, I asked the man about his story. He told me he was born and raised in an extremely secular family in San Diego. During his adult life, he decided that his love was his religion and that he wanted to devote himself to it. At age 62, this was only his second time in Israel, and, he plans on moving and becoming a citizen in the next 12 months.

On July 23, the San Francisco and Upper Galilee Diller Teen Fellows cohorts hiked in the Negev Desert. For years, the Jewish people navigated this desert, learning how to harness its capabilities and to survive in it. We did the same. After walking through the canyon, we reached a beautiful spring. After spending some time at the water, we began our ascent up 410 1,500-year-old steps. There's no better history lesson then actually feeling the history under your feet.

While exploring the Negev, we visited a Bedouin tent and heard from this man about the history of his nomadic culture and how it has changed with time. Here, he demonstrates the distinct way that they make coffee: roasting the beans and then grinding them in a special manner. It is a custom that every visitor to a Bedouin tent drinks three cups of coffee with the men before they leave.

The Diller Teen Fellows International Congress is a week focused on finding one's connection to his or her Jewish identity and gaining a better understanding for what it means to be a Jew in North America or Israel. Here, the North American members of the "light green" color group work on a program where they order major events in history that affected the Jewish people.

Avrahm Infeld prepares to deliver his speech on Judaism to an auditorium full of Diller Teen Fellows. He recounted his personal journey to finding his Jewish identity in the state of Israel and implored the Diller Teens to look into their identity and discover what being Jewish means to them.

On July 27 at the Diller Teen Feelow International Congress, the fellows celebrated their only Shabbat together as a group. The mix of North Americans and Israelis, cultures, and languages provided the perfect backdrop to the flickering candles as we welcomed in Shabbat.

Members of the San Francisco - Upper Galilee cohort visit Mitzpeh Liran, the memorial site for Liran Saadia, who is the brother of Israeli Diller junior counselor Aviv Saadia. Before Liran died in the Second Lebanon war, he was devoted to giving back to the community and creating comics that he'd send to the local newspapers. At his memorial, many of these cartoon strips are printed on benches and along walkways. Here, members of the cohort read the comics and Liran's story.

Shaar Yashuv: My favorite memorial in all of Israel. Here the lives of 74 Israeli soldiers who died in a friendly helicopter crash are remembered.

On Aug. 6, we volunteered for an organization that does social work with troubled teens in Kiryat Shemona. While half of the group was inside learning about the organization, the other half was out getting their hands dirty around the outside of the building. We spent hours cleaning the area around their building as well as putting a fresh coat of paint on the exterior of the building. Now this fantastic organization will look as welcoming as it should.

On Aug. 7, we "volunteered" at an absorption center for Ethiopian immigrants to Israel. This was challenging because none spoke English and very few spoke Hebrew. But, before we began, one of the fellows reminded us that a smile is the same in every language. Here, Shir Bar Maoz, Yuval Gedanken, Yarden Timsod, and Kamala Sloss lift Samuel up 11 times in celebration of his victory in a game of musical chairs and his 11th birthday.