The southern California sun shone on the steps of City Hall in Los Angeles last week illuminating the currently mercurial-agended, neo-leftist of the Occupy LA movement. Just down the street the same sun reflected off the monuments to capitalism, the skyscrapers in the financial district and lit up the human zoo of skid row.
I took a walk through the construction site at the nefarious Ford Hotel with two 19-year-old former residents, Abraham Alarcon Jr, Travelle Robertson and activist Charles Porter.
Travelle and Abraham spent their childhood in the well-documented hellhole, witnessing life at the bottom rung of capitalism from the balcony of the Ford.
Excerpt from LA Weekly / Pavement series:
"I didn't know it was fucked up," Robertson says. "When I was little I had pictures in my head. I think I started figuring it out over the years. I started figuring out that it was twisted. Man, it was ghetto up in the Ford. Crack heads and handicap people. Lots of murders, lots of killings. I even witnessed a death right in my face. She was like a mother to me. It was messed up, seeing her die."
No one flinched as we made our way through a parade of crack dealers, mentally ill street sleepers and other assorted bottom dwellers.
A light in the darkness, the Ford Hotel is nearing the completion of a $25 million transformation. 295 units that became 151 units for persons who are homeless or homeless with chronic mental illness is slated to open in December 9th 2011.
SRO Housing Corp acquired the Ford in 2008 by as part of a larger plan to redevelop the Seventh Street Corridor between Alameda and Main streets. Now renamed The Ford Apartments, some of the units will go to people earning up to 50 percent of the area median income (approximately $60,000).
Excerpt from LA Weekly / Pavement series:
The Ford was built in 1925. Its legal history in recent years reads like a skid row crack dealer's rap sheet... Cops described the Ford as the worst drug-trafficking spot in central Los Angeles. Police made more than 60 narcotics-related arrests at the hotel and seized about $120,000 worth of drugs and $80,000 in cash in 1992 and 1993.
I spent a day at the Ford with videographer / photographer Luigi Ventura shooting "Hotel Hell" for PAVEMENT.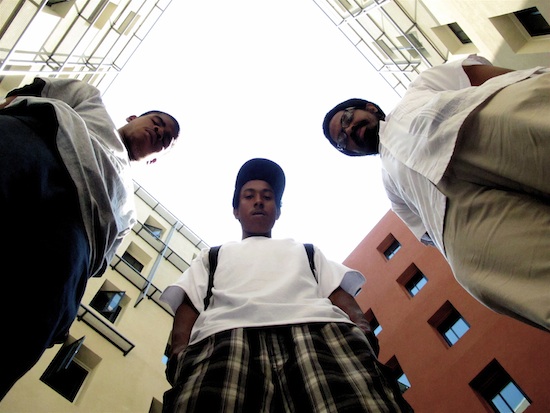 Pictured in photo (left to right): Charles Porter, Travelle Robertson, Abraham Alarcon Jr