Zimbabwe to Michigan: Dogs From Around the World (PHOTOS)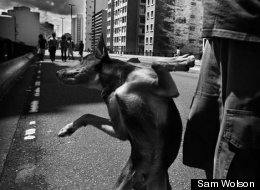 Zimbabwe to Michigan: Dogs from around the world
Each Sunday, Sao Paulo's main highway the Minhocão, meaning giant earthworm in Portuguese, shuts down and becomes a public space filled with bike riders, soccer, kids -- and dogs.

I came across these two dogs while taking a night stroll. Upon greeting their owner, a lovely elderly woman, I tried grabbing one of the dog's toys, and was promptly nipped in the finger. All ended up well, but I learned a valuable lesson in not getting between a strange dog and its toys.

In many places around the world, dogs function as security systems in addition to family pets. During my travels, that was particularly apparent in Sao Paulo, Brazil and Johannesburg, South Africa. There, people in many neighborhoods lived behind high electric fences with guard dogs barking at anything that moved.

A dog having an existential crisis at the sixth annual DogFest 2013 in San Francisco. During DogFest, a fundraiser for local San Francisco public schools, dogs can compete in a costume, jumping, and best in show contest.

A more docile dog behind a fence in Sao Paulo, Brazil. Unlike this dog, pit bull terriers cause the most bodily harm out of any other breed, although they only make up 3.3 percent of the U.S. dog population. Between 1982 and 2012, Pit Bulls Terriers caused 1,985 attacks doing bodily harm, 832 children attacks, 693 adult attacks, 209 deaths, and 11,033 maimings.

Fifty-nine percent of California residents own pets. Although this seems like a high number, California is on the list of states with the lowest pet ownership in the country, the absolute lowest being the District of Columbia with 21 percent pet owners and the highest being Vermont with 70 percent pet owners.

Stray dogs in Johannesburg. It is estimated that there are around 200 million stray dogs worldwide.

I came across this dog with a neck brace sitting in a parked car across from a gas station. Advances in medical treatments for animals have come a long way: Some spend upwards of $10,000 to $25,000 on procedures such as bone-marrow transplants for their furry friends.

House dog in Detroit.

A dog enjoying heat from a fire in Bakita, Zimbabwe.

During a story I worked on about the man pictured in this photo, who illegally uses marijuana to treat the chronic pain associated with his leukemia, I came across an extraordinary dog that had learned to climb ladders. Dogs climbing ladders is also a topic of interests on YouTube.

My dog, Bam Bam, photographed 2009 (left) and 2012 (right). The unofficial oldest dog that ever lived was alive for 29 years. You can find out more about him here.
With about 525 million domesticated dogs on our planet, it is no surprise that I have run across at least one of these furry four legged creatures in every place I have visited, worked and lived. Although dogs are not the most domesticated animal on the planet -- chickens actually take home that prize with a world-wide estimate of 18.6 billion in 2009 -- they are ubiquitous. From Bikita, Zimbabwe to Asunción, Paraguay to Detroit, Michigan, check out photos of dogs from around the world.
Follow Sam Wolson on Twitter: www.twitter.com/samwolson