I'm reporting from the 28th annual Food & Wine Classic in Aspen. This is a huge event for foodies and wine lovers, bringing in the 50 top authorities on food and wine--basically the celebrities of the food world--together for tastings, cooking demonstrations, and wine seminars.
The real fun is getting to be around these culinary superstars and watching them interact with one another--while eating their expert food and drinking their exceptional wines.
Something epic, ridiculous, or at least delicious is bound to happen...I'll keep you posted!
FIRST IMPRESSIONS--OPENING NIGHT
Food & Wine's "Top Chef Welcome Reception":
Four Top Chef, Season 6 contestants had booths with small dishes, with a text-to-vote competition (not sure that anyone actually texted)--see which you think looks best!
Food & Wine Welcome Reception: Dishes from the Top Chef Season 6 Final Four Cheftestants
MY WINNER: Michael Voltaggio's tomato gumdrop and bacon dippin' dots -- surprising and delicious.
Wines from Spain Spanish BBQ Party, featuring Chef José Andrés: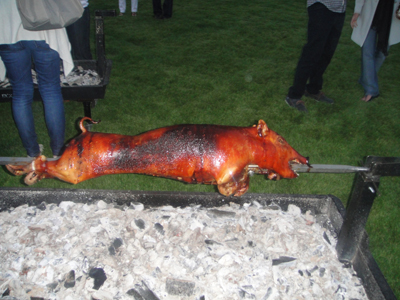 Roasted suckling pig
José Andrés and his team, including Top Chefs: Michael Voltaggio, Bryan Voltaggio, Mike Isabella, after Lakers victory: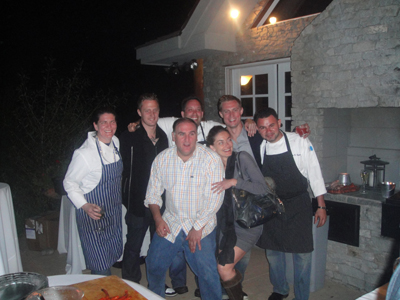 Taking their own victory shot, José screams something to the effect of, "Their team's got nothing on our team!" Love it.
José Andrés feeding me (and everyone around) delectable pig skin, announcing, "The pig of the lord," as he puts it in your mouth.
That's my kind of baptism!
Now that I'm sworn in...let the games begin!