This is my friend Elizabeth's story, and I share it with permission. Elizabeth and her girlfriends were in Puerto Rico for a bachelorette weekend. While leaving a restaurant in Old San Juan one evening, they spotted a celebrity. Timberlake. Justin Timberlake. As JT exited the building and walked toward his car, one of the girls asked if they could have their picture taken with him. He made eye contact, said nothing, and got in the car -- with the windows conveniently down. Like a good bachelorette, Elizabeth dutifully shouted, "Diiiick!" The car, which had started to pull away, stopped. JT got out and said, "Did you just call me a dick? I'm not a dick because you didn't get what you want!" He makes an excellent point. It is certifiably impossible to please all people, all of the time. An international celebrity knows this very well, and we civilians have our experience with it, too. Mr. Timberlake's candid statement applies directly to unrequited attraction. It's tempting to make Mr. Would-Be-Right a bad guy, simply because you aren't getting what you want; when in reality he hasn't done anything wrong. You can't please everyone all the time and neither can your heartthrob. If his only "crime" is not having the same level of interest that you have, he's not a dick. Don't get me wrong, there is plenty of behavior that makes a guy a dick, which we'll discuss, but he doesn't owe you anything just because you exist. Humbling, yet true. As for the bride-to-be and her gaggle of girls, Elizabeth apologized, and JT stood for what is probably one of the greatest bachelorette photos ever. When Elizabeth posted the pic on Facebook she wrote, "What's up now b/c we SO got what we wanted!!!! Best time ever!!!!!!" It worked out in this case, because Justin didn't have to commit to more than a 30-second pose. Keep in mind it doesn't always go down like this.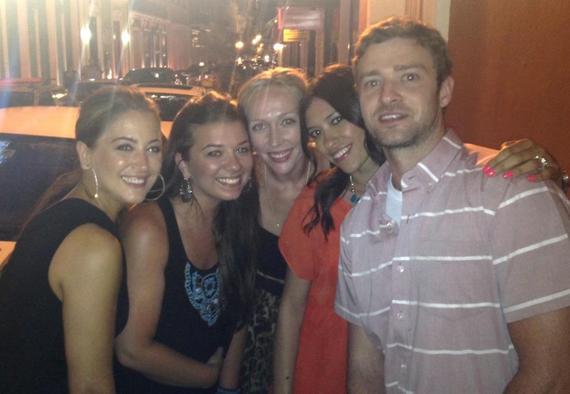 This Blogger's Books and Other Items from...
SUBSCRIBE AND FOLLOW
Get top stories and blog posts emailed to me each day. Newsletters may offer personalized content or advertisements.
Learn more