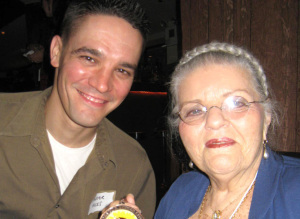 I've been spending time with Luna Kaufman, Holocaust survivor and new author.
Her book Luna's Life just won Independent Publisher's Living Now award, and for good reason. It's a raw, moving story of a woman who spent her teenage years as a prisoner in Auschwitz. But she came out and changed the world.
Well, it's a little more complicated than that. Luna's story is one of a gentle soul bringing order and goodness to a life that drags her backward through fascism, communism, and other forms of insanity. A native of Krakow, Poland, she lost her father and sister to the camps. Upon release, she first went to Israel before joining her husband in New York City.
At 82, Luna today remains active in the Sister Rose Thering Endowment, which promotes interfaith understanding. In fact, its namesake, Sister Rose, was influential in the Vatican's 1965 policy paper "In Our Time" which reversed millennia of Christians holding the Jews responsible for the execution of Christ.
Luna recently invited me up to her atelier in Trump Plaza, overlooking Central Park and the East Side. A woman who has been through hell now has a place that seems close to heaven, complete with a white piano. She ordered us a pizza, which we shared.
"Could the Holocaust happen again?" I asked.
"Very easily," she said. "We have to learn how to deal with people. There's too much scapegoating."
"What did you think of Mel Gibson's The Passion of the Christ?" I asked.
"It has everything in it but the car chase," she replied. "Sister Rose was very upset about it. He's putting the 'fault of the Jews' back onto the Jewish community."
Around her neck, Luna wears a replica of Sister Rose's old pendant: a cross and a Star of David woven together, in silvery metal.
"We have to get to know each other," she said. "Instead we sit in judgment. There is such a multitude of religions in this country. We are all people working toward a common goal."
Luna told a story about the kind of thing she does. New Jersey made a statewide commitment to "holocaust education" thanks to legislation passed by Luna's friend, then-governor Thomas Kean, with whom she once traveled back to Auschwitz. One time, she spoke in Chatham, New Jersey, a place she described with a smile as "very white, no Jews." The students received her so warmly that they decided to invite a group of senior Holocaust survivors to their high school prom. They did a series of video interviews with them, preserved in a time capsule to be unearthed in 2030.
"The majority of survivors are living in isolation," explained Luna. Most never had anything like a prom, and the experience in Chatham gave the students and survivors a chance to break out of racial and class restrictions. They forged a lasting emotional connection. A young female friend from Chatham accompanied Luna on several subsequent speaking engagements.
At the risk of saying the wrong thing, I asked Luna what she thought about Jesus.
"He was one of the most brilliant men, one of the most righteous," she said.
"If Jesus were alive today?" I asked.
"He would be a political leader," she replied.
Let me read you a bit of Luna's book. In this chapter, perhaps the most poignant in the book, the war is over and and the camps have been liberated. Nevertheless, Luna still had to deal with a long struggle to get out of communist Poland. At one point she accompanies an American journalist back into Auschwitz:
Here I faced the reality.

In one area was a showcase of objects that had been made by prisoners. Among the collection of drawings was a watercolor that made a lasting impression on me, because it symbolized my own feelings during the years of incarceration. The painting depicted a silhouette of a prisoner bent over a spade in front of barbed wire, looking longingly to the other side of the fence where a singing bird sat on a tree, the sun of a new day rising over the landscape. This artist had captured the longing for freedom that all of us inmates had experienced in the camps. It immediately brought to mind the morning in Plaszow when Commandant Ghett had entered the barracks, requiring me to report to him the number of inmates present. It had been a spring day, and I had been conscious of the outdoor sound of a bird freely chirping its song, oblivious to the human slavery endured nearby.
Later, Luna called me to recant certain harmless remarks that, out of respect for her wishes, I have not reproduced here. Her reasoning? "A revolution might happen."
Well, maybe we need a revolution. If the Luna Revolution is more understanding, more openness to the religions of the world, finding what they have in common, then that's a revolution I can sign on to.
SUBSCRIBE TO & FOLLOW THE MORNING EMAIL
Start your workday the right way with the news that matters most. Learn more