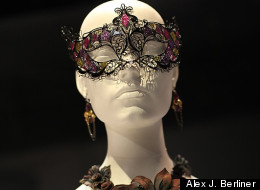 We love the dog days of August -- there's plenty more to do as time slips towards September.
The Family Savvy's SIX PICKS for the Week Ahead!
Younger kids will love the whimsical story of Mary Poppins, while older kids and adults will marvel at the show's stunts. The Family Savvy doesn't want to give too much away, but you might see someone walk on the ceiling of the Ahmanson Theater! Check out Mary Poppins, opening this week!

Don Knott's wishes he was a fish in this quirky classic, and his wish comes true! Share a fun and vintage story with your kids this Sunday morning at the Hammer Museum's Family Flick Film Series, brought to you by the UCLA Film & Television Archive. The Family Savvy especially loves that the Hammer is screening oldies but goodies all summer long!

Take advantage of the gorgeous end-of-summer weather and the funky neighborhood of Topanga Canyon, all while introducing your young teen to one of Shakespeare's classics. The Will Geer Theatricum Botanicum offers a number of other productions and there is always something to see in their beautiful garden setting, so buy a ticket today! Check out The Family Savvy for other fun activities for middle schoolers.

Photoshopped and unrealistic images of celebrities floating around on the internet and in print are sure to skew some teens perception of the norm. LACMA's "The Sun and Other Stars" by Katy Grannan and Charlie White captures portraits of real people with incredible depth and vulnerability. Spend a day avoiding the ubiquitous Kardashians, and share an eye-opening experience with your teen! Don't forget to check out The Family Savvy for more fun ideas for your high schooler.

Alfred Molina (Spiderman, Fiddler on the Roof) reprises his role as Mark Rothko -- the violent and passionate artist -- in John Logan's RED at the mark Taper Forum. Witness Rothko's volatile relationship with his work and with others in this Tony Award-winning play. The Family Savvy loves the creative use of paint and canvas, live on stage!

Almost every family has a couple of shows they watch or record religiously, and the "The Outstanding Art of Television Costume Design" at the FIDM Museum now offers a way to get even closer to the magic of the small screen. Intricately made costumes from shows like Game of Thrones, Downton Abbey, and New Girl -- just to name a few -- are on display at this new FREE exhibit. The Family Savvy loves that the FIDM Museum is located in the up-and-coming area of downtown, promising an entire afternoon of fun activities for your family.
Follow Sarah Bowman on Twitter: www.twitter.com/thefamilysavvy