Although hanging chads may be a thing of the past, concerns with voting machines and election processes more generally abound. Analysts say there remain significant problems, like a lack of paper records and audit trails, voting machine "sleepovers," prohibitively long voter wait times, and piecemeal government policies.
In 2005, a set of Voluntary Voting System Guidelines (VVSG) were adopted by the US Election Assistance Commission, and according to Douglas Kellner, Co-Chair of the New York State Board of Elections, "there is not a single voting system in use anywhere in the country that meets all of the currently applicable standards." VerifiedVoting.org, an organization championing reliable and publicly verifiable election systems -- particularly the use of voter-verified paper ballots -- indicates that not every state has voter-verified paper records available or requires them with use of electronic voting machines, not every state has mandatory manual audits yet, including Texas and Pennsylvania, a key swing state, and not every state provides the option for paper ballot use.
The Bipartisan Electronic Voting Reform Act, S. 3212, being reviewed in the Senate Rules Committee hearing today, attempts to close some of the loopholes in the voting process, covering states that are not currently protected by their own laws. But many believe the bill is seriously flawed. It creates its own security holes, for instance, by allowing electronic verification of electronic votes, undercutting audit trail processes and clearing the way for software bugs to bedevil the the system. It's like reprinting voting machine results versus actually recounting them.
Computer scientists have worked for nearly a decade on these issues, and they have determined, as VerifiedVoting.org explains, that "VVPATs (voter verifiable paper audit trails) are the only way to reliably check that votes tabulated on electronic voting machines were accurate." The Electronic Voting Reform Act also "fails to require hand audits of federal election results." Barbara Simons, a retired IBM researcher and former president of the Association for Computing Machinery, has been working on voting systems issues since 2000. Simons noted that "at this point it would be very difficult for any legislation to impact the '08 election, unless we could somehow get legislation passed that provides funding for back-up paper ballots." That's the good and bad news.
At the state level, Ohio is wrestling with questions over poll workers taking machines home with them before they go to the polling places, and New York recently received more than 700 flawed voting machines, most of which were prone to printer jams. Instead of using these new machines, New York will stay old school for the time being. "We are continuing to use the lever voting machines for the 2008 elections and we are still hopeful that the problems identified with the ballot scanning devices will be resolved in time for the 2009 elections. We remain committed to requiring the vendors to comply with the 2005 VVSG before their equipment can be used in New York," Kellner explained.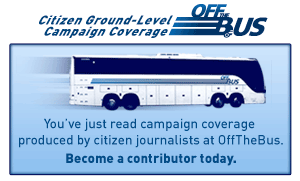 This Blogger's Books and Other Items from...
FOLLOW HUFFPOST