As women, we are blessed with an abundance of advice from everyone - our mothers, our best friends, and even that nosy neighbor down the hall. While it might be hard for us to take in well-meaning counsel from those closest to us, the medicine goes down smoother when delivered via our favorite small screen pals.

For some reason, it's just so much easier to see things clearly through the eyes of Hannah and her pals on "Girls" than it is in our own reflection swirling in that second glass of wine. And watching the brassy dames on "Broad City" stumble their way through relationships and other tricky life quagmires helps us feel better about the messy parts of life we're still figuring out how to navigate.
While "Broad City" and "Girls" have taught us a lot about the dos and don'ts of the contemporary dating world, sometimes it's nice to hear from an older sister. Someone who's been there, done that, and came out wiser, happier, and not much worse for wear. And she's right there waiting for us. The big sister who can help us move from befuddled to fabulous is none other than Carrie Bradshaw and her devoted gal-pals from "Sex and the City."
With the epic success of "Girls" and "Broad City" (often compared to "Sex and the City"), along with rumors constantly swirling about a possible third installment of the big-screen version of the beloved HBO property, it's time to build a new relationship with these smart, sassy ladies. If you've been craving some advice from a savvy big sister, we're here to let you in on the best life lessons from "Sex and the City."
1. Love Yourself Best
"Sex and the City" may have seemed like a show about finding true love with an amazing man, but underneath all the one-night stands, doomed relationships, and sexy strangers was a strong message about empowerment, knowing yourself, and looking out for number one.
That may sound a little cynical, but what each of these women learned time and again was that compromising themselves for a guy never pays off. Before you can fully accept the big, wild love you crave, you need to first get to know who you are and embrace yourself, flaws and all.
In the timeless words of Ms. Bradshaw, "The most exciting, challenging, and significant relationship of all is the one you have with yourself. And if you find someone to love the you that you love, well, that's just fabulous."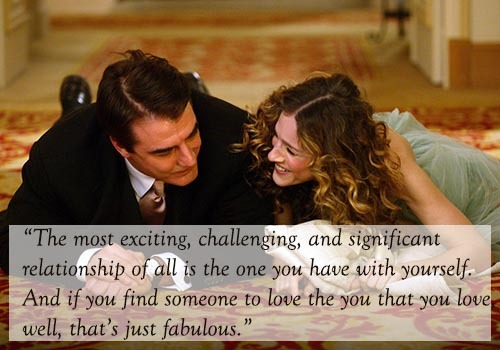 2. Cherish Your Friendships
It's hard to wade through the waters of life on your own. And while a fulfilling romantic relationship is awesome, nothing beats being able to kick back with your girls. No matter what changes these ladies went through, they always found their way back to each other.
Through the death of parents, pregnancies, breast cancer, career crises, broken hearts, and financial ups and downs, friendship reigned supreme. But that doesn't mean there weren't times when it was hard to stick together. Every time they started to drift away, something would happen to remind them that these relationships were the realest they'd ever known.
Even tough-as-nails Samantha was a pussycat when it came to the three most important women in her life, "We made a deal ages ago...men, babies, it doesn't matter. We're soul-mates."
3. Be Open to Possibilities
Each of these women was extremely successful, and that took focus and determination. But sometimes that laser-focus took a turn to stiffness. When Miranda became too attached to the idea that she could never live in Brooklyn, she almost missed out on the great adventure of building her family with Steve.
If Charlotte had rejected the passion she felt for Harry because he was short and bald, she'd have destroyed the best happiness she experienced. It's great to have a picture of how you want your life to be, but if you stay too attached to one idea you might miss out on the best parts of all the unexpected ones that fall in your lap.
4. Don't Rush Love
It's easy to turn your life into one big to-do List, but resist the temptation. It is exhausting ticking off a list that's supposed to equal happiness and success: perfect job, great apartment, awesome friends, an ideal state of fitness, and (of course) a thrilling romance with Mr. Right (or Mr. Big).
Give yourself a break and slow things down. Take time to enjoy the path you're on and embrace the journey. Who cares if you haven't found "The One" yet? Being patient is so much better than hitching yourself to a guy that doesn't really get you or your life. If these neurotic ladies found their happily ever afters, you've got absolutely nothing to worry about.
And remember what Carrie said: "Being single used to mean that nobody wanted you. Now it means you're pretty sexy and you're taking your time deciding how you want your life to be and who you want to spend it with."
There's no manual for living an amazing life, but Ms. Bradshaw and her friends come pretty close. The next time you need a little more guidance than you're currently finding on "Girls" or "Broad City," look up the long-lost big sisters on "Sex and the City." No matter what you're facing, their brand of courage, hope, and fierce loyalty will help you make it through - in style.
SUBSCRIBE TO & FOLLOW ENTERTAINMENT
HuffPost Entertainment is your one-stop shop for celebrity news, hilarious late-night bits, industry and awards coverage and more — sent right to your inbox six days a week. Learn more