"It's a boy, yes?" she said with a thick accent and a smile.
"No. It's a girl."
"No, it's a boy," she stated matter-of-factly. There I was, two thousand miles from home, seven months pregnant, and arguing with a Mexican ultrasound tech about the gender of my child.
I wanted a girl. As an only child, I had no experience with boys. Truth be told, I didn't really like boys that much. Apart from the one I married and the ones I'm related to, the list of men I would have chosen to hang out with at that point was short... very short. I just preferred the company of women and still do for the most part. I have the most amazing group of girlfriends. I'm incredibly close to my mother and grandmothers. I actually enjoyed being in a sorority. I am a woman's woman.
As such, I knew my first child would be a girl. By the sheer force of my will, I would produce the little girl of my dreams. She would have red hair and a sassy side. I would dress her in onesies with Hillary Clinton's face on them and read Angelina Ballerina to her every night. Never mind that my husband was one of four boys, I went into our first ultrasound with confidence. I knew what the tech was going to say.
"It's a girl!"
Well, the first tech said the baby kept its legs together and she wasn't comfortable telling us the gender without checking with her supervisor. However, the supervisor came in and didn't hesitate. My baby was the girl of my dreams. My husband I celebrated with pink cupcakes and I immediately went online and bought the most beautiful navy blue velvet sailor dress. My mother started crying when I sent her the link.
The hesitation of the first tech made me a little nervous. If she couldn't tell, how was the supervisor so confident? However, I had to come back the next week for another ultrasound to get a better picture of the baby's heart. I knew I would get the confirmation I needed. Again, the tech didn't hesitate when I asked if she could check the gender. It was indeed a girl.
I was going to name her Adelaide. I talked to my "baby girl" all the time. I had a baby shower and received piles and piles of adorable, frilly pink clothes. I designed a nursery filled with baby pink florals and lace. I listened to Carrie Underwood's "All-American Girl" on repeat and smiled with smug satisfaction when my friend told me I'd won the baby lottery.
Then, my husband and I decided to take a babymoon (a phrase that is now forbidden in our house) to Mexico. We wanted to take one last vacation just the two of us before our little bundle of joy arrived and rocked our world. Little did I know my world would be rocked and shaken and flipped upside down way before the actual birth.
Our vacation was off to a great start. We soaked in the sun and enjoyed the gorgeous scenery. I even enjoyed frightening all the spring breakers with my gigantic belly. However, around day two I got sick. Very sick. Couldn't-leave-the-room sick. The baby was still moving around and seemed fine but we called a doctor just in case. After examining me in our hotel room, he recommended I go to the local hospital to prevent dehydration, which could harm the baby.
Away to the hospital we went. While my husband was filling out paperwork, the doctor recommended an ultrasound to check the baby. It seemed unnecessary to me but I didn't protest. We were about two seconds in to the ultrasound when the tech dropped the bomb. She was insistent that my little baby girl was in fact a baby boy.
I was in shock. When I told my husband, he blew it off. "I'm sure she's wrong," he said confidently. For the next two days, as we navigated the Mexican healthcare system and tried desperately to get home, I didn't really think about it and when I did think about it, I was in denial. They had to be wrong. I had TWO ultrasounds that said they were wrong.
However, the second we got back I scheduled another ultrasound. If I had lived near one of those ultrasound boutiques, I'm sure I would have driven straight there from the airport. As it was, I had to wait four days for the next appointment at my doctor's office. Meanwhile, I emailed the pictures from the Mexican ultrasound to a friend of my mother's who had spent years performing ultrasounds.
She confirmed my worst fear. She said from the pictures the baby did appear to be a boy. I convinced myself the pictures were the problem and that the new ultrasound would prove her wrong. The day of the ultrasound arrived and I was a nervous wreck. The woman performing the ultrasound was so kind. She saw the tears forming in my eyes as she broke the news. Despite my ever-decreasing hope, I knew what she was going to say. My baby was a boy.
There was no Adelaide. The pink frilly dresses I had held so tightly would have to be returned. The sweet nursery filled with florals and lace was not going to happen.
I cried and cried and cried. I was devastated. I was disappointed. More than that though, I was terrified. I knew very little about boys and what I did know scared the heck out of me. Boys were rowdy and loud and destroyed your furniture. Boys weren't as verbal as girls and didn't love to read. They had trouble in school and got in trouble with the law. Then they moved away and never visited or called. The stereotypes ran through my head on a constant loop.
When I wasn't crying out of sadness or fear, I was crying out of guilt. I had friends who couldn't get pregnant. I had friends whose children had health problems. Yet, here I was crying my eyes out because the baby wasn't exactly what I wanted. I felt small and ungrateful.
Not to mention, I felt like a failure. I hadn't even given birth yet and was already a bad mother. Good mothers wanted one thing and one thing only -- a healthy baby. When people had asked if I wanted a boy or a girl, I knew the answer they wanted to hear. "As long as it has ten fingers and ten toes!" That was the right answer. And I did want that. Of course, I did. I wanted this baby to the core of my being. I loved him totally and completely. However, I also felt disappointment and I knew he would feel my disappointment and resent me for the rest of his life.
Eventually I stopped crying. The disappointment faded. My fears and anxieties were replaced with the most amazing little boy. Griffin is loud and rowdy but he also spoke his first word at 9 months old and loves books more than any train or truck. He loves school and while I suppose he could still desert me and never call, right now he thinks I am the most beautiful woman in the world and tells me so every day.
And yet... two years later, there I was again. My belly covered with jelly as the ultrasound tech said the words I had been dreading. "It's a boy!" Now, my youngest at least had the self-respect to be spread eagle at 19 weeks so there was never any doubt. However, my eyes still filled with tears and I felt that familiar wave of disappointment wash over me.
This time I wasn't disappointed my baby was a boy. I know now that boys are not to be dreaded. They are not the consolation prize of babies. Instead, I was disappointed my baby wasn't a girl -- a distinction I still can't make my husband understand. My love for my boys has nothing to do with my continuing desire to have a little girl -- the little girl I fell in love with so long ago.
I might not name her Adelaide but, in my mind, the little redhead with sass still exists and I still want to be her mother. With the birth of my second son, I had to face the reality that that might never happen. I would like more children but my husband would like to stop at two. Even if I can convince him, there is obviously no guarantee our third child will be a girl.
The one thing I do know is this. If we try again, there will be no more disappointing ultrasounds for this momma. I've learned the hard way that ultrasounds are not perfect. Situations like mine are rare but that doesn't make them any easier. Not to mention, it is much harder to face the reality of your child's gender when that is all you know about them. Maybe Mother Nature knew what she was doing by keeping the sex a secret until the baby is already in your arms.
Beats the heck out of Mexico. That I can say for sure.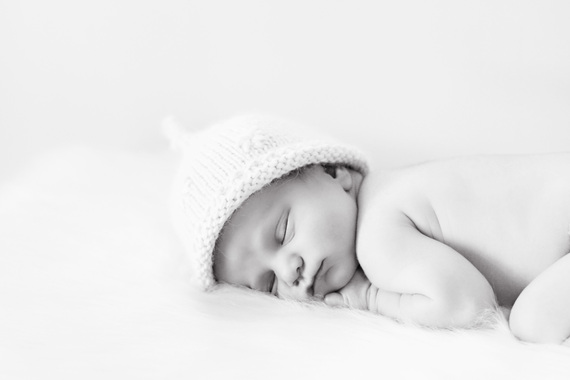 Also on HuffPost:
Seven Things You Didn't Know About Babies
A study published in the journal Infant Behavior & Development revealed that the standard "You Must Have Been a Beautiful Baby" has little to do with reality. When 253 college students were asked to rank photos of the same individuals as infants and young adults (without being told who was who), there was no relationship between how cute the students found the babies and how attractive they found the grown-ups.

No, really, it's true. It doesn't matter how many times you've heard the shout "Mine!" -- research shows babies can sense fairness at 15 months. During one study at the University of Washington, 47 babies observed videos of an experimenter distributing milk and crackers to two people. When one recipient received more food than the other, the babies paid more attention. That means they had expected a fair distribution. The researchers also found that babies who did notice unfairness were more likely to share their own toys.

OK, so they're not exactly psychic. But a recent study from the University of Missouri found that babies just 10 months old are starting to follow the thought processes of others. Yuyan Luo, an associate professor of developmental psychology who conducted the study, tells The Huffington Post, "Babies, like adults, when they see something for the first time -- when something is surprising -- they look for a long time. It shows [they recognize] something is inconsistent." It's called the "violation of expectation," she explained. When babies are surprised by something or notice something unexpected has happened, they tend to gaze at that thing longer. In Luo's research, babies watched actors consistently choose object A (such as a block or a cylinder) over object B. When an actor then switched to object B, the babies stared for about five to six seconds longer, meaning they recognized the change in preference.

Don't judge a book by its cover. Treat all people the same. We're all equals. These are sentiments parents strive to teach their kids from a very young age. And they should. Starting, like, immediately. Researchers at the University of Sheffield in the United Kingdom found that babies at three months begin showing a preference for the faces of people of their own race. But not all hope for equality is lost. The same study showed that babies who are exposed to people of all different races are less likely to develop bias at such an early age.

Researchers from Brigham Young University found that five-month-old babies can identify an upbeat song as being different from a series of sad, slow songs. In other words, they are happy. They know it. They will clap their hands. Or stare longer, as the case may be. The experimenters showed babies an emotionless face while music played. When they played a new sad song, the babies looked away. When the music pepped up, the babies stared for three to four seconds longer.

Babies have a sense of morality at six months old, say Yale researchers. During the Yale study, babies watched a puppet show in which a wooden shape with eyes tried to climb a hill over and over again. Sometimes a second puppet helped him up the hill, and other times a third puppet pushed him down. After watching the act several times, the babies were presented with both puppets. They showed a clear preference for the good characters over the bad ones by reaching to play with the good puppet.

Dr. Janet Werker of the University of British Columbia, who studies how babies perceive language, found that if a mother spoke two languages while pregnant, her infant could recognize the difference between the two. And they don't even have to be spoken out loud. Werker's research found that infants four to six months old can visually discriminate two languages when watching muted videos of someone speaking both.
Follow Sarah Stewart Holland on Twitter: www.twitter.com/bluegrassred