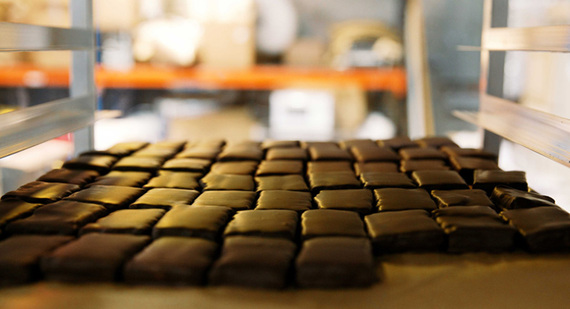 Brooklyn-based chocolate confectioners Fine & Raw began in 2007 as a fly-by-night operation out of a Williamsburg loft. Today things have grown a bit more official, as a full team produces an array of chocolate goods out of a company-owned Bushwick factory, while still adhering to the original goal of using only the best, healthiest, most sustainable ingredients.
Fine & Raw's peak season starts around the end of November and doesn't let up until March. "For us chocolatiers ... the holidays are extended into late February," says team member Ryann Mead. Their most popular flavors? "All [the flavors] are gorgeous in their own ways," Mead says, but names Sea Salt and Bonbon among the best-sellers. We personally find the Mesquite and Lucuma & Vanilla flavors intriguing (the more exotic, the more we want them).
With Valentine's Day just around the corner, Strolby checked in to talk about chocolate and see what life is like for the confectioner during its busiest time of year.