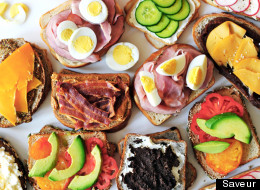 The sandwich is the ultimate exercise in edible gestalt: Great vegetables, cheeses, meats, and breads make, in the aggregate, something so much more wonderful than any one ingredient alone. While there's a time and a place for ten-ingredient Dagwoods and double-decker club sandwiches, there's a particular magic to be found in the very simplest sandwiches. These nine sandwich variations call for just two ingredients each (plus bread, of course, and the occasional grind of pepper); they are, in our opinion, the very pinnacle of lunchtime perfection.
Also: See A Dozen Classic Cookie Recipes
Saveur's 2-Ingredient Sandwiches
Sweet, juicy heirloom tomatoes and slices of just-ripe avocado work in perfect harmony no matter what you serve them on, but a slice of seven-grain bread adds a perfect amount of texture and crunch. Get the recipe Also: 20 Great Birthday Cakes Photo Helen Rosner.

This combination is autumn on a slice of bread: sourdough spread with rich apple butter, topped with slices of mild smoked gouda and a sprinkle of flaky sea salt. (If you don't have smoked gouda on hand, you can substitute a plain gouda or a mild smoked cheddar.) Get the recipe Also: 20 Fall Salads Photo Helen Rosner.

A dollop of ricotta on earthy-sweet oat bread is delicious; add a drizzle of sourwood honey and it's elevated to the exquisite. (For a bit of sophistication, top with a sprinkle of freshly-crushed red pepper flakes, fresh thyme, or thinly sliced mint leaves.) Get the recipe Also: Hearty Fall Soups Photo Helen Rosner.

It's très French to pair crisp, spicy radishes with softened, salted butter; a thin-sliced baguette is the perfect vehicle. Get the recipe Also: Savory Apple Recipes Photo Helen Rosner.

Bring out peanut butter's savory side by topping it with a few strips of smoky bacon-cooked extra-crisp to hold up against sogginess. On hearty whole-wheat bread, it's the kind of sandwich you may not be able to wait until lunchtime to eat. Get the recipe Also: The Best Brownies and Bars Photo Helen Rosner.

Ham and eggs may be a breakfast classic, but they're even better for lunch: try sliced or quartered hard-boiled eggs layered with a salty black forest ham and a bit of mayo on a hearty white bread. Get the recipe Also: 10 Family-Friendly Pasta Dishes SEE 4 MORE 2-INGREDIENT SANDWICHES ON SAVEUR.COM Photo Helen Rosner.
More from Saveur.com:
How to Make Perfect Scrambled Eggs
15 Versatile Beet Recipes
Simple Chocolate Truffles
Classic Cookies
20 Great Birthday Cakes
14 Summer Pasta Dishes
Vegetarian Summer Appetizers
Follow Saveur on Twitter: www.twitter.com/saveurmag