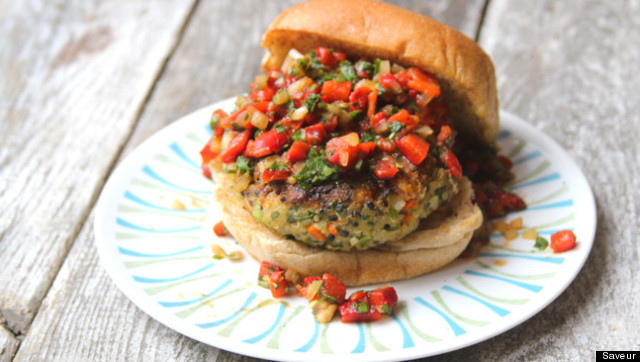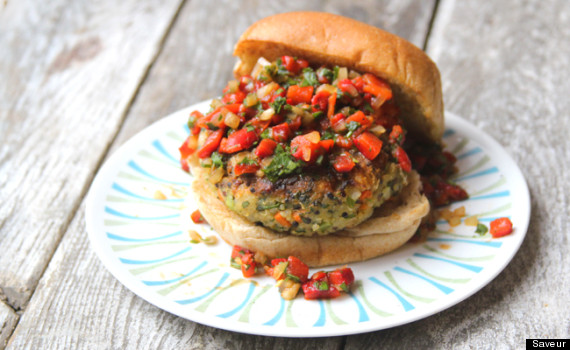 Whether we're at a restaurant or a weekend barbecue, it always breaks our hearts just a little to get a veggie burger that's little more than a dry, beige puck. There's absolutely no reason the vegetarian option can't be just as flavorful, savory and robust as its carnivorous counterpart -- if not even more of a gastronomic delight. These four veggie burgers are worthy occupants of any bun -- no faux-meat here, just fantastically delicious combinations of beans, vegetables, legumes and grains. From an earthy, rich portobello patty (that's miles beyond a standard mushroom-cap-on-a-bun scenario) to a subtly spiced quinoa burger to a Southwestern-inspired black bean burger, these patties will please every palate. See our four favorite veggie burger recipes in the gallery »RECIPE: Quinoa Veggie Burger with Roasted Red Pepper Relish Our take on a classic meatless burger calls on a slew of vegetables for flavor, color and texture: carrot, celery, arugula, beans and -- the ingredient that really makes it -- quinoa, the high-protein South American grain that has a nutty flavor and toothsome bite. This veggie burger is infinitely versatile when it comes to toppings, but we particularly like it with a cumin-accented relish of roasted red peppers. MAKES 6 BURGERS INGREDIENTS FOR THE BURGERS ⅓ cup olive oil 4 cloves garlic, finely chopped 1 small carrot, finely chopped 1 small yellow onion, finely chopped 1 rib celery, finely chopped 2 cups baby arugula, blanched, shocked, finely chopped, and squeezed dry 1 (15-oz.) can great northern or cannellini beans, rinsed, drained and mashed 2 cups cooked quinoa ½ cup breadcrumbs 2 tbsp. oregano leaves, finely chopped 1 egg Kosher salt and freshly ground black pepper, to taste FOR THE RELISH ¼ cup finely chopped parsley 2 tbsp. fresh lemon juice 1 tsp. ground cumin 2 red bell peppers, roasted, stemmed, seeded, peeled, and finely chopped ½ small yellow onion, minced 6 hamburger buns, split and toasted INSTRUCTIONS 1. Heat 2 tbsp. oil in a 12" skillet over medium high heat. Add garlic, carrot, onion and celery, and cook, stirring, until soft, about 8 minutes. Transfer to a bowl and add arugula, quinoa, breadcrumbs, oregano, egg and mashed beans; season with salt and pepper and mix well to combine. 2. Divide mixture into six 5 1/2-oz. patties, about 4" wide x 1" thick; place on a plate and refrigerate for 20 minutes or until ready to use. 3. To make the relish, mix parsley, juice, cumin, peppers, onion and salt and pepper in a bowl. Cover with plastic wrap and let sit 20 minutes to allow flavors to marry. 4. Heat 2 tbsp. oil in a 12" skillet over medium-high heat. Add 3 burgers, and cook, flipping once, until toasted on each side and cooked through, about 6 minutes. Repeat with remaining oil and burgers. Divide burgers between toasted buns, top with relish and serve. Note: Individual veggie burgers can be formed and then frozen, sealed, for up to one month. Thaw in the refrigerator and cook as needed.
Portobello Burger with Blue Cheese and Sautéed Red Onions A far cry from the standard grilled-mushroom-cap-as-burger, these ultra-savory portobello patties get a further umami boost from garlic and steak sauce -- a perfect match for a flavorful topping of melted blue cheese and tangy caramelized red onions. Get the recipe »Roasted Garlic Chickpea Burger We took inspiration from falafel when developing these burgers -- but unlike the dense, often dry deep-fried chickpea fritters, this sautéed patty is both light and rich in texture, with added depth from roasted garlic. Topped with an array of veggies and a sprinkle of feta, it's a perfect weekend lunch. Get the recipe »Black Bean Burger with Salsa Fresca and Avocado Crema Cumin, paprika, coriander and both poblano and chipotle chiles lend their robust flavor to this earthy black bean burger. Dredged in cornmeal, it's a hearty base for a bright salsa fresca and smooth avocado crema. Get the recipe » MORE FROM SAVEUR.COM:
This Blogger's Books and Other Items from...
SUBSCRIBE TO & FOLLOW LIFESTYLE
HuffPost Lifestyle is a daily newsletter that will make you happier and healthier — one email at a time. Learn more