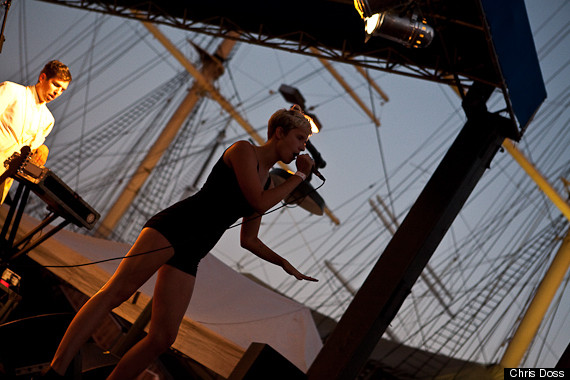 "We are here to speak to your body! We are here to speak to you spirit!" a white tuxedo clad Jona Bechtolt informed the crowd gathered at South Street Seaport's Pier 17 Friday night to see YACHT. While I wasn't surprised to hear this as the opening statement from a band whose manifesto (yes, they have a manifesto) explains: "YACHT is a Band, Belief System, and Business," I was definitely concerned that the performance ahead would be weighed down by artistic pontification and hokey spiritual nonsense. Turns out I had nothing to fear. The band, normally made up of duo Bechtolt and Claire L. Evans, was joined by Jeff Jerusalem on drums and Bobby Birdman on guitar. YACHT presented a playful and energetic performance of their first DFA released album, See Mystery Lights, that got the entire audience smiling and dancing.
First up and complimenting the laidback summer mood of the all ages audience was the LCD Soundsystem homage "Summer Song" followed by auto-tune love song "I'm in Love With a Ripper," after which Bechtolt paused to take questions from the audience (To one audience member: "Will I be your boyfriend? Sure!"). The set continued with the two-songs-in-one "It's Boring/You Can Live Anywhere You Want," followed by "We Have All We Ever Wanted," and then "Ring the Bell," which kept everyone moving with their talky vocals, infectious chant-like lyrics, and punchy dance moves.
They did deviate from the album's feel-good electropop vibe for a moment when they performed a cover 70's punk band X's song "Nauseau." Unfortunately Evans' vocals got a bit lost in the strength of Bobby Birdman's punk rock guitar and Jeff Jerusalem's booming drums. At one point Evans dramatically took her finger to her lips and used her black lipstick to smear crosses on her forehead and neck.
But back to the dancey stuff. YACHT tied things up with "The Afterlife" and encouraged the audience to sing along to the upbeat poppy hit "Voodoo City." Everyone sang the ay ay ay ay's , oh's and satisfying guttural huh's and soon were all throwing their arms into the air to the beat of the song as Brechtolt and Evans continued to shake and dip onstage. Dancing and singing in the middle of a pier on a breezy warm August evening in the city with a view of the East River -- if this is the kind of group consciousness and exploration of other frontiers that YACHT referred to in their manifesto, then I am a believer. YACHT definitely ended the east coast leg of their tour on a positive note.