The weather is cooling off around town, but the culinary scene is just getting warmed up. Many restaurants are rolling out new menus and deals to bring in diners; drinking establishments are featuring all-new happy hour specials; and new trends in dining are currently emerging.
Autumn means a cornucopia of new varieties of produce and a time to gather with friends and celebrate the season.
The recently transformed Culina, the modern Italian eatery at The Four Seasons Beverly Hills, is getting in on the celebration with a series of monthly wine dinners featuring guest wineries, offering their finest selection of regional wines. Guests will have the chance to dine with winery representatives and Culina's wine director, Chris Bradford.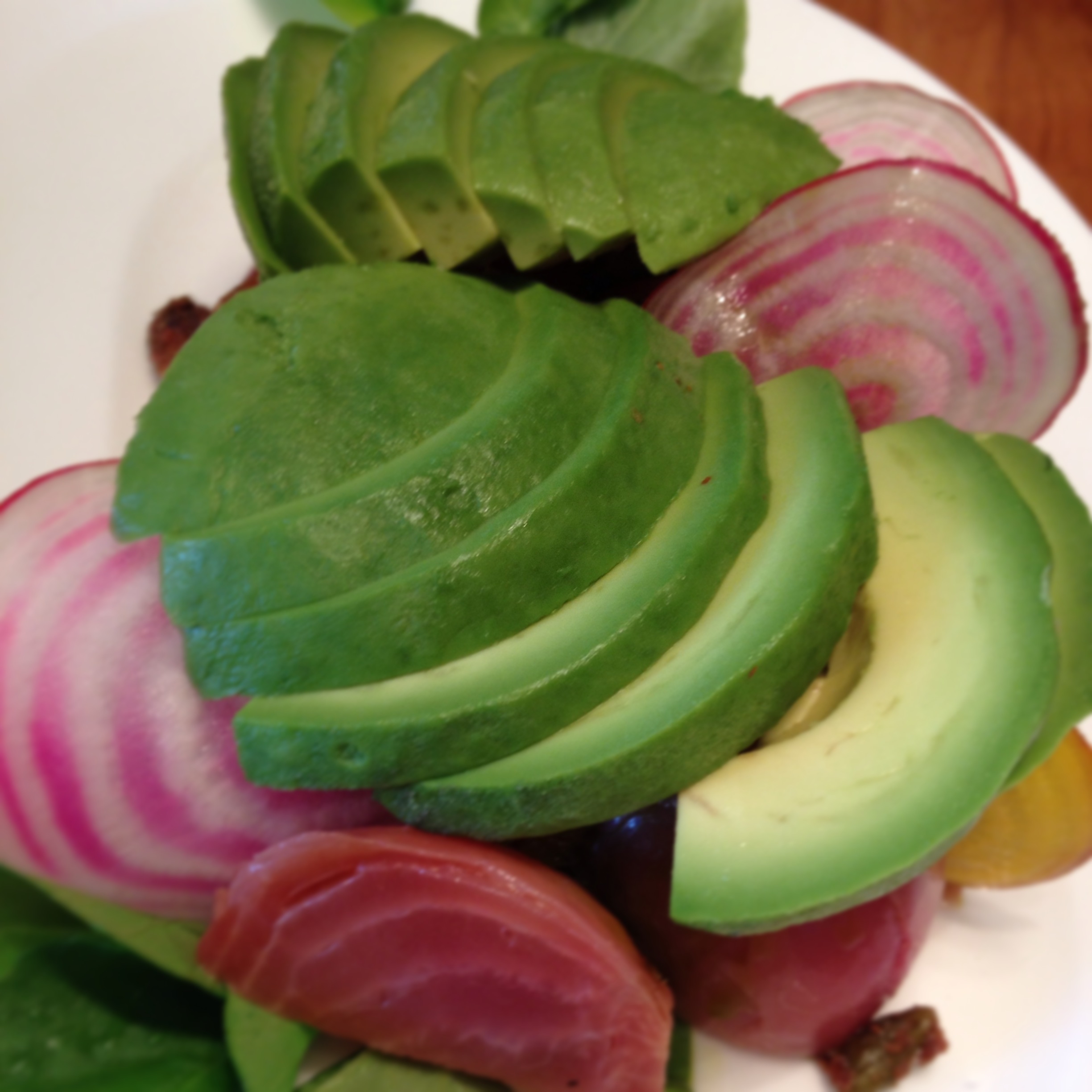 Chef Mette Williams' fall menu at Culina is as colorful as it is delicious. (Photo by Scott Bridges)
The Oct. 15 dinner features Sebastopol's Kistler Vineyards, famed for their chardonnay and pinot noir; followed by Santa Maria's Tantara Winery on Nov. 6; and finishing the year with Napa Valley's Frank Family Vineyards on Dec. 11.
Burger Lounge is marking the season with a new fall line of burgers. The L.A.-based chainlet is featuring exciting new meats, including grass-fed bison, smoky wild boar and grass-fed elk (for the gamiest taste, try the boar, it's served with Applewood smoked Cheddar, crispy onion rings and a house-made barbecue sauce).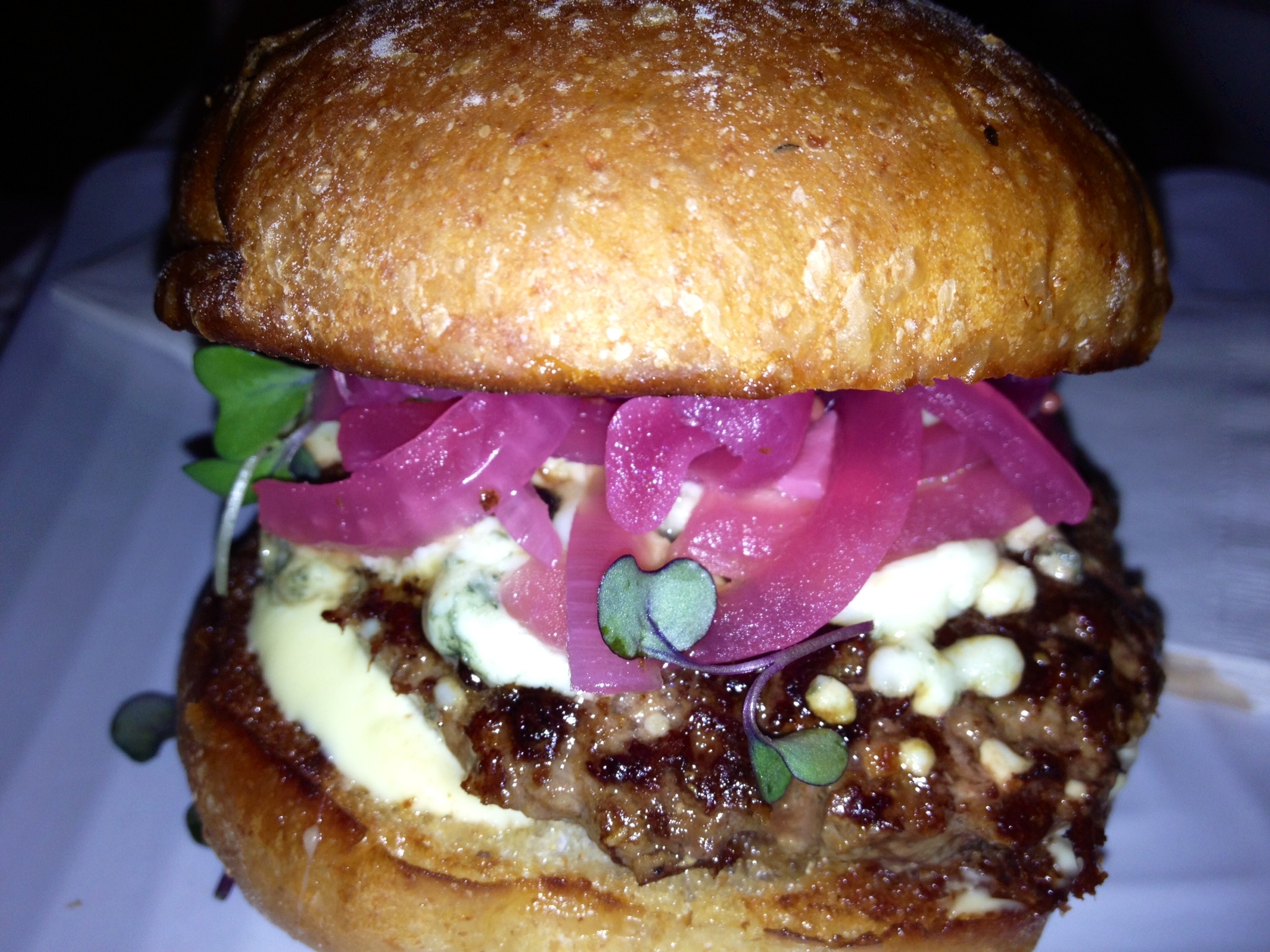 Burger Lounge's grass-fed bison burger with Blue cheese, pickled onion and roasted garlic aioli. (Photo by Scott Bridges)
This fall also marks the Los Angeles launch of a whole new form of pop-up. You're going to want to be aware of this cool new trend in dining. It's a model from a company called Dinner Lab, a membership-based social dining experiment uniting up-and-coming local and visiting chefs with adventurous diners outside of the traditional restaurant concept.
Chefs are encouraged to tell a story with their menu -- recipes that speak to their background or heritage; ingredients they're passionate about; or completely new dishes they've been experimenting with outside of their restaurants.
The cuisine, the venues and the group of patrons are constantly changing, so any particular Dinner Lab event exists for one evening only. And although there might be as many as 100 events annually in a single city, no meal will ever happen in the same way, with the same food, with the same people, in the same space.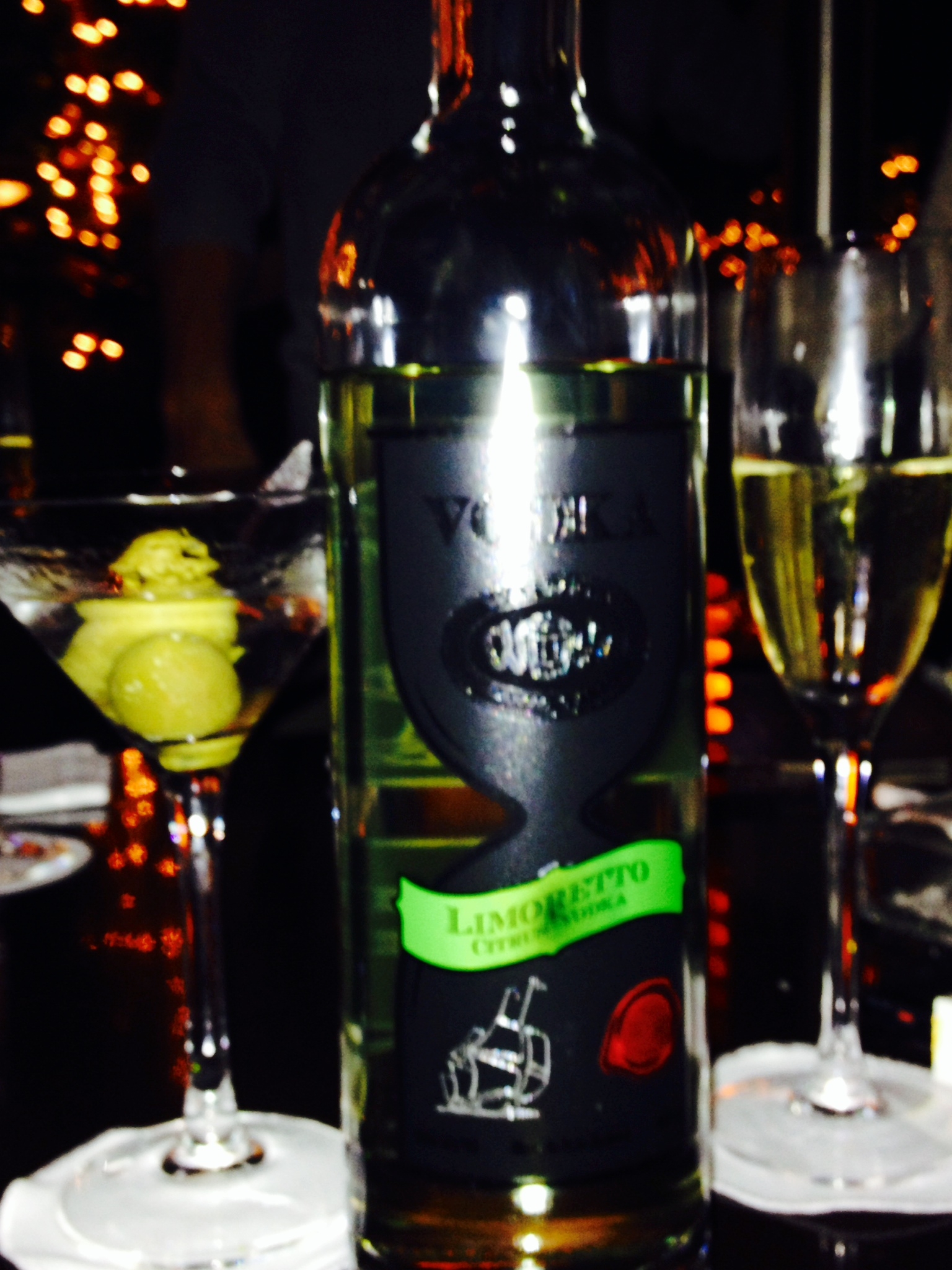 October 4 was National Vodka Day (this is a New Zealand vodka that I tried -- and wish I could remember the name of! (Photo by Scott Bridges)
Members currently have access to events in Austin, New Orleans, New York City, Nashville and now Los Angeles, and there's no limit on how many events a member can attend. Membership costs $175 annually and allows a member to purchase tickets for themselves and a guest (prices average about $75 person) and include upwards of five courses, alcoholic and non-alcoholic beverages, tax and gratuity. Events are currently being planned for L.A.
Another new concept is called Kitchensurfing. The start-up company facilitates connections between diners and local chefs. The site plays matchmaker, allowing people to find a private chef online to come into their kitchens and cook for their guests within their own homes. That list of participating chefs is diverse, and represents a wide array of cuisines.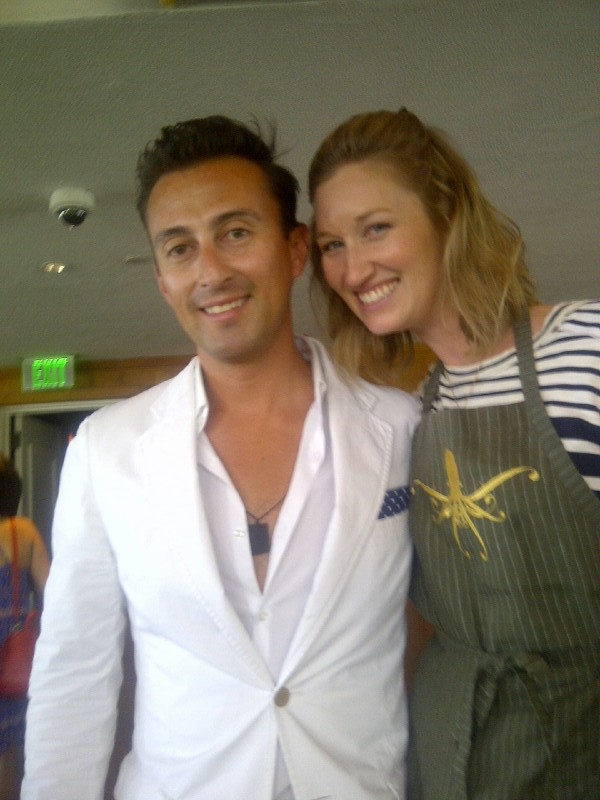 Kitchensurfing is changing the dining landscape -- a recent dinner at a Venice home featured Ceviche Project's Octavio and Shannon Olivas. (Photo by Scott Bridges)
Here's how it works: Users enter the pertinent details about their events -- for example, the number of guests and the price they they're looking for -- and chefs are able to respond with a suggested menu and their price. There is no registration fee for either diners or chefs. Instead, the company takes a 10 percent cut of each booking. The bookings are all-inclusive: payment is up front and includes tip. Cooks do the shopping and clean up before they leave.
Meanwhile, Francophiles have much to be excited about this fall. Riviera 31, at the Sofitel Hotel, is bringing the South of France to Beverly Hills. The cocktail lounge provides live performances like "Paris Chansons" and "Cabaret Versatile," and caters to a crowd of largely 30-something professionals in a friendly, "non-industry-type" setting.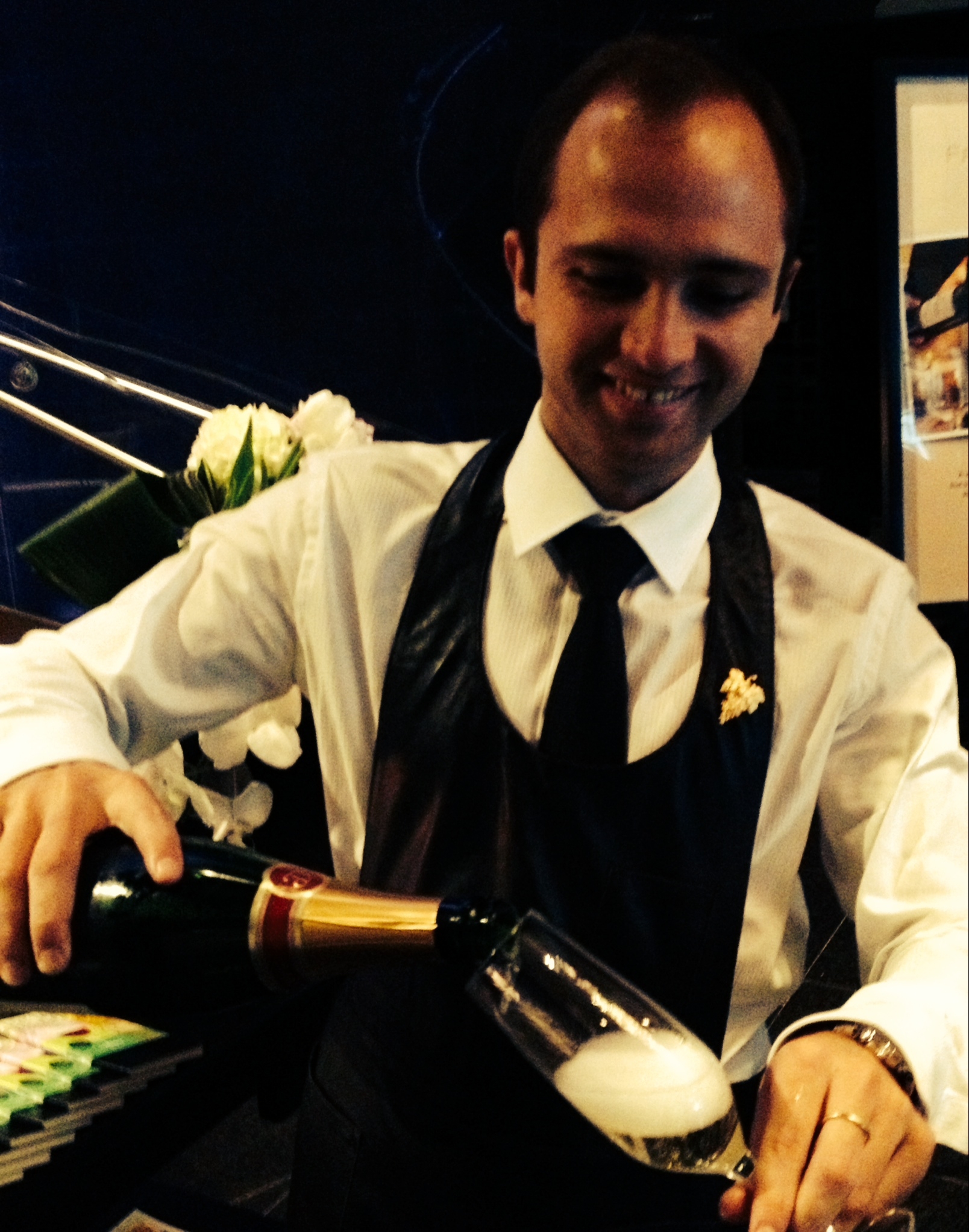 The South of France comes to Riviera 31 at the Sofitel Hotel. (Photo by Scott Bridges)
To launch the new program, a sommelier guided guests through the various wine-producing regions of France, from Champagne to Bordeaux to Burgundy to Cote du Rhone and beyond.
And speaking of pairings, super-chef Suzanne Goin's Lucques restaurant played host earlier this month to a private dinner featuring Maurice Richard Hennessy, who shared stories about the history of his family's Cognac.
Cocktails featuring the spirit were paired with a three-course offering from Goin's seasonal menu, including her renowned braised beef, as well as a rich, decadent flourless chocolate torta.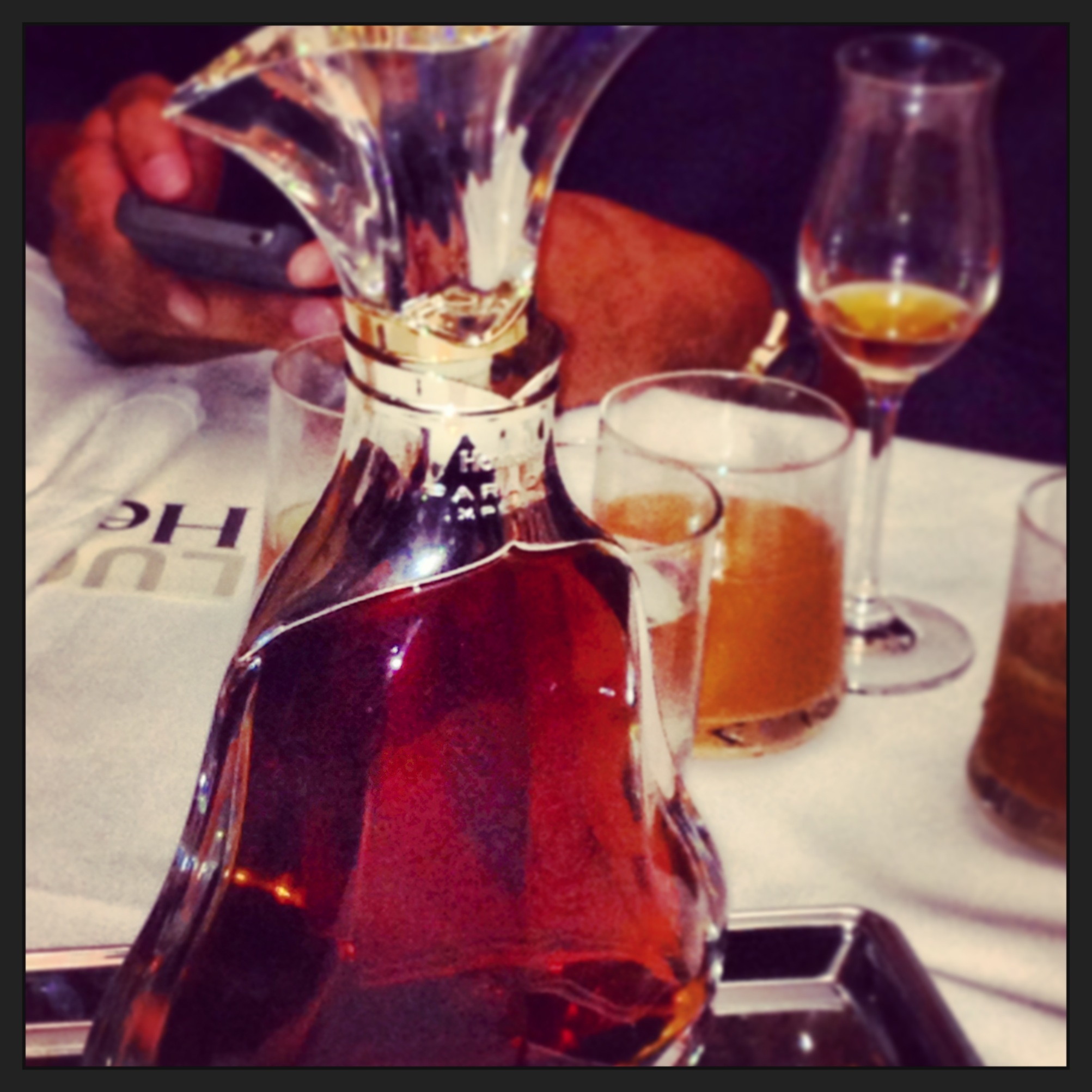 Hennessy Imperial was originally made for a Russian tsarina for a birthday party. (Photo by Scott Bridges)
And after breaking out the Os Gemeos-painted bottle (the Brazilian artists were commissioned to create a limited-edition bottle), Mr. Hennessy produced the 18-carat gold-labeled decanter of the Paradis Imperial for a tasting, and told a story about the origins of the blend, explaining that the company received an order in 1818 from the Russian tsarina, who initially requested its creation for a birthday party for her son. The tsars remained regular customers for the next 100 years -- that is, until the revolution.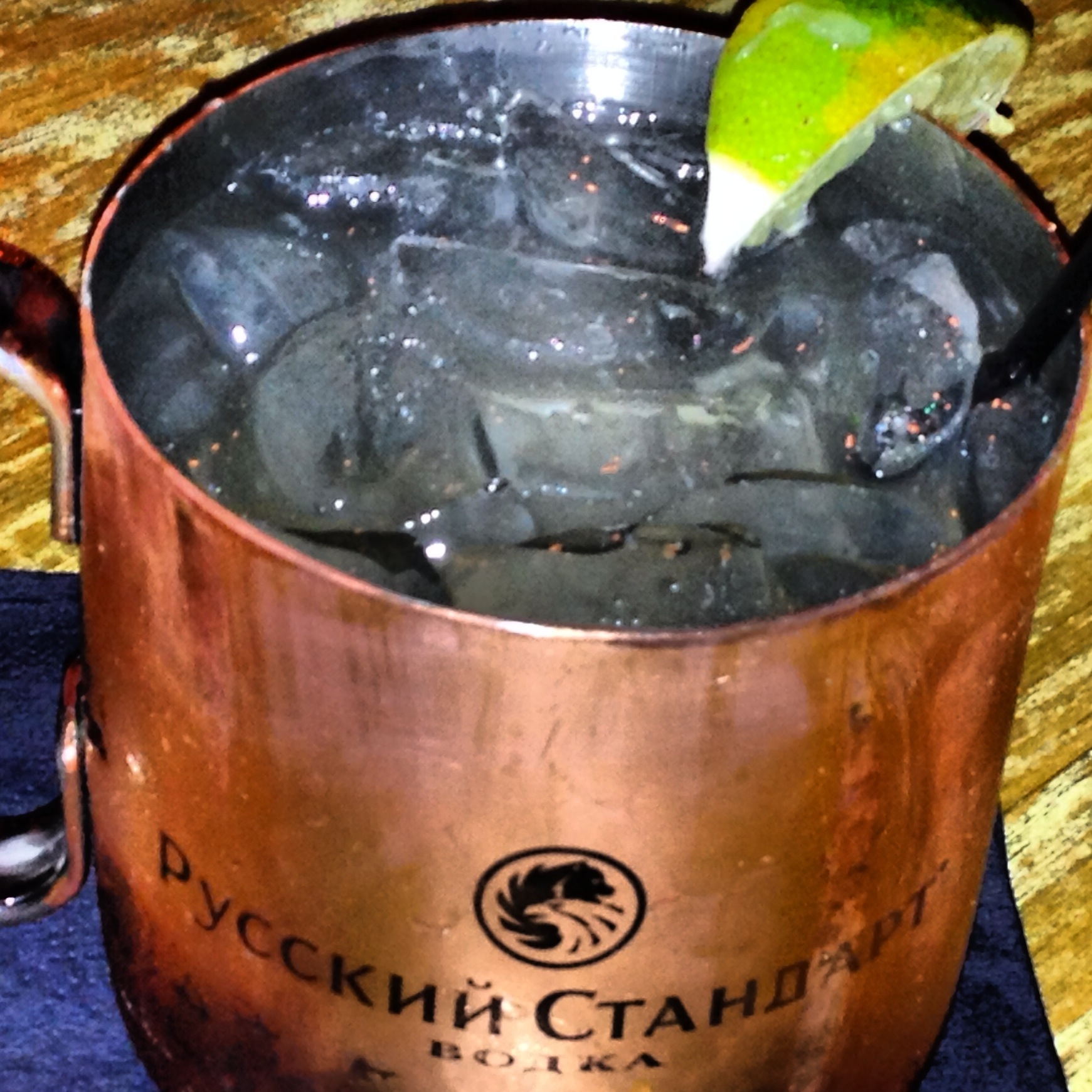 Russian restaurant Mari Vanna is the premier place to enjoy vodka in L.A. (Photo by Scott Bridges)
Finally, October 4 marked National Vodka Day. Bartenders around town celebrated it by whipping up creative vodka-based cocktails. I sampled several, but found a couple of favorites, which are still available, in case you were wondering.
For vodka lovers, there is no better place to get your fix than West Hollywood's Mari Vanna, which offers a vast array of infused vodkas -- 70 flavors, including horseradish, red pepper, dill, cranberry, pear and many, many more. Bartender Jimmy Walsh knows his vodka, and blends some nicely balanced concoctions.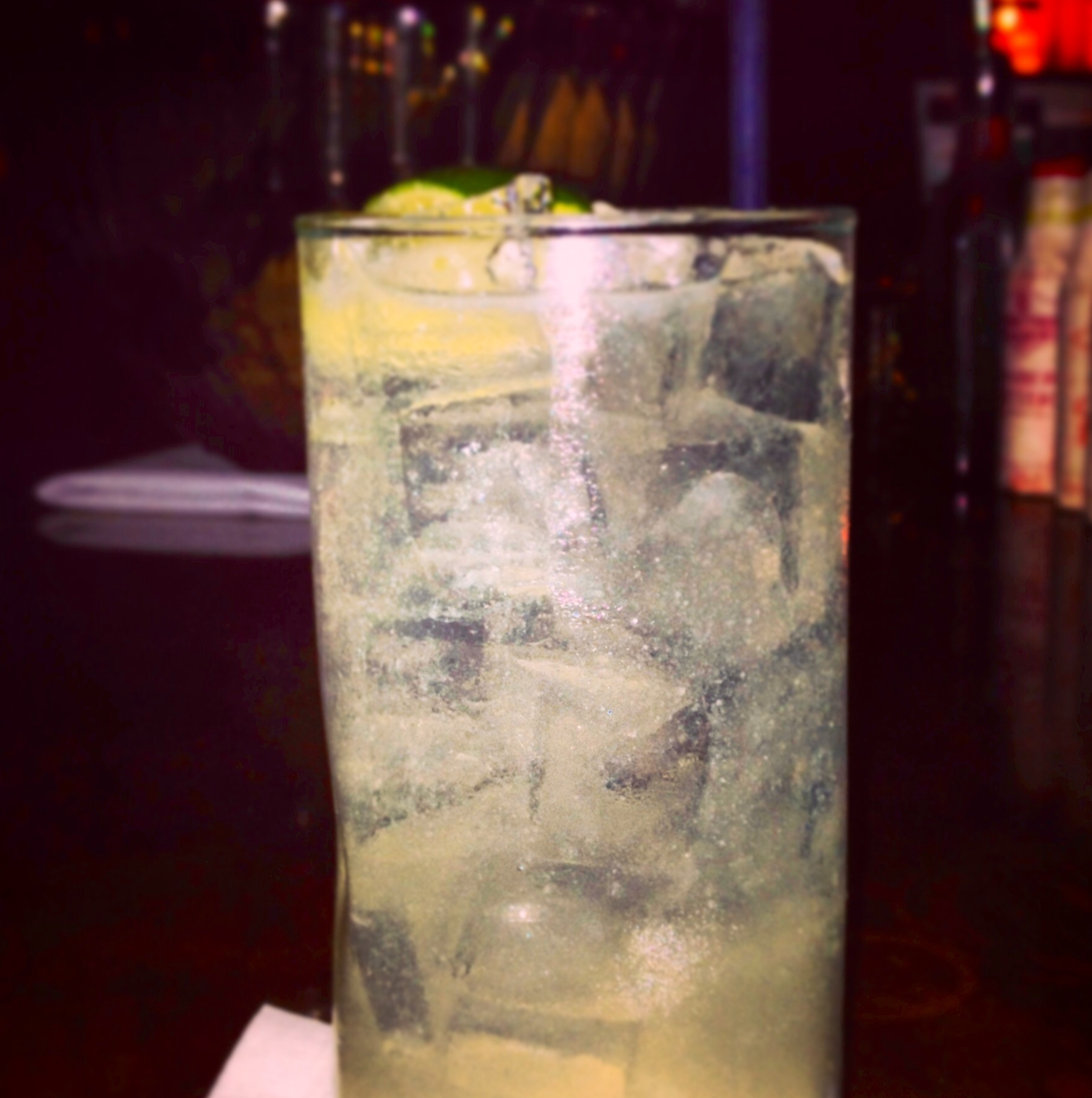 The La Dolce Vita Mule, with Grey Goose vodka. (Photo by Scott Bridges)
At La Dolce Vita, meanwhile, the Beverly Hills favorite got in on the action with their LDV Mule. While the Hollywood-originating beverage is traditionally served in a copper mug, the LDV version is served in a tall glass. Bartender Katie McInerny starts the classic with Grey Goose vodka, followed by ginger beer and lime juice over ice.
So there you go -- a nice way to cool down what is otherwise a red-hot autumn. Cheers!
This post has been updated from a previously published version.