Olive & Thyme, for those who haven't heard, is a favorite gourmet restaurant and market with the studio crowd. Owner Melina Davies places on an emphasis on cheese, charcuterie, condiments, desserts and wines. She creates decadent gift baskets like the Romance & Relaxation basket, the Coffee and Tea Lovers basket, the Wine and Chocolate basket, the Cheese basket, and, of course, the Foodie basket.
A charcuterie plate is the ideal way to begin at Olive & Thyme. (Photo by Scott Bridges)
After serving her time in the entertainment business (as an assistant at ICM, later as a creative exec for Joel Silver and Lawrence Bender, and as head of production at Melee Entertainment), she and her husband, Christian, launched Olive & Thyme in Toluca Lake almost three years ago.
Since then, the restaurant has established itself as one of the best industry lunch spots in the Valley. Understanding the time restraints involved, Davies keeps the flow going, rotating diners in and out, while maintaining her graciousness all the while.
The eatery has made a name for itself with its sandwiches and salads. Jonathan Gold noted about Olive & Thyme in LA Weekly,
"[A] good sandwich shop in a business district can more properly be the domain of a curator: Somebody with an iron hand on the meats and cheeses, who knows how to keep the dining room comfortable enough to visit every day but brusque enough to encourage quick turnover, who gets the coffee right, the bread right."

Egg salad sandwich with red onion and dill, served on olive bread. (Photo by Scott Bridges)
In fact, one of the best sandwiches in all of L.A. can be found right here. It's the Braised Short Rib -- one of the best sandwiches in any part of town. The beef is slow cooked for eight hours and served with a horseradish crème fraiche and caramelized onion on country sourdough.
Another signature dish is the Egg Salad Sandwich, spiced with red onion and dill, and served open-face on olive bread. There's even a hot dog on the menu -- the natural, grass-fed Let's be Frank Spicy Hot Dog. Get it with Dijon, sauerkraut and onions, served on Rockenwagner pretzel bread.
Standout salads include the Mediterranean-inspired Fattoush, with Romaine, tomato, cucumber, feta, dill, parsley, mint and spiced crispy pita chips, tossed in a lemon vinaigrette; and the Chinese Chicken Salad, with Romaine, red and green cabbage, shredded chicken, almond, carrot, scallions and cilantro, tossed in sesame soy dressing.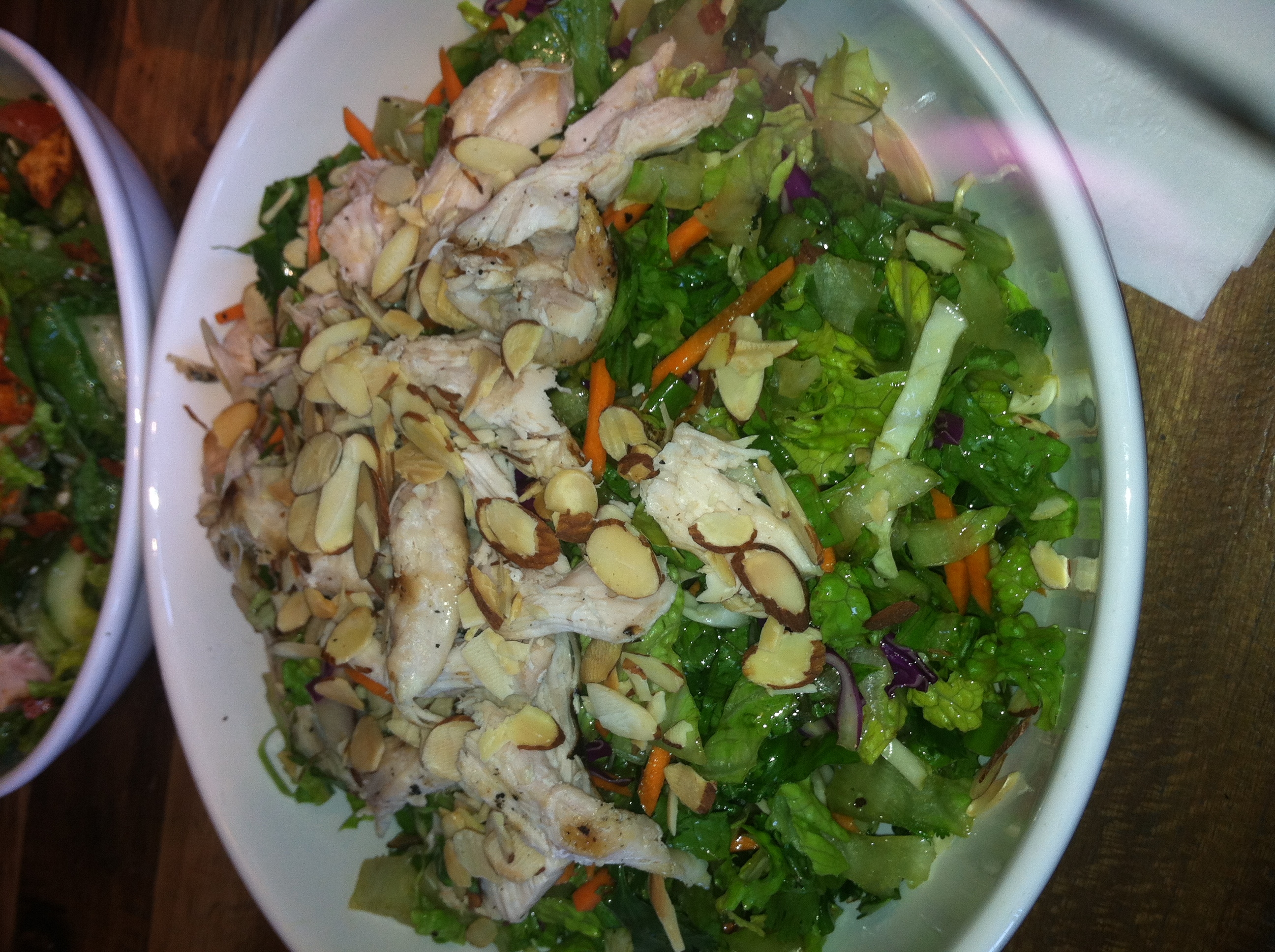 The signature Chinese chicken salad is a lunchtime favorite. (Photo by Scott Bridges)
Breakfast is also served, along with L.A.-favorite Intelligentsia coffee. Dinners, meanwhile, are reminiscent of a home cooking, with comfort foods like oven-roasted turkey, lasagna, meatloaf, and macaroni, bacon & cheese.
Among desserts is Davies' sugar cookie, made from her own recipe. The unique cookie is an ideal blend of chewy and crunchy. And for brownie lovers, the red velvet brownie is pure decadence.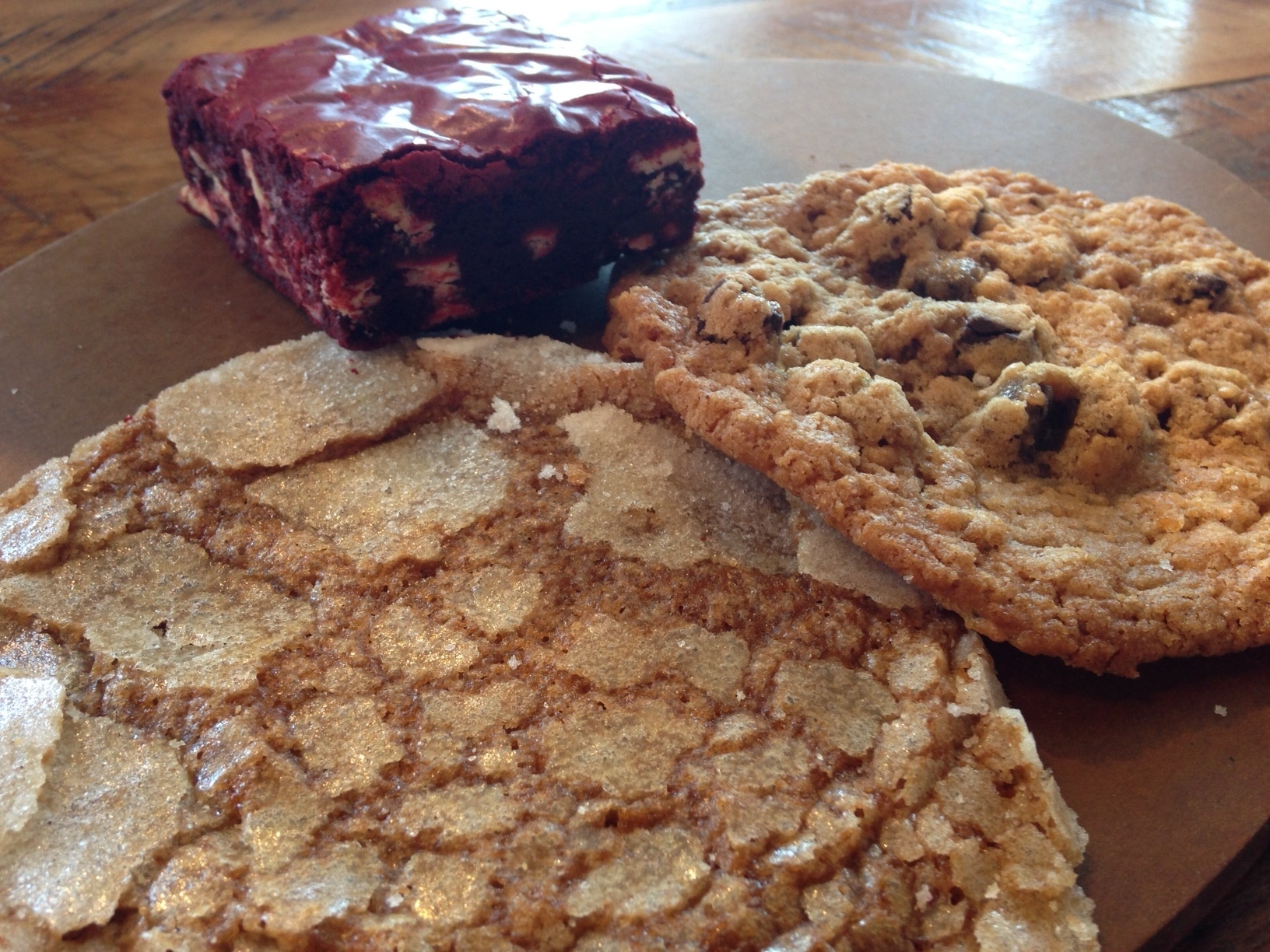 Cookies and brownies are a Melina Davies' specialty. (Photo by Scott Bridges)
Every wine on the list is available by the glass, and includes French, Italian and Spanish varietals, as well as California labels. Craft beers are also available -- Imperial Stout, Allagash White, Old Rasputin and Kwak Belgian Ale.