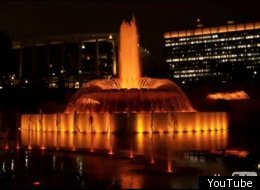 According to legend, centuries ago Japanese fishermen would grill their daily catch out on the boat, and share their bounty with other fishermen, using their wooden oars to pass food from boat to boat. They used a slow grilling method, arranging coals in a pyramid to evenly circulate the heat. They relied on a nearly smokeless oak charcoal (Binchotan) to enhance the natural flavors of their meats, fish and vegetables. Robata (translated, "Around the fire") cooking lives on today and is a simple form of dining that any serious food lover should experience.
Robata Bar in Santa Monica is an ideal location to begin such a culinary adventure. There are some good specialty cocktails to get the evening kicked off. I highly recommend the Robata Infusion (Ozeki sake, Skyy vodka, canteloupe, watermelon, pineapple and cranberry juice); as well as the Violet Fizz (Oxley Gin and Nigori sake with pressed blackberries, lemon juice, and agave nectar). There's also a full bar, but your best to get into the spirit of things is to order a bottle of sake and chill it on ice. Hopefully, you have some good company with which to share your sake and your meal -- incidentally, this is a great location for a date: The lighting is dim, the music is energetic without being loud and the leather booths are cozy and fairly intimate.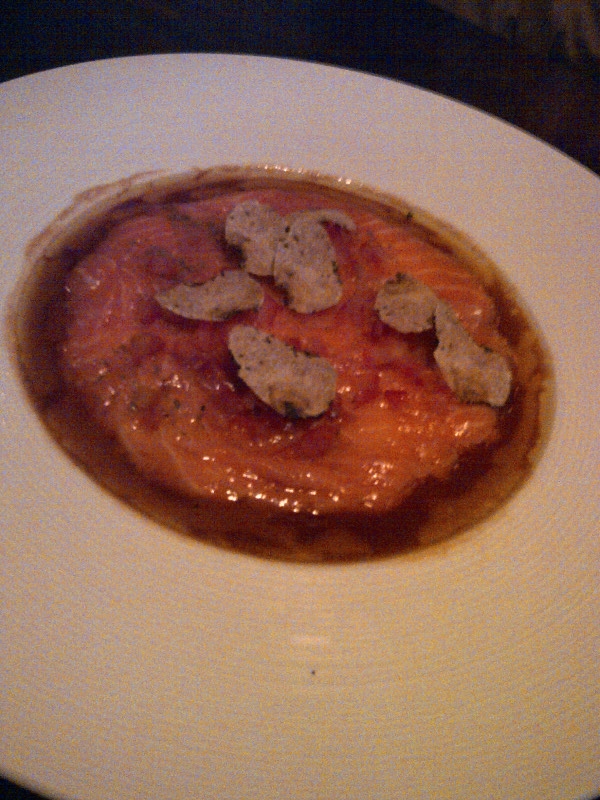 Robata Bar's salmon carpaccio is a perfect way to whet your appetite. Photo by Scott Bridges
You're going to be sampling a variety of very small plates, so don't forget your appetite (or your wallet). Consider beginning with some cold appetizers and sushi/sashimi. One of the best features of this restaurant is that the entire menu of Sushi Roku (a sister restaurant) is also available. You can't go wrong with the seared albacore or the salmon carpaccio. The Robata Hanabi is also excellent, with Yellowtail and diced chilies, although the crispy rice it's served on is a bit much. The clams in sake broth is a house specialty, but might be too rich and salty/umami for some.
When you're ready to move on to the robata, have fun and be adventurous. Try whatever excites your imagination. Your server will likely provide recommendations as to which skewer pairs with which sauce. (Manager Paul Chang was even kind enough to offer course suggestions, guiding me on my Robata Bar experience). I found the chicken liver to be a tantalizing delicacy like no other. The chicken cartilage I would pass on. The chicken meatball was good, but not great; and the eggplant and shiitake mushroom proved that veggies also do well on the grill.
Robata is a shared experience dating back centuries. Photo by Scott Bridges
The prices are reasonable but if you get carried away or have a large party, there could be some sticker-shock when the bill comes. But this is not the sort of dining experience in which you want to have to keep close tabs on your spending; it's much more enjoyable to feel unrestricted as you delve into the menu and sample bold and exotic choices.
Robata Bar is a somewhat atavistic dining experience: The food is prepared simply, grilled over a charcoal fire that brings out the natural flavors of the meat; and the shared experience in savoring those ancient tastes brings out something natural in us, as well.
Follow Scott Bridges on Twitter: www.twitter.com/EatWriteLA