Mac 'n five kinds of cheese; deviled eggs and bacon; BLT flatbread -- decadent, right? And don't get me started on the butter, made with a coffee-and-bacon reduction. It would be wasted on ordinary bread, but on Chef Jonathan Moulton's biscuits, it's a match made in food heaven.
These are just a few of the comfort foods you'll discover at Sadie Kitchen & Lounge, where Moulton's seasonal menu showcasing American classics (with a Southern accent) pairs smoothly with Giovanni Martinez's mixology concoctions, such as the inimitable Kentucky Ninja, Oaxacan Through Italy and Pontchartrain.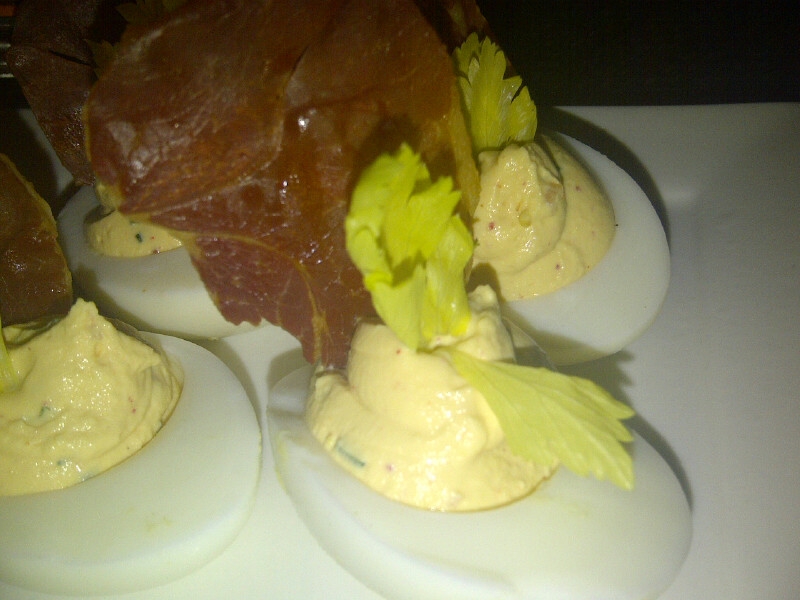 Deviled Bacon and Egss. (Photo by Scott Bridges)
The Ralph Gentile-designed interior belies the speakeasy nature of the exterior, and features one of the coolest patios in Hollywood, adjoining one of my favorite bars -- a vintage square-shaped bar in an intimate lounge, with a solid Happy Hour menu.
"Sadie's philosophy is simple... we want you to feel at home," says general manager Patrick Doherty.
"It's about creating and nurturing relationships so that everyone who walks through our doors knows we're there to support them in having an incredible evening that will follow them all the way home. We want to create a genuine experience."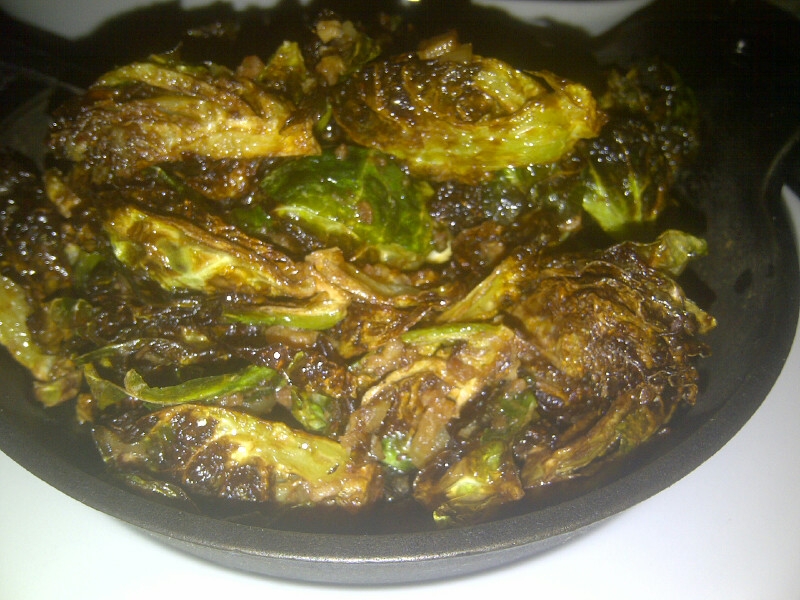 Brussels sprouts with Niman Ranch bacon. (Photo by Scott Bridges)
Part of that genuine experience is apparent in the service, embodied by servers like Maelin Wapnowski, who are more than capable of providing friendly expertise. It was at Wapnowski's suggestion that I tried the absinthe ice cream float, for instance. Oh, do I have your attention? Yes, a homemade absinthe ice cream.
And speaking of desserts, the fried apple pie is worthy of mention. Served with a rhubarb compote and goat cheese mousse, it's a little piece of home that someone like Moulton can certainly appreciate. The chef served as something of a dietician in an army mobile hospital unit, where he spent time cooking before finding his way to the lush confines of Sadie's kitchen, where arugula & roasted beet salad and port wine & shallot-braised short rib fill in for MREs, and where the only bombs are made of chocolate (Sadie's signature chocolate bomb is the bomb).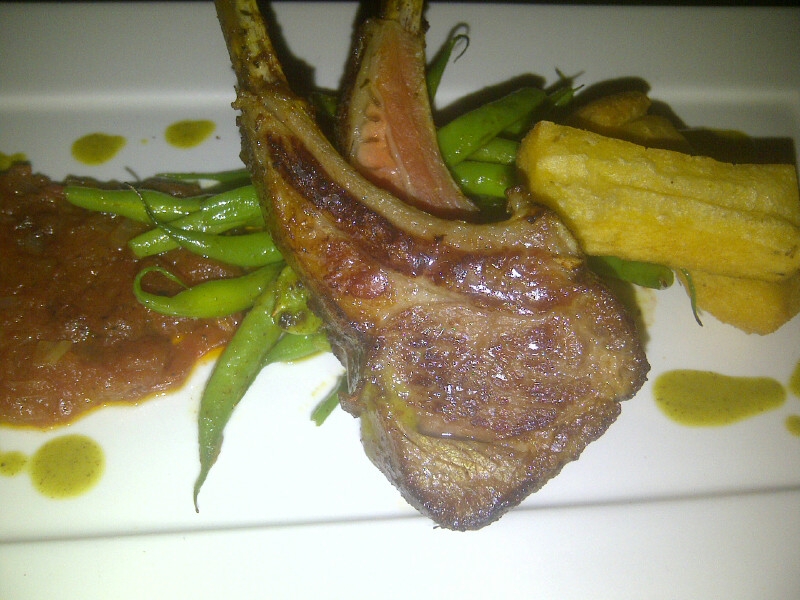 Spice-rubbed rack of lamb. (Photo by Scott Bridges)
He also happens to have grown up in La Habra (Sonora High School, go Raiders), so you know he's good people. And he's just one more reason that Sadie Kitchen & Lounge remains one of my go-to spots.