"The oven is the heart and soul of this kitchen," Tar & Roses chef/owner Andrew Kirschner told Los Angeles magazine.
"My whole thing was to have a wood oven and never put a pizza in it. It can get really, really hot. You have to read the fire, read the hot spots. That's hard to teach."
At the top of the ever-changing menu, you'll find out what type of wood is in the oven that day. That wood enhances the flavors of the foods, converting to profound what would otherwise be unremarkable.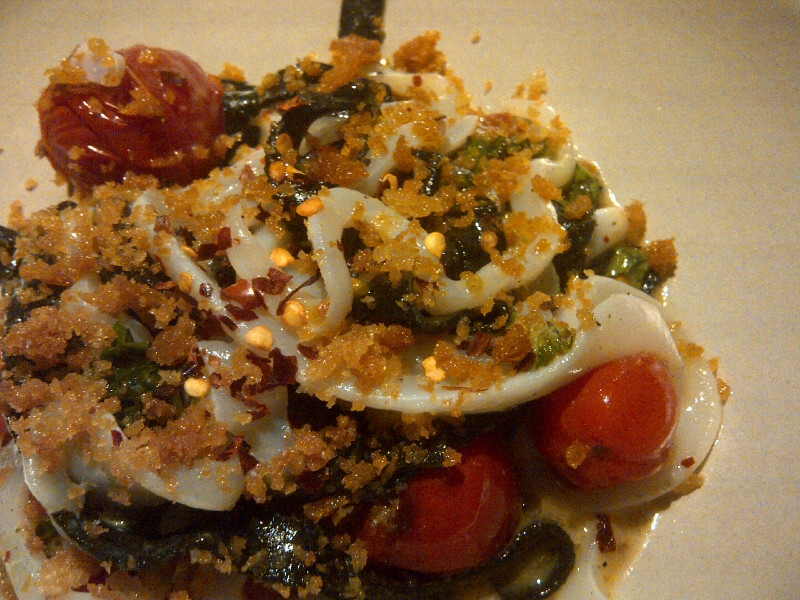 Squid fettucini with blistered tomato and breadcrumb. (Photo by Scott Bridges)
Kirschner's resume includes stints at Joe's in Venice, Chadwick, Table 8 and most recently, The Wilshire. The chef relies on local farmers for sustainable ingredients to create one-of-a-kind snacks and small plates like crispy pig tails in a sweet hot glaze of sriracha, honey and cilantro; oxtail dumpling with san bai su, chili and green onion; or beef "pho-paccia," which combines shaved beef slices with the Southeast Asian flavors of Thai basil, chili, cilantro and bean sprouts -- a faux pho.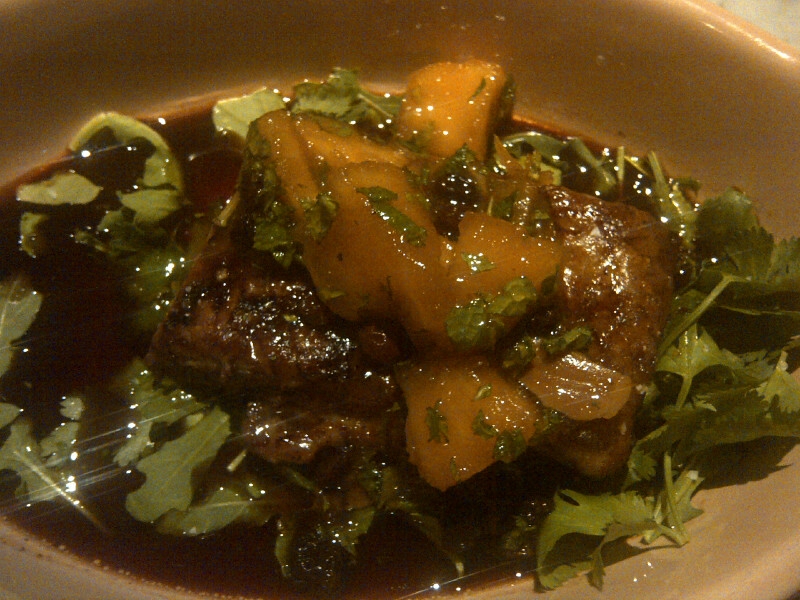 Braised lamb belly with minted apple chutney. (Photo by Scott Bridges)
Tar & Roses, whose name comes from the contrasting notes on the nose of Barolo wine, opened its doors roughly about this time last year and is a James Beard nominee for Best New Restaurant of 2012. It's also one of the hottest tickets in town. Plan to make reservations three weeks in advance to secure a Friday or Saturday table in the 74-seat space.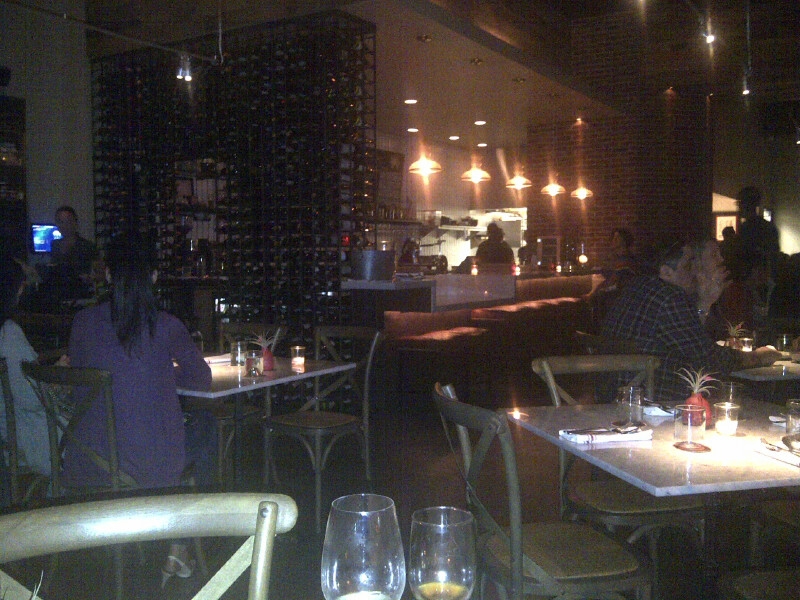 The intimate space at Tar & Roses. (Photo by Scott Bridges)
The intimate space is dimly lit and the volume level is low enough for conversation. General Manager Johnnie Jenkins has dinner party host in his blood, and maintains an ambience that makes Tar & Roses one of the better date locations in town. After all, small plates are the perfect size for sharing, and provide the widest variety of tastes for the buck.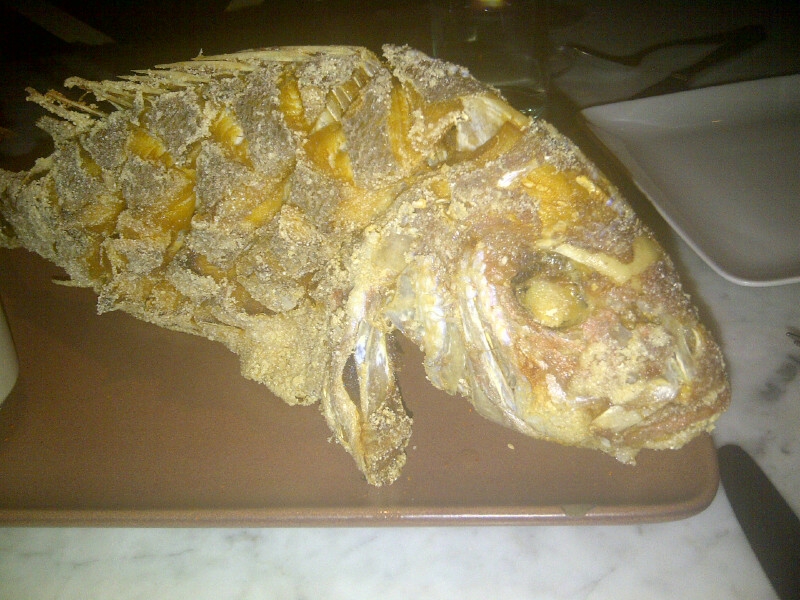 The Whole Fried Snapper for Two. (Photo by Scott Bridges)
Start with the in-house charcuterie with a selection of cheeses. And don't miss the wood-roasted English peas -- bite for bite, as delicious as any item on the menu.
The Whole Fried Snapper is large enough for two. The fish is plated like a fried sculpture, and underneath a crispy surface is a tender, fleshy white meat. It's served with soba noodles and dipping sauce.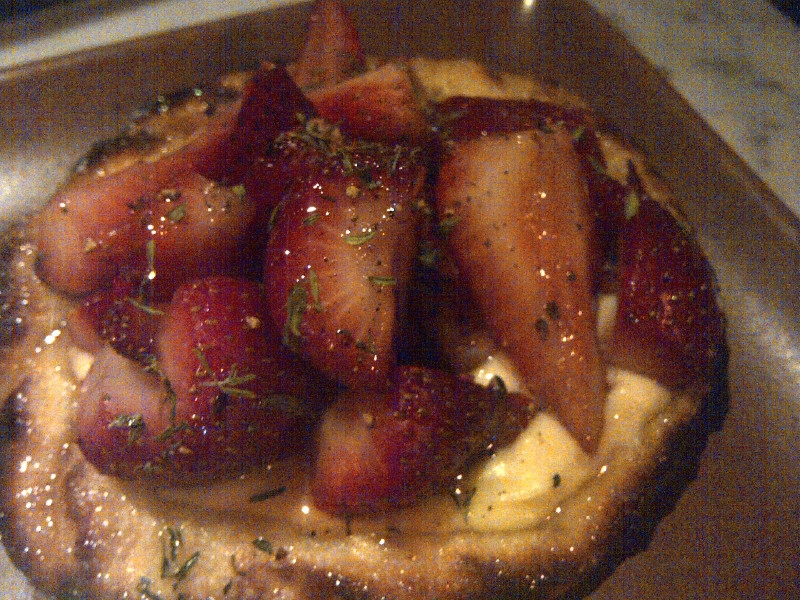 Even desserts are toasted in Chef Andrew Kirschner's wood-fired oven. (Photo by Scott Bridges)
Pairing it or any other dish with the right wine is easy enough given the restaurant's strong list, rich in Spanish and Italian bottles, as well as a fine selection of our country's finest. Servers like Jennifer Ruffalo are exceptional in helping one find just the right wine to complement Chef Kirschner's creations.