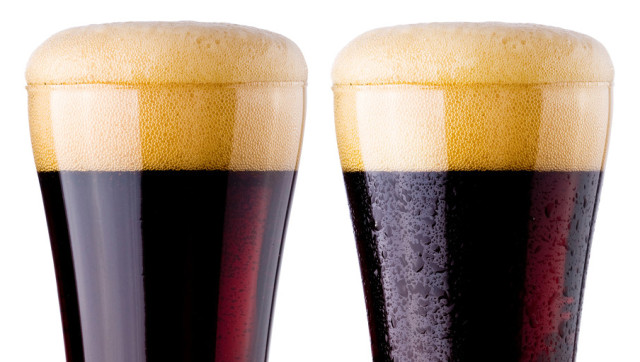 If not for the sandwich board out front with the daily specials, you might miss what is essentially a hole in a wall in downtown Santa Monica. But through that hole (it's actually a door), is one of the better burger-and-beer joints on the coast. But there's more to West 4th and Jane than burgers and beer. This is a perfectly balanced 1:1 ratio of restaurant to beer hall, making it an anomaly in an area where it might be easy to find a place with quality beer or great burgers, but probably not both.
Chef Ryan Turner offers the standard gastropub fare, but he's embellishing it with his own signature style. Rather than the typical chicken and waffles, Turner serves his waffle with the much gamier quail. And while you may have had calamari frites before, chances are that you haven't had them with a tangy sweet yuzu aioli. Another unique take is the venison burger on a toasted bun slathered in a Guinness ketchup, kissed with a Worcestershire aioli and served under a thick slice of gruyere, with house-made pickles and pickled onions on the side. The quinoa croquettes look good on paper, considering the ingredients (corn, onion, bell pepper, goat cheese, mint, cilantro, jalapeno) but don't quite realize their full potential.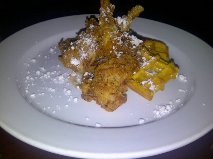 Chef Ryan Turner shows off his creativity, pairing fried quail with waffles. (Photo by Scott Bridges)
The signature sausage plate is a staple, as are the sliders, and the short rib with watermelon barbecue sauce is a must-try. Carnivores will like this place. Keep in mind that the menu is American cuisine, or what's commonly called comfort food (think poutine, sweet potato tater tots, mac and cheese, Nathan's hot dogs), albeit with Turner's modern take, and it doesn't care that you might be trying to squeeze into a pair of skinny jeans. In light of that, the portions are substantial without being gaudy. There's a large selection of small plates and appetizers -- something for every appetite. And there are a few salad options -- I'm a fan of the grilled nectarine salad, featuring candied bacon, watercress, pine nuts and radish, with a bacon vinaigrette.
Dessert is a no-brainer -- and not just because of a lack of selection. I didn't think I had any room left for the caramel bread pudding, but I could not have been more wrong. I can count on one hand the really good bread puddings I've had, and this is one of them. The best advice I can give is this: Save room. If you don't like bread pudding, try it, I'd wager you'll change your mind.
If the food wasn't reason enough to visit, the beer is. Two dozen craft beers are always on tap, and there's a good selection of bottled and canned beers, as well. Consider the $10 flight, which includes a quartet of five-ounce beers of your choosing. The wine list includes a few classics, but could be improved, but given the menu, you're more likely to want to indulge in a hoppy IPA, a perfumey Belgian ale or a chocolatey stout. And you'll want to check their website often, as there are incredible specials most days, making this an easy go-to hangout.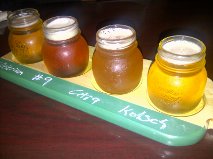 The flight of beers (of your choosing) is a great deal -- 20 ounces of beer for $10. (Photo by Scott Bridges)
The music is at a level that is fine for drinking or dining, and the selection is terrific. The walls are covered in art, the lighting is delicate and the TVs run sports. Additionally, there's an upstairs area for added privacy. If that weren't enough, they even have board games available.
Co-owners Steve Lieberman and Keith O'Brien are hands-on, down-to-earth guys, and the establishment seems to embody their easygoing personalities. The crowd is a pretty classy group of foodies and beer lovers convening around a table or a ball game. You'll find modern comfort at West 4th and Jane both on and off the menu.
SUBSCRIBE AND FOLLOW
Get top stories and blog posts emailed to me each day. Newsletters may offer personalized content or advertisements.
Learn more