Think automotive sales have gone to the dogs? Just wait.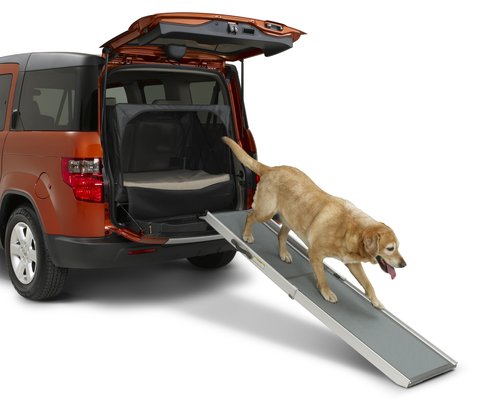 Now Honda Motor Co. is trying to appeal to car buyers' best friends to help spur sales.
The Honda Element, the boxy little people and things hauler will now come with a few doggone accessories that will certainly garner a few ooos and ahhhhs.
Honda introduced the 2010 model year canine friendly features last week as a way to impress owners and lure a few more people into dealerships. It may seem a little much, unless, of course, you own a dog -- then it's just not enough. It's never enough.
People will be dying to get their paws on this super kennel created from seat-belt grade materials, and who wouldn't want a little paw stamp on their Element?
The pooch palace comes complete with spill proof water dish and electric fan to keep the kennel cool while on the road.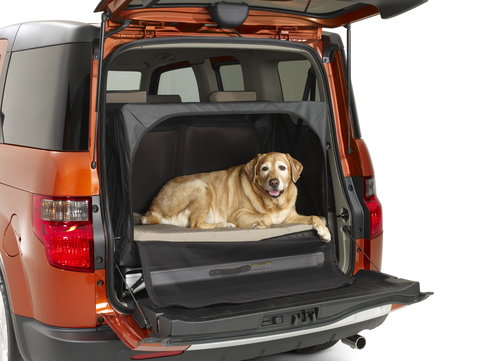 The importance to any kennel is two-fold. While it may seem natural to let a dog roam in the back, an unsecure dog is a danger to himself and the driver. Imagine trying to steer with a 100 pounds of love crossing over your lap to look out the driver's window. And if you're in an accident, not only will the dog be less likely to survive a crash if not restrained, but he could fly into you -- making it less likely you will survive the crash, even if you are strapped in.
Now there are companies that provide dog seat straps for big animals, but they are kind of goofy and I've yet to find one that will work well on my 90 pound shepherd. However, having used the Element, it's about as dog friendly a vehicle as you'll come across -- and now its even friendlier.
According to Honda, major features include:
• a soft-sided cargo area car kennel made from seat belt-grade netting;
• a cushioned pet bed in the cargo area with an elevated platform;
• a 12V DC rear ventilation fan;
• second-row seat covers with a dog pattern design (matches the bed fabric);
• an extendable ramp (stores under the pet bed platform);
• all-season rubber floor mats with a toy-bone pattern;
• a spill-resistant water bowl;
• and dog friendly exterior emblems (driver's side and rear).
Most dogs don't need the ramp, due to the low loading space -- though a control jump may be a little difficult for some. Most Elements also come with a urethane floor that makes it easy to clean. (No, Honda tells me this often, you should not hose out your Element - a mop might work, but spraying a garden hose through your Element can lead to electrical wiring shorting out, as water can seep through some of the openings, such as where the gas and brake pedals are and short out the wiring.)
Also, the folding back seats make the Element ideal for someone who has more stuff than people to carry.
The dog friendly features may create more press than customers, but it if you don't love dogs, well, you're evil.
E-mail Scott Burgess at sburgess@detnews.com
Still not convinced, check out this video of the debut of the concept Element from the New York Auto Show earlier this year.