Being of Irish ancestry, St. Patrick's Day is special to me, and the way it's celebrated is of the utmost importance. Now that I've reached the age of twenty-seven, an age at which friends are getting married and starting families, I can only dust off the bottle of Jameson on weekends. And so the celebration of my heritage began with the necessary elements: a bottle of Jameson; my girlfriend, Amanda, with English-Protestant ancestry; my friend, Tim, of Mexican lineage; his girlfriend, Tiffany; and my professional wrestler buddy, Bob. The five of us did what any normal group of friends would do to honor St. Patrick's Day: down shots of Irish whiskey while watching the movie Leprechaun: Back 2 tha Hood.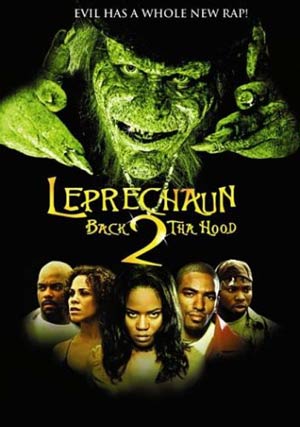 What could go wrong with a movie that has a tagline of "Evil has a whole new rap!" and stars an actor named Sticky Fingaz? The highlight of the evening - besides the reminiscing of old-times - was the topic of a new trend all the kids are doing: Chatroulette. Chatroulette.com is a website where individuals with a webcam can engage in a chat environment similar to a speed date. If you like the person, you engage them in a conversation - if you don't, you move on. Inebriated - or filled with "Irish spirit" - we fired up my girlfriend's webcam and laptop and became ready for whatever the world had to offer.
The first individual we encountered was a fairly young man chugging alcohol out of a bottle. When we asked him how old he was, he responded, "Twenty." Once he discovered our ages he laughingly called us old and asked where we were from.
"Kalamazoo, Michigan," I replied.
"No way! I'm here in Saginaw, Michigan," he excitedly added. "What's the weather like there?"
Considering Saginaw and Kalamazoo are roughly 150 miles apart and our weather patterns are essentially the same, we didn't quite know how to answer his question. None of us except my wrestler friend, Bob, apparently. Bob popped his bearded face in front of the webcam and told the kid to get a map and disconnected the conversation.
The randomness had only begun, and I soon discovered how quick we are to judge. A teenager appeared on screen and proclaimed he was from Canada, to which my girlfriend gave a quick thumbs-up and a "congrats" on beating the United States in hockey. When he later informed us he was from Winnipeg, Tiffany told him he's not from "the part of Canada that matters," and disconnected the conversation. I vaguely recall asking her which part of Canada is relevant, and her response was wherever Ryan Reynolds is from. Bob came to the defense of Michael J. Fox, and it was agreed that Fox - and the areas he represented - will always be relevant.
A couple of co-eds wearing Ohio State shirts booed and shook their heads at us when we announced we were from Michigan, though quickly recanted when we stated our allegiance to Notre Dame and not the University of Michigan. We encountered two teenage girls from London who, when asked why they were up at 9 AM on a Sunday, responded they were preparing to go to Dudley's. The blank look on our American faces forced them into a follow-up: "We're going to get pancakes." My girlfriend apologized for our American accents, and I added that we "just weren't used to hearing the English language pronounced correctly." They laughed, told us they loved the way Americans talk, and waved good-bye.
Overall, the experience was enjoyable and a lot of fun. We continued to meet college-aged kids, chatting it up with undergrads at Cal-Berkeley, Oregon, and Boise State. We even conversed with a man in the Netherlands who shared my last name. Chatroulette does an excellent job of representing the world in its truest form: sometimes you'll meet kindly strangers willing to talk about pancakes - other times you'll simply see a pair of a random strangers' balls.