"In my final year at Glasgow," said Alexandra Silber during our recent interview, "they brought in an expert from London to teach the straight actors how to do a musical theatre audition -- should that never occur! -- just to cover their bases. I had a voice in my head -- an instinct -- that if I took this seriously, my life would change. I had already played Amalia in She Loves Me at Interlochen and Will He Like Me? was my favorite song in the world -- and still is. That's what I sang for this man, Kennedy Aitchison. He said, 'Do you belt?' I gave it a go and sang a smokey jazz song. Forty minutes later he said, 'Who are you?' And honestly, with no arrogance, it was the first time I ever said this sentence and it took on a profundity that I had never felt before, 'I am Alexandra Silber.' It felt huge! He left the room and called London's biggest casting director. Eight weeks later, I was in the West End as the lead in Andrew Lloyd Webber's latest musical, The Woman In White. I was 21 years old! I remember thinking that the universe was not allowing me to run from my true nature as a singer anymore.' From there, came Fiddler on the Roof and then Carousel."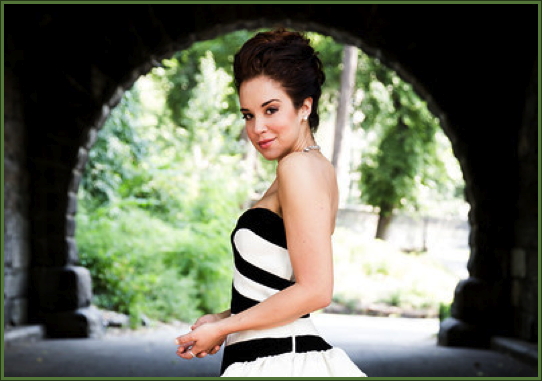 ALEXANDRA SILBER. Photo, Matthew Murphy
When I talked to Alexandra last June, she was preparing for her debut with San Francisco Symphony. The occasion was a series of five performances of West Side Story. It would mark the first time the complete score had been presented on a concert stage and a recording would be released on the SFSymphony label. Alexandra was engaged to sing the role of "Maria". It was a gig she had auditioned for. SF Symphony had sent out a notice announcing it would be holding auditions for the roles. Alexandra's inner voice interrupted her again. Even with three musicals in the West End under her belt, her personal ID still did not resonate with: Singer.
"I continued to do this thing of saying, 'Oh, well, thank you, but I'm not really a singer. I'm an actress who can sing.' I was perpetuating this keeping the singing-thing at arm's length. Therefore, everything I achieved as a singer was a miracle and everything else that didn't happen was not my fault or responsibility -- because? -- I wasn't a singer. Then, about eight months ago, I had a little epiphany where I said, 'I don't know what this is, but I'm not going to be that person anymore. That isn't mature / it isn't who I want to be / singing is my greatest dream / my greatest joy... And now I'm ready to face whatever that is and claim it. I want to make the attempt and own it. And if I fail, I will have failed honestly. If not, I might be making myself available for things I could never have imagined.'"
Like, responding to an audition notice from San Francisco Symphony. That means, facing the Music -- getting the voice in shape to record and submit a sample of songs. Now! And if they like it and you -- then, an in-person audition at Juilliard -- and if they really like you -- a private Skype session with Maestro Tilson Thomas. It all happened.
"I'm not exaggerating, Sean. Within eight weeks of that Flag in the earth, I had Song of Norway in place at Carnegie Hall, She Loves Me at Caramoor, and West Side Story with San Francisco Symphony. What Singers dream about! And the universe is, like, 'Finally!' So, I dug into studying and facing all that stuff."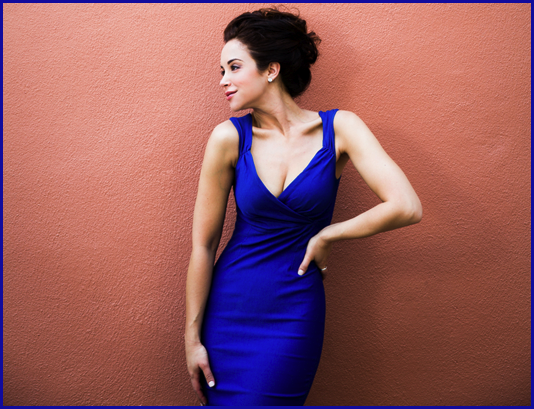 ALEXANDRA SILBER. Photo, Matthew Murphy
So, during our first interview -- remember, she's already signed-on for "Maria" and getting ready for rehearsals with one of the greatest symphony conductors in the world -- she mused about those Broadway voices "of the past". And specifically, since we were talking sopranos, Sopranos of the Past. Like, those I grew up listening to? For instance? "Now we have new ways of expressing those emotions," she said. And then my own Muse interrupted.
So, I grabbed a deep breath and we started in on her. Yes, I took advantage of my day job as a vocal coach and went on and on about sopranos of the past -- "the past" generally meaning everything up to around 1964 and the introduction of body mics. Now there are stadium capacity speakers in standard-size theaters and the cartoon nasal Disney voice. But way back there in America's musical theatre past, an Ingenue-variety of soprano had to open up her voice, hit the back wall with her own fortitude, and still impart a young and romantic message. Like soprano Carol Lawrence -- Leonard Bernstein's original "Maria". I was totally confident that what the Symphony committee and the conductor heard during Alexandra's auditions was that free and beautiful voice from Broadway's Golden Past. Get ready, I said.
And she did. Alexandra Silber's "Maria" was spectacular, unforgettable. Outfitted in what Maria would totally describe as the prettiest dress at the Dress Shop, Alexandra owned Davies Symphony Hall with her first line, "I feel pretty. Oh! So pretty!" The song and her story were absolutely brand new. MTT had summoned-up Leonard Bernstein. I will be first in line for this recording.
Alexandra Silber is bringing her Soprano chops to Feinstein's at the Nikko Hotel this coming Friday and Saturday, October 11 and 12. Her new show is called, "Going Where the Good Songs Go" and will feature a treasure of material that made a bunch of those early Broadway composers rich and immortal.
"I really wanted to turn over as many of the composers from the Golden Age as I could," she said. "Having spent so much time in Scotland, I wanted something from Brigadoon. It's a beautiful score and I think gets buried under Lerner and Loewe's other giants, like My Fair Lady and Camelot. I'll definitely be singing Waitin' for my Dearie. There will also be some songs from shows I'm associated with, like Carousel and She Loves Me. Also, a piece that was cut from Fiddler on the Roof -- in the Lost and Bust trunk of music -- Dear Sweet Sewing Machine. Inside me, there's a part that feels like Danny Kaye, so I'm doing Anywhere I Wander from the movie, Hans Christian Anderson. Also, The Physician from Nymph Errant and a really nice version of Where or When. I want to keep a few surprises to myself, but I will sing something from West Side Story.
"I've realized how natural a fit this music is for me. What this year has taught me is that this is my 'essential voice', my voice with a capital V. I've had such a wonderful experience spending time in this area and I just want to perpetuate it. I have something to say, also with a capital S. I have something to Say about this music and about this era which I think is uniquely mine."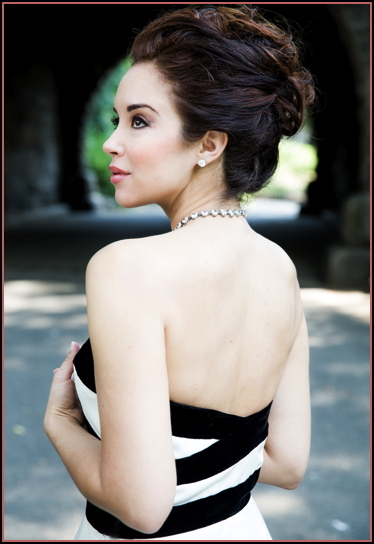 ALEXANDRA SILBER. Photo, Matthew Murphy
Some more inspiring news -- Alexandra will be performing at the celebration for lyricist Sheldon Harnick's 90th birthday. Of his 14 musical collaborations, eleven of them were with composer Jerry Bock, two of which have brought Alexandra to this moment: Fiddler on the Roof and She Loves Me. Mr. Harnick has requested that she sing Vanilla Ice Cream. But, of course! There's a huge sparkling High B at the end. And it's got Alexandra Silber written all over it.
Click here for ticket information: Going Where the Good Songs Go