Chicagoland is not lacking in delicious burgers with thick, high-quality meat. Kuma's Corner, Edzo's in Evanston, Portillo's... this list goes on, the order of which is highly debated. And now, adding to the list: Butcher & the Burger, Chef Al Sternweiler of Duchamp's latest venture. It opened last week at the corner of Armitage and N Kenmore in Lincoln Park. Plus, it's BYOB, automatically launching it forward on any "best of" list, naturally. The burger merits it a spot, too -- when juice from the pink, flavorful patty trickled down my chin, I found myself licking my lips in hopes of catching it.
The menu is like Starbucks for burgers: You choose from four buns, more than ten different types of meat, more than ten types of spices to include in the meat, and, of course, toppings, which range from typical lettuce and tomato to sautéed foie gras and truffle aioli.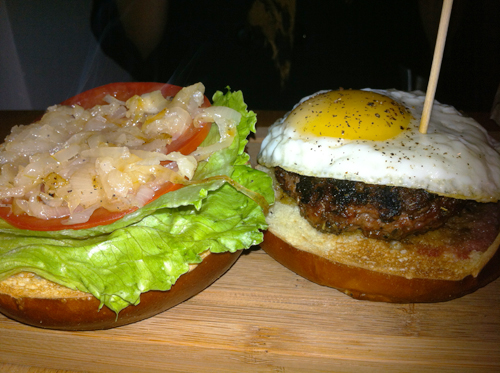 Italian spiced burger with fried egg
I opted for Italian spices in a medium house blend beef burger with lettuce, tomato, griddled onion, and a fried egg on a pretzel bun. Blond Boyfriend (BB) went for a medium-rare Chicago Steakhouse in a house blend with Swiss cheese, lettuce, onion, tomato, and mustard. The egg on my burger was cooked just right; the white was fluffy, and the moment I took a bite, sticky yolk spilled all over the meat. The Italian spices in the meat made the burger taste like a lightly spiced breakfast sausage, which is to say, awesome. The only issue: I got medium instead of medium rare, which meant the edges were a little too burnt to eat. BB's burger was more traditional and arguably better; crisp raw onion and mustard added a twang, and the meat was juice and evenly spiced.
It's supposed to be like a butcher shop. With exposed brick, wood paneling, and a layer of billowy smoke from the open grill, it feels vintage enough to pass as one. (I think. Because, you know, I've never actually been to an old-time butcher shop.) The kitsch doesn't end there: The burgers come out on a cutting board with the restaurant's logo on it. V v cute.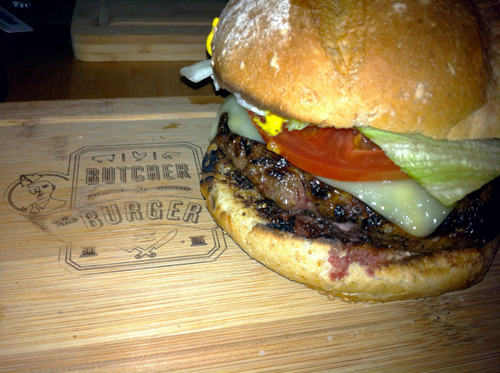 Chicago Steakhouse spiced burger on wheat bun; plus that cute cutting board
Details like that make Butcher & the Burger an inviting place to eat. The place is fully staffed with friendly people -- good for the indecisive who struggle to pick from long menus. A short, cheerful, mustached man helped people waiting in line narrow things down. The classic spice mix is the Chicago Steakhouse, he said, and lovers of a classic burger enjoy the house blend beef. ("What about for someone who doesn't love a classic burger?" asked one fickle young lady. "Then get the fish," he responded.)
In spite of the staff's friendliness, service was the new restaurant's big flaw: my burger appeared without the grilled onions I requested, and when I asked for them, they appeared at my table in an unappealing pile on a cutting board, sans fork. Then, a young woman at the table over had ordered her burger with no cheese due to an allergy, and when it came back from the kitchen, she was shocked: "They had the nerve to scrape off the cheese," she told me indignantly. "I will not be coming here again."
She was understandably upset; that's a pretty egregious mistake. But the burger warrants the resto another shot. Not many restaurants serving burgers are BYO, and the smoky, vintage atmosphere is like a familiar neighborhood bar -- perfect for a night out. It's open late on weekends too, making it an ideal late evening dining spot. (Earlier in the evening, the resto was largely filled with families.) If Butcher & the Burger can clean up its service, it'll be a definitive place to eat a solid burger.
TLDR: New burger joint Butcher & the Burger serves up a thick, juicy patty, and with dozens of customization options, it's like a Starbucks for burgers. It has a nice smoky, vintage feel that makes it feel like a neighborhood bar. Downside: Service is friendly, but with order mistakes and poor follow through, is not yet up-to-par. Go later in the evening to avoid tons of families.
Food: 3/5





Atmosphere: 3.5/5





Friendliness to Partiers: 2.5/5





Price: Burgers, $5 for kid size, $7.25 - $13 for adult size in varying meats, $21 for prime beef tenderloin tartar
Butcher & the Burger
1021 W Armitage Ave
Lincoln Park
FOLLOW HUFFPOST